All images, unless stated, owned by Channel 4.
WARNING: This is jam-packed with The Great British Bake Off spoilers because, well, it's all about The Great British Bake Off.
Big fan of Noel's jumper this week. He could have a real Kate Middleton-effect on quirksters. In other words, I'm going to Camden tomorrow and getting me one of those.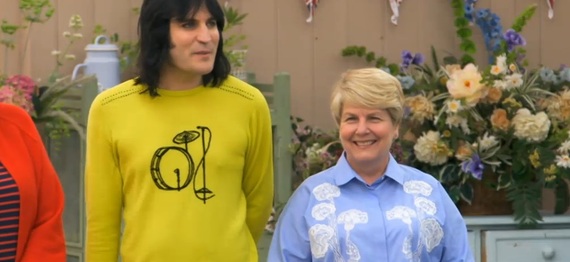 And Kooky Noel Bingo time - you guessed it, 'frolicking in a field' squares be gone.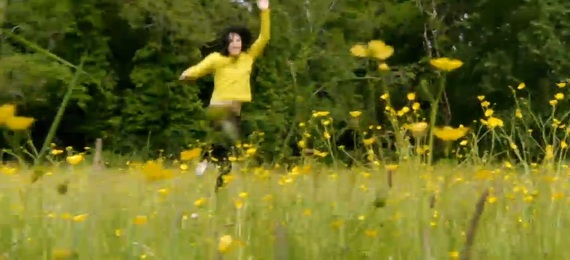 Paul's massively devalued his handshake, giving three within one round. I for one am quite relieved, as talking about a man giving out handshakes makes me uneasy.
Signature - steamed school pudding with compote or custard
Because school served compote.
The sneaky bastards chucked a lesson in the first round! Now that's a Bake Off first I am not on board with, so close to the pre-show cup of tea. This was a premature break we didn't need for tea nor toilet.
Technical - chocolate molten pudding with peanut filling
Showstopper - ornamental trifle terrine
I always forget you can buy animal gelatine in sheets, and now in powder too? Yucky.
Stacey
And after the show, Stacey's going to pop back to her shift at the ward.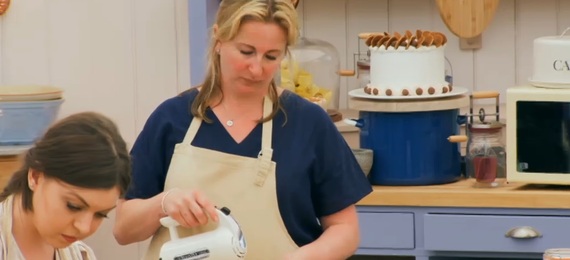 'I'd be chuffed if I can get to week eight.' Yeah right, I bet your wooden spoon you would, that's three weeks away! I'd be chuffed if I could marry Michael Fassbender, which is probably more likely (definitely isn't).
She's a manic character and was her own number one fan this week, claiming her bakewell puds were 'the nuts' and loving the shade of pink she managed to get in one of her cakes.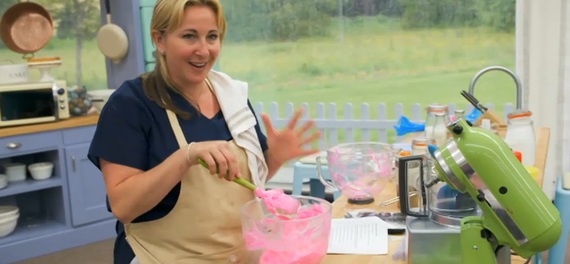 She did go on a fair a bit about her handshake too, and how Hollywood really must have meant it and didn't want to give another as he'd already given out two.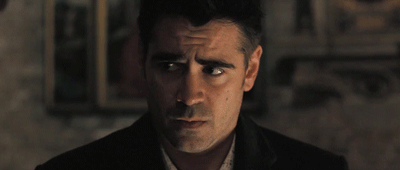 Source: http://www.reactiongifs.com/say-4/
Yan
Looks like she's gone grey within the space of five weeks. The stress has got to her. It's like Obama all over again.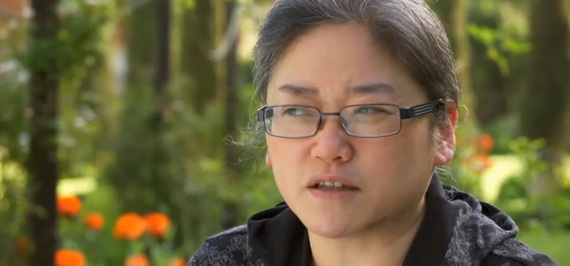 She's still got her wholly genuine nature, honesty and enthusiasm with her, being completely impressed by Steve's syringe.
Steve: I'm using a syringe. It's very technical and scientific and impressive and perfect.
Yan: Wow! That looks like something you shove up a cow's foo foo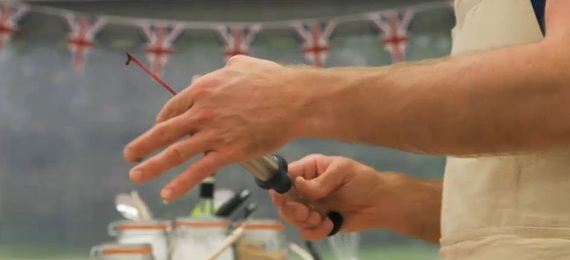 She's the most unpretentious baker we've seen in a long time with incredible non-technical lines like 'I'm just shaving my mango'.
Even when she then cracked out her own syringe, it wasn't arsey, it was just bloody impressive and really sweet. 'It's called Heart of Hero. That's my dad's heart. He's my hero.' She sounded like a little kid being so proud of her dad!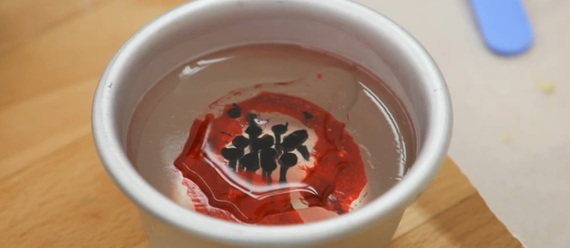 I'd go as far as to the the poppy is my favourite thing on Bake Off. Ever. Then again, I'm a sucker for a glass paperweight, so makes sense.
Sophie
I didn't understand 75% of the words that came out of her mouth. Tonka bean, honey from yemen, bavarois, and some Japanese yuzu custard I can't even remember.
Tonka bean? 'THAT'S A FIRST FOR BAKE OFF.' Launched Paul.
It's also a first for the western hemisphere.
Kate
Announced herself as a tent youth rival for Liam with her metallic tattoo.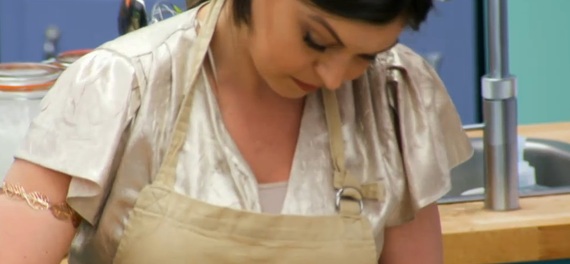 Oh wait no, that's an arm bangle from the 70s.
She wasn't letting Paul's forces of fear put her down (even though he was right about lemon flavour overpowering tea), but Prue put her back in her place when Kate mentioned her custard, 'that's not custard, that's a big mistake.' And again in the technical, when Noel said 'enjoy' and she instantly responded 'I don't think we will'.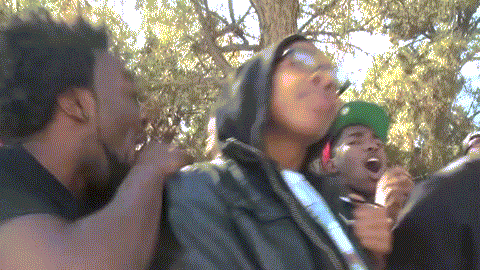 Source: http://supermarioglitchy4.wikia.com/wiki/File:OOOH.gif
She seems like a confident enough woman, but then things took a strange turn with Sandi when talking trifle. Kate heard 'WIVES MAKE TRIFLES. WHEN WILL YOU WED?'
She forgot she was talking to the lesbian co-founder of the Women's Equality party, so this sexism was swiftly poo-pooed by Toksvig.
Julia
Felt like an unfair week for her, seeing as she had absolutely no idea what anything was.
But she did do very well with her Signature steamed treacle pud - cue treacle steamed pud dance: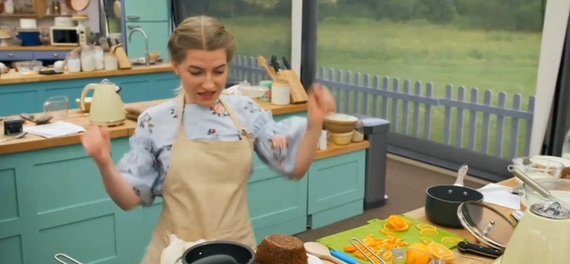 It went downhill from there, and she thought she was a gonna go. In a pretty dramatic fashion.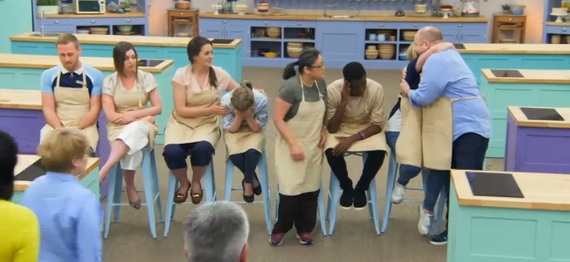 James
Didn't have the best of Signature bakes, with a steamed pudding which looked like a scene from American Pudding.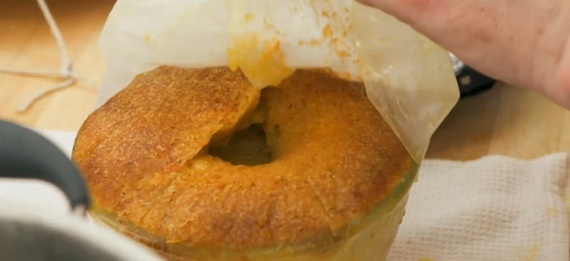 'Oh yeah, so, this one time, I was ill on the day of the Queen's silver jubilee, and my mum brought me up a trifle to my room.'
'Ah wow, that's a great story James, tell me again. Also, you should use it as the story of a cake if you're on the UK's most iconic baking TV show.'
SAID NO ONE EVER.
Liam
The Battle of the Bakewells was on between Liam and Stacey, and although she thought hers was ever so beautiful, his was pretty damn good and looked cool with his matte-finish cherries.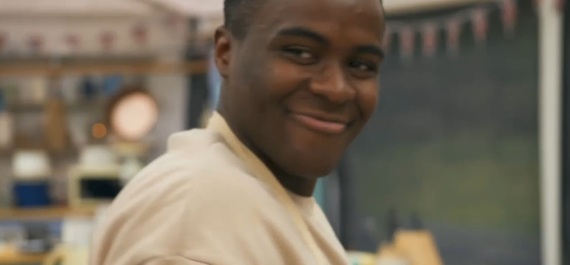 And was painstakingly close to snatching first in the technical.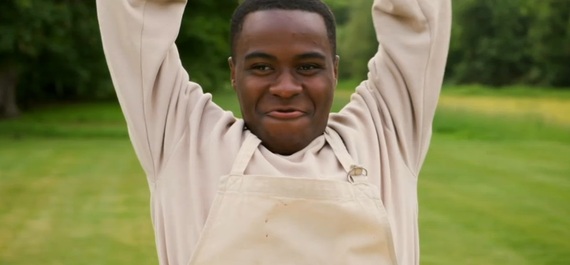 On the flip side, he also had his fair share of emotional moments, needing Sandi to console him at one point. He was also a bit weary at other points though, zombie-staring at his bakewell pudding. He may need an exit soon for his sanity.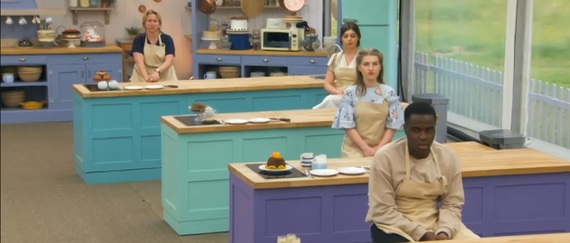 Such a millennial with his chai lattes at uni. Not sure how Noel felt being lumped with Paul Hollywood as art students. Art students as in, Paul was probably in the 70s Home Ec block outside, carving bread.
Sophie is star baker!
James is out!
Classic Bake Off editing
Yan: I don't want to knock out the air bubbles, that's why I'm folding it gently
Cut to Kate electric whisking like a mofo
Best of Noel and Sandi
'The thing about starch, is when you tell it to leave the tent, it will do it slowly'
Noel pranking Julia
Noel offering a Fielding Fondle in place of a Hollywood Handshake
Cheeky Mighty Boosh reference
Innuendo of the week
'It's wonderful that you got your pink sausage in the middle' Prue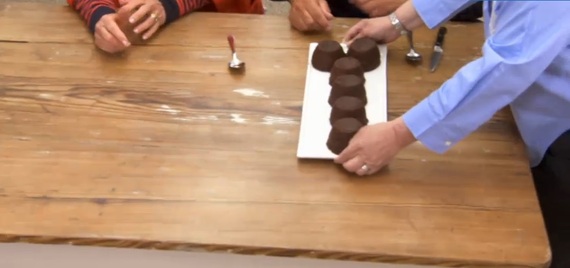 (Accompanied with Yan saying 'if you're going to serve a cake, serve it phallic' - that's just plain filth - never would have said phallic on the Beeb - willy... maybe)
The ridiculous statement more fitting of a Scorsese film
'My time has come.' James
Until next time...