Valentines Day. Love it or hate it, once February hits you can't escape it. Shops everywhere bombard you with images of cupid, love-struck couples and cards featuring admittedly nauseatingly cute kittens mewing "I love you" whilst the question on everybody's lips is "What are you doing for Valentines Day?"
Cynics are quick to argue that Valentines Day is merely a consumer driven farce whilst many a Bridget Jones have wailed into their wine glass at the prospect of being alone on Valentines Day with no prospect of an anonymous card sent through the letter box come the 14th of February. Blogs festooned with anti - valentines messages and images have risen in popularity and, worryingly, advice helplines have admitted to placing extra staff on the phones in the run-up to 14 February.
But to these cynics, lonely singletons and fierce opponents, I ask, aren't you missing the point?
Yes, Valentines Day could be regarded as a consumer driven day that fills people with dread and is designed to make people feel lonely or depressed. Or Valentines Day could be approached as a day to look forward to and an opportunity to celebrate and recognize all the great people you have in your life that love you.
I have spent countless Valentines Days with friends, going out for drinks, having dinner or simply curling up in front of a good film with a bottle of wine. The fact that I was single on Valentines Day did not bother me; instead I chose to focus on the positives.
Recognizing a growing trend, online boutiques, shops and card retailers have been quick to cater for people who, like me, want to celebrate Valentines Day with friends, family and co-workers.
Here are a few of my favourite products out there that perfectly capture the spirit of Valentines Day.
EllieEllie.co.uk stock some gorgeous pieces all year round (I've had my eye on their Location Map products for quite some time now) and are particularly well stocked for Valentines Day.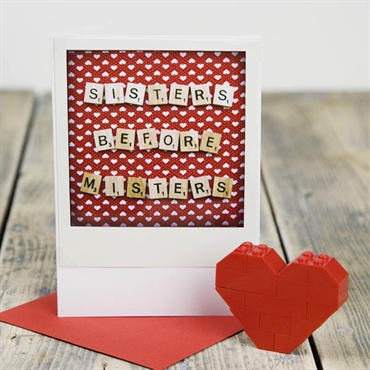 Photo taken from website.
I love this Polaroid Vintage Letter Tile 'Sisters before Misters' card pictured above. Whilst these Friend Definition keyring and pendent sets (below) are perfect for those seeking to treat close friends to something special.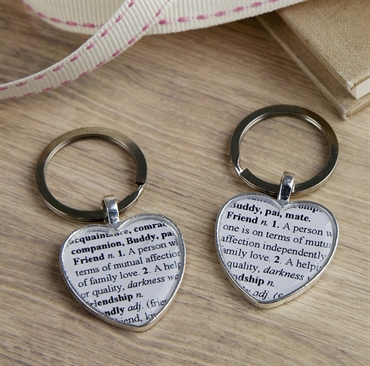 Photo taken from website.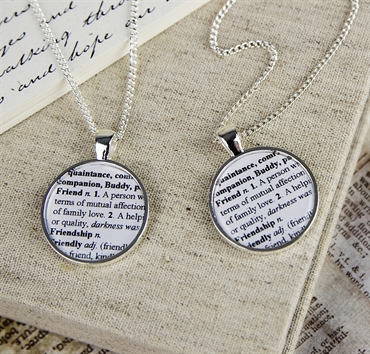 Photo taken from website.
To those newly single out there, online blog Domestic Sluttery discovered some amazing cards with illustrations by David Shringley last week. This particular card (pictured below) is a perfect way to cheer someone up and poke fun at previous partners.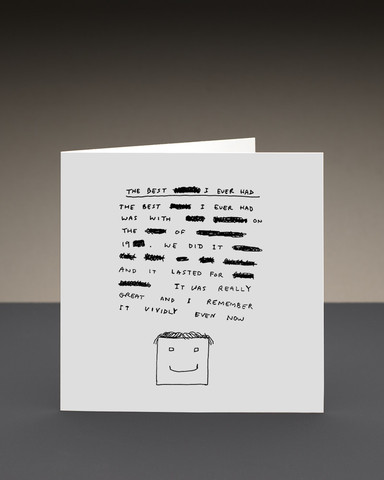 Photo taken from Polite Cards website.
Looking for something more mainstream? This 'I Love...' Photo Frame from Urban Outfitters is great and can be given to friends and partners alike.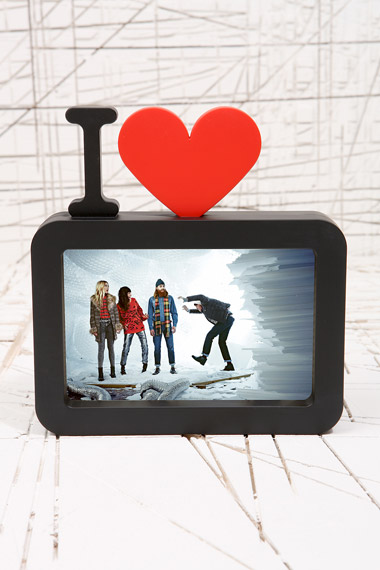 Looking for more inspiration or present ideas? Check out Bloomsbury Store, Paperchase and online blog Domestic Sluttery.
For those of you that don't like buying into Valentines Day but are still stumped on how to avoid the Valentines Day blues, here are some ideas on what to do on Valentines Day.
Exeter
I have it on very good authority from recent graduate Rhona Kirby that Exeter has some great things to offer for those seeking to treat a partner or enjoy the day with friends.
Why not wrap up warm and hire a canoe from Saddles and Paddles to paddle along the quay?
Bath
I can personally recommend The Thermae Bath Spa in the centre of Bath. Featuring a gorgeous open-air rooftop pool, the Spa regularly offers group packages as well as the more romantic Twilight Package.
Alternatively check out The Canary Gin and Wine Bar for yummy cocktails and an old school ambiance.
Leeds
Looking for something to do on a date or with a group of friends in Leeds? University student Josiah Menzies recommends the Sky lounge, Harewood House or the Cellar Bar.
London
Looking for something a little out of the ordinary? Try the Ice Bar for an out of this world experience. Megan's Deli on Kings Road provides a romantic setting for two or can cater for large groups and its food is simple but delicious offering steak, tiger prawns and octopus amongst other enticing dishes.
Brighton
Last year my partner splashed out and booked a room at My Hotel. With an unusual bar with extensive Cocktail, Wine and Beer lists, a restaurant and coffee house all housed within the building you need never leave the confines of the hotel. The Valentines Day package is particularly for adventurous couples.
Whatever your situation or circumstance, there are plenty of reasons and ways to celebrate Valentines Day and that is why everybody should love Valentines Day