Other people's opinions on weaning may be like all that other unwanted baby advice and the best response is to say, 'thanks for that,' and continue to do your own thing. For some though it's not so easy to shrug off; that niggling worry you're getting it wrong can really affect some mums.
The five signs your baby is ready to wean
Your baby is less content lately and wanting their feed earlier and earlier.
Getting very vocal and intently watching you during your mealtimes and putting their fist in their mouth.
Not gaining weight recently or even had a slight fall in weight.
Can sit upright in high chair or baby seat and can swallow safely.
You gave them a 1-2 tsps of first stage weaning food and they yummed it up. If they weren't interested leave it week or two before you try again
Your baby may start at the very beginning with 1-2 tsps and quickly progress to 4-6 and then 6-8 tsps. At 7 months your baby needs three meals a day (roughly 3 tbsps) from all four food groups; that's protein, fats, carbohydrate and fruit and vegetables. Be guided by your baby's appetite on whether they want more or have had enough.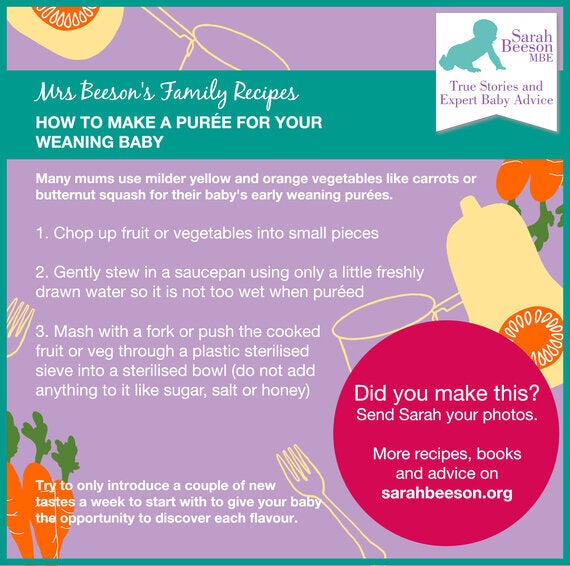 Have a look at my website sarahbeeson.org for recipes and serving suggestions.
Once your little one can hold something comfortably in their hand you can start to serve foods they can safely hand-feed. This is a real high point in your weaning journey, but be careful of foods that could get stuck in the windpipe and cause choking.
Start with soft hand-held foods and cut up broccoli florets, halved cherry tomatoes, and lengthwise cut grapes and large blueberries. Slice up a banana and break each wheel into three; peel an apple, take out the core, quarter and cut into half crescents. Cutting a piece of toast into four triangles prevents your baby from gagging on too big a piece or choking on a small piece. Always stay with your baby when they are eating or drinking.
How you wean your baby, like most things in your baby's first year, is your choice. Weaning should be a fun experience and it's a lovely stage of your baby's development. The guidelines around weaning have gone back and forth quite a bit over recent years about when babies can start weaning. It can be confusing as to why some babies are ready to wean earlier than others but your baby doesn't know how old they are; we don't expect all babies to walk on a set day, so why would all babies be ready to wean at the same time - they're not!
The size of your baby isn't always an indicator as a very large breastfed baby may be happy with breastmilk until 6 months while a little one demands solids from 5 months. A very few babies are ready to wean at 18 to 20 weeks. Follow the signs and use your own judgement, you know your baby best of all.
Weaning is part of your baby's physical and emotional development
In the early days of weaning most of your baby's nutrition will still come from their breastmilk or formula. Feeding and giving your baby their first solid foods is part of their emotional development as well as their physical development.
It's good to continue with demand feeding as it nourishes, comforts and satisfies your little one helping them to feel secure and very loved. Every interaction of feeding your baby whether it's milk or solid food builds attachment day after day. That's why the more relaxed and confident you feel the better it is for both of you.
It's worth considering weaning from your baby's perspective. Babies love to be involved so treating them with respect and recognising they have feelings, preferences and rights and you are the custodian of their rights for their early years.
Weaning is a new experience and gives your baby the opportunity to discover, see and taste new flavours and textures. Learning to swallow can take time. Some babies yum it up and others are cautious and some aren't ready. No need to push go at your little one's pace and follow their lead and enjoy it.
Keep it simple your baby will show you the way
Author and former health visitor