The number of Syrians who have suffered during four years of harrowing conflict continues to rise. As we approach the end of 2015 the complex situation shows no signs of abating, with war still raging, 7.6million displaced within Syria itself and 3.9million refugees seeking sanctuary in surrounding countries or further afield.
At Theirworld, we have been working to create school places for Syrian refugee children who have fled their homes to neighbouring countries in the Middle East. Education is often seen as an afterthought in times of crisis, at present only 1% of all humanitarian aid goes towards learning. But keeping kids in school provides them with so much more than the ability to read and write - it allows them to regain a sense of stability after a time of trauma, to plan for a future and to simply be children again.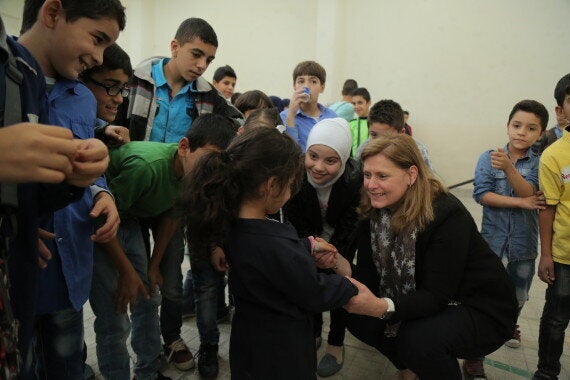 Earlier this month I travelled to Lebanon to visit two schools which have implemented an innovative double-shift system. The system allows Syrian children to study alongside Lebanese children by introducing a second shift in the afternoon, making use of existing infrastructure and allowing children to go back to school quickly.
And speed is important, because it becomes harder and harder for young people to re-enter the education system with each year that passes. Syrian children, who lived in a country with near universal education prior to the war, now face being forced into child labour, early marriage or even become vulnerable to radicalisation as they are removed from the safety of the classroom and thrust into the adult world. Additional measures are being put into place through non-formal education with NGO and international partners to help children catch up on lost years and enter back into schools before it is too late to reclaim their childhood.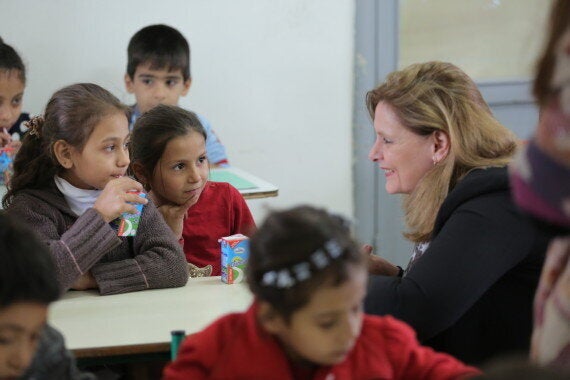 Lebanon has seen its population increase by 25% with 1.2million Syrians fleeing over the boarder to safety. This autumn more than 180,000 Syrian refugee children in Lebanon have gone back to school as a result of the shift system, many for the first time since the conflict began, and during my visit, I wanted to see the difference this has made to their lives.
At Mtein School, in Mount Lebanon, I spoke to pupils, teachers and parents who all had the same message - education is the most important thing for these children, it allows them to build and imagine a happier future. Ahmad, who at 14-years-old had been out of school for three years and worked for 15 hours a day in a petrol station to support his family told me that he wished for the day he was able to learn again. "I have hope now because school gives us hope," said Ahmad. "School is everything to us".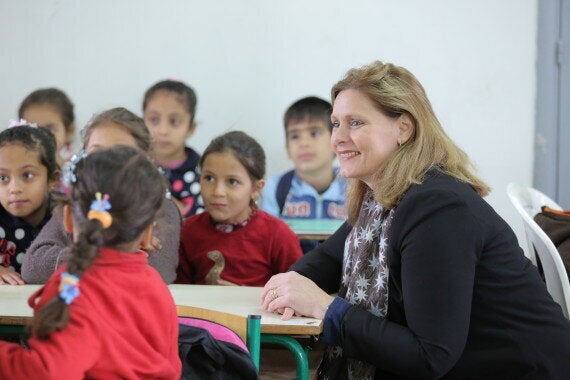 Getting children back into the classroom is only part of the challenge. At Theirworld, we are also looking at innovative approaches to supporting children once they are back in school. Many of these young people have had significant gaps in their learning, the majority are learning in languages that are not their mother tongue, and on top of this some are coming to school having had little or nothing to eat to start the day. These children inevitably struggle to keep up in class because of this and eventually many drop out.
I visited a new tech library in Mtein School which will support these students by using engaging and interactive techniques in teaching while also supporting language learning. There is a palpable excitement in the classroom as the children set up their simple Kano computers and logged on using handheld tablets - all children seem to have an effortless and fearless approach to technology and it is certainly no different here. Ravi, the Teach for Lebanon Fellow steering the tech group, has set up an introductory lesson and is racing around the room checking everyone has the right app open so I leave them all to it.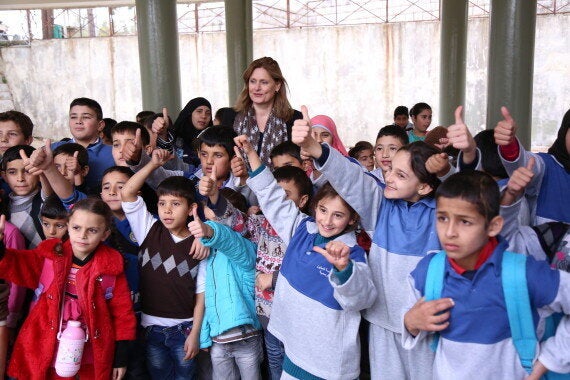 I was also at the school to witness the launch of its new milk programme to provide pupils with a nutritious boost at the start of each day. We are working hard to establish the right interventions at a couple of schools in order to recommend what can be rolled out more widely. At Theirworld, we are keen to explore what works best to help children stay in school and learn, and once we determine this, we look at ways to scale it up, working with local education partners. We believe strongly that these partnerships - whether with other charities, private companies or government - are how we will be able to make big changes in children's lives.
We are already looking at lessons from the innovative double-shift system as the model is now being used to help Syrian refugee children in Jordan and Turkey. In Lebanon we're finding ways to accommodate more school children and ensure that no barrier stands in their way - from a nutritious snack to language learning and after school tech clubs to a safe school bus for the journey home. We will keep campaigning for support and funds to help governments and our many partners deliver places in school for many more refugee children. And we will keep pushing for new ideas to create the scalable solutions so that every child - regardless of borders - has opportunity to learn and build a better tomorrow.
Sarah Brown is the Founder and President of the children's charity Theirworld and Executive Chair of the Global Business Coalition for Education. At Theirworld, Sarah created A World At School, a global movement to get children across the world into education with hundreds of organisations working together on this shared goal.
Related