What an incredible weekend. For the first time, we have a global climate agreement that 196 countries have signed up to: a historic, partly legally binding deal which aims to hold global temperatures to a maximum rise of 1.5 degrees Celsius. As the dust settles - and the hangovers clear - it feels very much like being at the birth of a brave new world, one in which there's everything to play for and everything still to work for.
The Paris Agreement should send a clear signal to the business world that there is an end in sight to the fossil fuel age and that clean green renewable energies are the best chance we have of getting to the new goal of zero net emissions by later this century.
At the COP21 climate talks last week, it was both moving and heartening to see islands and small nation states driving forward the clean and renewable energy agenda. Iceland's President, Ólafur Ragnar Grimsson, spoke passionately at the Sustainable Innovation Forum on his country's role as a global leader in obtaining 100% of its electricity and heat from renewable sources like hydro-power and geothermal energy.
Iceland was able in part to bounce back from the financial crisis of 2008 and rebuild its economy precisely because it's been so successful at harnessing its bountiful natural resources. Foreign businesses are relocating there because of them, the power stations and geothermal sites are high on tourist itineraries, the agricultural and fishing industries are thriving as a result, and the air in cities has been transformed. For a tiny nation of just 330,000 inhabitants, Iceland is punching well above its weight and influencing bigger players on the world stage, including China and the US, who are learning from their use of technology and following their example.
Like many of the islands taking part in the climate negotiations, Iceland is already seeing the effects of climate change - its glaciers are visibly receding and according to Prime Minister Gunnlaugsson who also spoke in Paris: "Without efforts to decrease emissions, glaciers in Iceland could disappear for the most part in 100 years". It's little wonder that small islands like the Marshall Islands have been at the forefront of wanting the language in the final text of the new global climate agreement to hold global warming to a 1.5 degree Celsius rise instead of 2 degrees Celsius.
In eastern Indonesia the remote island of Sumba hopes to run on green energy alone by 2025 using a combination of waste biogas, solar, wind and hydro power. Former Ashden Award winner IBEKA has partnered with Dutch NGO Hivos to support Sumba to harness micro-hydro and wind power. IBEKA has a successful track record of working in partnership with communities in Indonesia to develop off-grid hydro schemes. Maintenance and spare parts are sourced from near the community so that as much expertise as possible is localised and costs are kept low. Operators and construction workers are trained on the job, and training is provided to the whole community. Surplus revenue from the sale of electricity goes into a fund which communities then decide how to prioritise.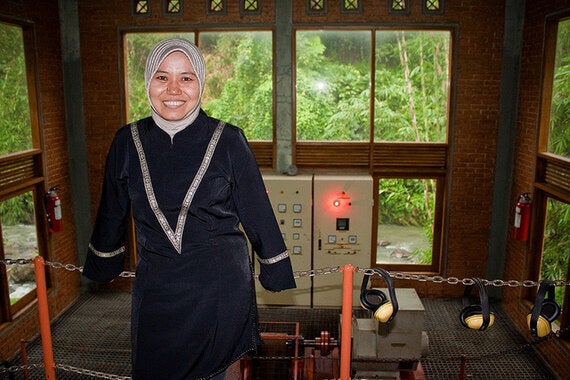 IBEKA founder Tri Mumpuni at Cinta Mekar micro hydro power plant in Indonesia
The islands of Cape Verde, off the coast of Senegal, also have an ambitious plan to achieve 100% penetration of renewable energies by 2020. Small islands are often heavily dependent on expensive imported fuel to generate electricity and this is particularly true for Cape Verde since it is not on a major shipping route and has to transport fuel to its many small islands. Fuel for electricity generation represents about 20% of the country's import costs, and consumer electricity prices are high.
The government of Cape Verde recognised the potential for replacing the imported fuel with wind power since the country has consistently high wind speeds. Cabeólica, a private-public company, was formed to develop the country's wind potential, to help reduce diesel imports and increase energy security. Since then the introduction of wind farms has also increased the availability and quality of power, and reduced the number of power cuts, including in the main tourist destinations Sal and Boa Vista. Energy on the islands is crucial for education and healthcare, for growth, tourism and even for the supply of water. In short, renewable energy is the country's main route towards growth and development.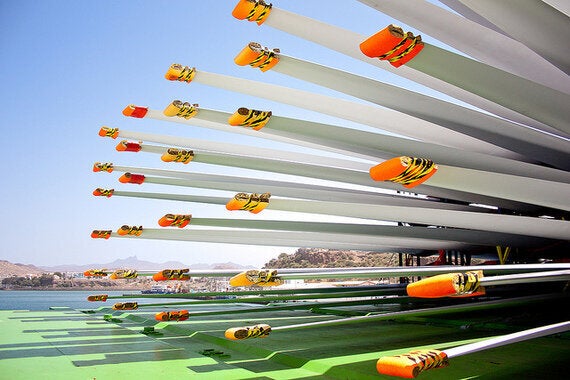 Wind turbine blades arriving by truck in Cape Verde
If we turn our attention to the UK however, the baffling reversal in recent months of 15 or more policies intended to support green energy and energy efficiency are at complete odds with David Cameron saying that we are "already leading the way in work to cut emissions".
According to Business Green, the UK Climate Change Act already commits the country to reducing its greenhouse gas emissions by 80 per cent by 2050 compared to 1990 levels, but the government's own forecasts reveal that it is on track to miss its fourth carbon budget period for the mid-2020s.
To have a chance of delivering on the Paris agreement, globally we will have to pick up the pace when it comes to fast-tracking renewable energies like solar and wind, and nowhere more so than on our own fair isle. New gas plants, fracking, and large scale nuclear plants as well as small nuclear modular reactors are neither the cleanest nor most cost-effective of options. What's needed is a stable environment that encourages investment in cleaner, more affordable energy generation and carbon capture techniques. The costs of renewable energies, and storage, are falling all the time - they just desperately need to be given the chance to flourish.