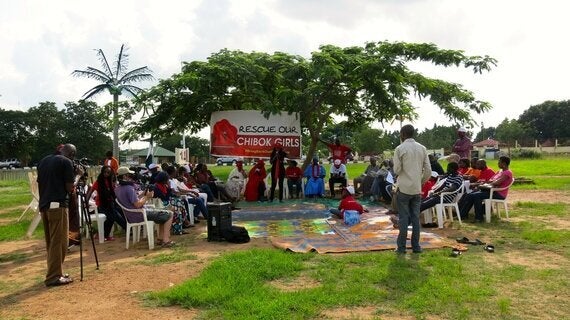 ActionAid at a Chibok community protest, July 5th 2014Photo credit: ActionAid
On the second anniversary of the kidnapping of the 276 Nigerian girls from their secondary school, we woke to the news that a new video has just been released that appears to show 15 of the girls in captivity. It's the first footage we've seen of the girls since 2014 and a haunting reminder that 214 young girls are still missing.
While the video will have brought hope to many of the families of the missing girls, two years on it remains an upsetting and difficult topic to talk about, with frustration at the Nigerian government's apparent inaction growing with every day that passes. Following widespread global pressure from thousands of people involved in the "Bring Back Our Girls" campaign, calling for urgent action by the Nigerian government to locate and return the girls safely, the majority of them are still missing. What's more, these teenagers represent a tiny percentage of the total women and girls who have been kidnapped by Boko Haram in Nigeria. Over the years thousands have been abducted, raped, forced into marriage and recent reports show some have been used as suicide bombers.
The kidnapping, and other attacks by Boko Haram, have affected not only the families of the girls and the wider community in Chibok but also in surrounding areas. The thought of going to school is terrifying thousands of girls and many parents are now reluctant to allow their daughters to go to school for fear of them being abducted or killed.
No girl should ever have to face such fear or violence, especially for simply seeking an education, which is a fundamental human right. The Nigerian government has spoken out against these attacks and promised to do all it can to rescue the Chibok schoolgirls. But two years after the attacks, we are still waiting for their safe return, and the pain and anguish of their families and communities continues.
Nigeria is home to over 10 million of the 57 million out of school children in the world - more than any other country. ActionAid Nigeria has been working for over 15 years, to enable girls in Nigeria to enrol and succeed in school. We are calling on the Nigerian government to fulfil its promise to find and return the girls safely as a matter of urgency. It must also make sure that all schools across the country are safe so that an attack like this does not happen again.
Today, hundreds of people are due to hold a march in the Nigerian capital of Abuja to demand the government do more to find the girls. As they march, we must all raise our voices, so that the Chibok girls are brought home safely, and all girls have the opportunity to go to school without the threat of violence.