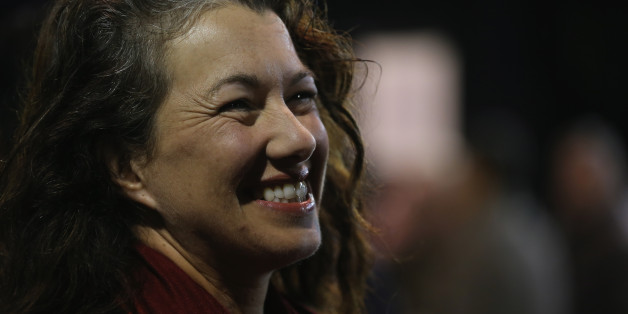 Christopher Furlong via Getty Images

Mother's Day is a day to mark our appreciation for the hard work, care and contribution mothers have made and continue to make in our lives.
It is also important on Mother's Day that we recognise the contribution that mother's make to the UK economy, both in terms of their place in the labour market and the value of their investment in the UK workforce through paid and unpaid care.
Yet we know that since last Mother's Day, according to the government's own estimates, 54,000 mums have been forced out of work due to maternity discrimination.
The cost to employers of this figure is around £278.8million every year according to the Equality and Human Rights Commission, while the cost to the State is between £14million and £16.7million.
While the issue of Maternity Discrimination is still relatively unknown, it is an increasing cause for concern, not just in its obstruction to realising economic equality for women but also in terms of its impact on the economy. Levels of discrimination against mothers in the workplace are far higher now than ten years ago, with the practice thriving on this Tory government's watch.
Maternity Discrimination isn't just about women who have lost their jobs - although that is the extreme end of the scale for too many women - it also captures a wide range of bad practice that is sadly becoming increasingly prevalent.
Women who have been made to feel they need to stop breastfeeding.
Women whose health and safety are put at risk by managers who do not understand or worse, do not care about the impact of their work on the women, or the pregnancy.
Women denied statutory maternity pay, flexible working, demoted, downgraded and devalued.
One woman who had experienced so much of what can go wrong for mothers in the workplace has been brave enough to share her story with me.
Amelia worked as an account holder at a media company based in London. When she fell pregnant she was told by her line manager to 'keep it quiet' if she wanted to stand any chance of promotion or a pay rise.
This was the start of what would be a long series of events that would see Amelia treated unfairly because she'd decided to have a baby. After Amelia developed a pregnancy related illness, she was told that she would not be paid for any sick time due to the condition. Neither would she be paid for time off for antenatal appointments. Amelia became increasingly sidelined in her workplace and this added to her sense of worry and isolation.
Like so many women in Amelia's situation, her contract status was amended to make sure she would be classed as a part-time worker and she was threatened with her maternity pay and pregnancy related sick leave not being paid in full for this reason. Amelia and her partner had to leave their home due to the uncertainty and financial hardship this caused. They didn't have the money to take the case to an employment tribunal which would have meant finding £1,200.
Cases like Amelia's are all too common in the UK in 2017. Ministers have been presented with many such cases as well as a dossier of analysis and policy recommendations by the cross-party Women and Equalities Committee. The government have responded through a combination of kicking the issue into the long grass and defending the unacceptable status quo.
This government's negligent behavior and attitude towards the issue of maternity discrimination is part of a wider pattern of them showing a willful lack of regard towards maintaining and promoting economic rights and freedoms for women.
Research I commissioned on the day of the Spring Budget from the House of Commons library demonstrated that 86% of net gains to the Treasury through tax and benefit measures since 2010 had come from women.
From cuts to universal credit and the treatment of thousands of women born in the 1950s who have been left with a crisis in their retirement planning, to the booming rise in maternity discrimination; this government is systematically turning back the clock on gender economic equality.
In a speech I gave during a recent debate called by Labour on maternity discrimination, I was also able to raise the dismal situation for women at work who have miscarriages as well as older women experiencing the menopause. What is becoming increasingly clear is that when it comes to creating workplaces that understand the lived reality of women at various stages and situations in their lives, the UK still has a long way to go.
That is why Labour have committed to introducing an Economic Equality Bill in government to look at how workplaces and government policy can help to advance, rather than hinder, economic equality and rights for women. Our consultation will be taking place over the next twelve months and will take a close look at issues such as maternity discrimination, the gender pay gap and the menopause to build a compressive vision for an economy that works for all, one where the needs and experiences of women are fundamentally built into our economic model by design.
This Mother's Day is an opportunity to reaffirm our commitment to better understanding and tackle the challenges too many mother's still face in the workplace that cost their families, their employers and the economy dearly.
If you have been affected by any of the issues here, please visit maternityaction.org.uk for information and advice.
Sarah Champion is the Labour MP for Rotheram and shadow women and equalities minister
HuffPost UK is running a month-long project in March called All Women Everywhere, providing a platform to reflect the diverse mix of female experience and voices in Britain today
Through blogs, features and video, we'll be exploring the issues facing women specific to their age, ethnicity, social status, sexuality and gender identity. If you'd like to blog on our platform around these topics, email ukblogteam@huffingtonpost.com