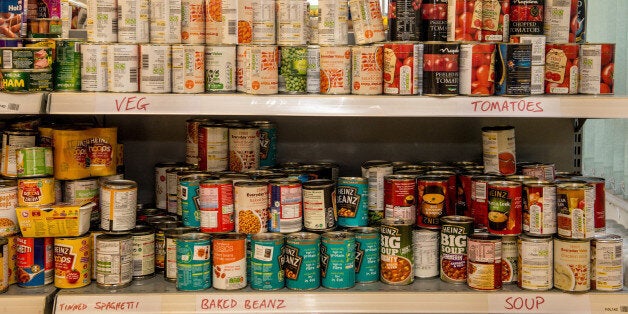 At The Trussell Trust, World Food Day is a time to remember the people who are going hungry both around the globe and on our doorstep.
Foodbanks in our UK-wide network gave out 1.1 million emergency food supplies last year, and each of those foodbank visits tells a story of a person or family in crisis.
Sarah's family struggled to afford food when a change in their living arrangements led to their benefits being delayed for two months.
"It's scary as a parent as you don't feel as if you're doing your job properly. You want to be able to support your children in every way and that's not possible when things like this happen. As a parent, to not know if you're going to be able to feed your children is shameful and degrading,"
Sarah's family is one of many thousands foodbanks across The Trussell Trust network support day in and day out. Her six-year-old daughter, Frankie, is aware that hunger in the UK is an issue: "Every night I pray for poor people to have food because I care about them."
Yet hunger, and poverty, in the UK is still something which is too often considered a 'dirty little secret'. Negative attitudes towards foodbanks, and the people who rely on them, can leave people feeling isolated, ashamed and worthless.
This is why today, on World Food Day, The Trussell Trust is joining forces with 12 of the UK's leading charities working with people affected by hunger to launch a campaign that aims to end hunger in the UK.
We're calling on people affected by hunger, or with ideas about how the Government should tackle the issue, to add their voice to the campaign by joining End Hunger UK's 'Big Conversation' online, on social media using the hashtag #EndHungerUK, or at local charity and community group events being held across the UK, until March 2017.
Since 2013 we've been working with foodbanks to widen their support beyond food to help people in crisis break the cycle of poverty. Food can solve the immediate problem but may not tackle the underlying cause of the crisis the person has, such as a serious debt, health issue or the unexpected bill a family still has to deal with.
There are many reasons which would lead a person to hit an income crisis and need a foodbank parcel from the 420 foodbanks which make up the Trussell Trust Foodbank Network. That's why the three-day emergency food parcel is just one part of how foodbanks in our network help people in crisis.
We see stopping hunger as about More Than Food, which is why additional services, including fuel vouchers for pre-payment meters, budget cookery courses and money management advice can create a lasting impact by addressing the underlying causes of a person's crisis. The Big Conversation is an opportunity to build a network of individuals and groups who can share best practice, encourage debate and identify solutions which will end hunger in the UK.
Let's make this World Food Day about more than food. Please, get involved by having a conversation, donating money and essential items, or giving your time to volunteer at your local foodbank.
Related