Could Glastonbury 2013 have been any better? I don't think so.
The world's largest music festival had long seemed like an intimidating event to me, and it took eight smaller UK festivals before I found myself at Worthy Farm ready to take on crowds of 177,500 people across 1,000 acres of tents and stages.
As we piled in en masse on Thursday with rain soaking through our clothes and our wellies already covered in mud, I was dubious about what lay ahead. We've all seen the pictures of the submerged tents at Glastonbury.
But by the next morning the sun was out, the land had dried up and people were swapping waterproofs for suncream. The weather couldn't have been more perfect.
Over the course of three days I discovered how much more there is to the festival than the image of drug-taking music lovers and Kate Moss in hot pants (this year I spotted her in trousers).
I learned to hula-hoop in the Green Fields and lay in the tranquil healing area watching the festival's traditional hippies teach Buddhist meditation and yoga. I sat cross-legged in a tepee eating pizza and listening to Bob Dylan and I watched along with a crowd of roughly 15 as my brother and his friend performed a half-an-set ad-hoc set after five minutes of rehearsal.
I visited the Theatre and Circus Fields with their eclectic cabaret acts, the celebration of electronic dance music that is the dark Block Nine, saw the flames of Arcadia surrounded by ravers and heard politically minded music in the Left Field.
Countless bands expressed their delight at playing at the world famous festival and over the course of the weekend I watched just a tiny portion of the 2,000 acts performing. Jessie Ware at Glastonbury
Highlights included jumping around to Dizzee Rascal and singing along to Arctic Monkeys on Friday. Seeing a jubilant band from Mali open the Pyramid Stage on Sunday and watching Jessie Ware ooze class and confidence as she soaked up the huge crowds' love for her from inside the overflowing John Peel stage.
However, none of these things eclipsed the greatest live performance I've ever seen - the Rolling Stones two-hour incredible headline performance on Saturday.
The buzz for the Stones was palpable all weekend but never more so than on Saturday afternoon as people started emerging from their tents wearing t-shirts with the band's logo or faces on it.
Some 100,000 people claimed a spot in front of the Pyramid Stage early on in the day to see arguably the world's most famous rock band take to the stage for the first time in the festival's 43-year history.
Glastonbury 2013 belonged to Mick, Keith, Ronnie and even Charlie, who was soon beaming like the rest of his band-mates as they settled into a perfectly rehearsed set.
As I stood in front of a flaming phoenix above the stage, surrounded by people of all ages, some in tears, waving flags from across the world and staring mesmerised at the Stones I could sense I was watching history in the making.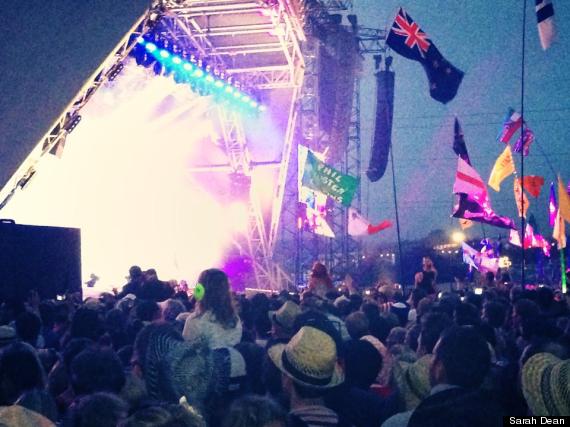 My view of the Stones
Full of energy and sounding as crisp as their long-celebrated records, the rockers - who have the average age of 69 - sang their classic hits and even a new song, called Glastonbury Girl, which included a line about wet wipes.
Michael Eavis, the 77-year-old, who organises Glastonbury with daughter Emily and who I'd seen waving at festival goers from his Land Rover over the weekend, claimed it was his highlight of his time running the festival, which was first held in 1970.
And even a Stones fan who saw the band play their iconic Hyde Park gig in 1969, told us backstage that it was not only their best ever performance but the best thing he'd ever seen.
I may only have been alive half as long as they've been playing gigs, but I've got a feeling I'll never witness such a great show again.
I think it's fair to say I am well and truly a Glastonbury convert.