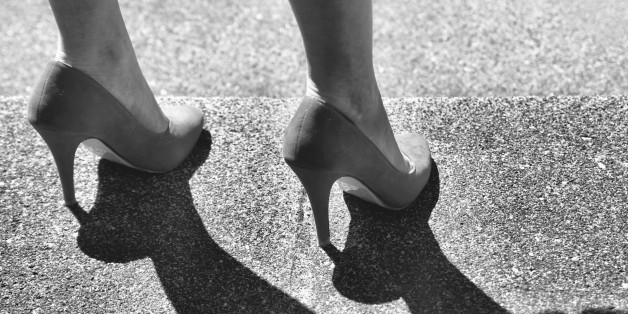 d_t_vos/Flickr
I like to wear lipstick. I like to wear high heels. They make me feel confident and glamorous, and I like the way I look when I choose to wear them.
You know what else makes me feel confident? Being good at my job and doing it well.
Are the two related? Absolutely not.
But it seems, for some people, being glamorous and being professional are the same thing. That employers have a right to try to make their female workers look glamorous because that will mean they are doing their job better.
To be honest, glamorous is just one very short step away from "sexy". What it really feels like to me is that women are being told they should look sexy. That they'll be doing their jobs better if they look sexy. That they have to look attractive to men to be considered professional.
It is completely reasonable to want someone who is representing your company in a client-facing role to look smart. They are representing your brand and so everything from their appearance to their behaviour is important. It's clearly not appropriate for someone to greet clients looking like they've just rolled out of bed.
But I fail to see how a smart pair of flat shoes looks any less professional than a smart pair of high heels. How painting your lips red (or pink or purple or whatever) is more professional than showing their natural colour.
If anyone can provide me with proof that my work has been in any way compromised on a day I've worn lip balm rather than Ruby Woo, be my guest.
Looking smart and looking glamorous are two different things. Ask your employees, male and female, to look smart, by all means. But forcing them to wear deeply uncomfortable shoes simply so they can look glamorous isn't right.
Of course, there's also the health implications - both physical and psychological - of wearing high heels. A parliamentary report released by the Petitions Committee and Women's and Equalities Committee has showed how women are being unlawfully forced by their employers to wear high heels, despite the fact that they are being left in pain and embarrassed by this.
Evidence given to the committees by experts showed that physically heels were leaving women with blisters, bleeding and long-term damage to their feet. Some even had to resort to corrective surgery to undo the damage to their feet.
Piers Morgan caused a collective eye-roll among women when he tried to compare wearing high heels to wearing a suit. As far as I'm aware, there isn't exactly an abundance of medical evidence for the painful and long-lasting physical effects of wearing a suit.
The report also detailed how women were left feeling "degraded", "humiliated" and "dehumanised" by requests to wear heels, with some specifically tying this to feelings of being "sexualised".
No one should have to feel that way at work.
It's 2017. Why are women being forced to endure degradation and actual physical pain to prove we are competent, professional employees?
We are skilled, experienced and motivated. We do not need lipstick or a pair of heels to be professional.