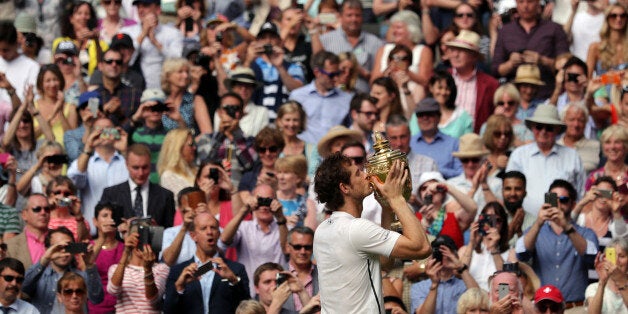 Things in the UK have been pretty exhausting over these past few weeks, haven't they?
Many of us are pretty gutted about the prospect of leaving the EU. It feels like most of our political parties are falling apart. There has been a huge spike in racist and xenophobic incidents in many areas. The release of Chilcot stirred up old resentments and brought painful memories to the surface for those who lost loved ones in Iraq. Stir in some other general bad news and it's all just been a bit knackering really.
But in amongst the doom and gloom, there have been some little pockets of joy. And many of them have actually been related to sport.
There are plenty of people around the UK who I don't doubt would never have in a million years imagined they'd be cheering on Wales. But their journey to the Euros semi-final turned out to be the underdog story that captured the nation's hearts and saw many frantically scanning their family tree to try to find some Welsh heritage. In the end the Welsh lads couldn't quite make it to the final, but they gave it a damn good try.
We had Chris Froome's success in the Tour de France followed by Lewis Hamilton winning the British Grand Prix.
And, of course, there was Wimbledon.
There's always something rather special about the two weeks of the Wimbledon Championships. It's nigh-on impossible to get your hands on any strawberries or Pimms down Tesco and it suddenly seems acceptable to drape everything you can get your hands on with bunting or Union Jacks. Everyone seems a tiny bit more cheerful.
Stir in the prospect of some British victory and it gets taken to another level entirely.
Millions gathered around their television sets to will Andy Murray on to a second championship victory on Sunday - and he didn't disappoint (although side note: how lovely was Milos Raonic?!). There were cheers around the country and no doubt more than a few pints drunk in celebration around the country. Our Andy had done it again!
To top things off, Heather Watson went and won the mixed doubles alongside her Finnish partner Henri Kontinen. What an absolute blinder for the Brits this year's tournament was.
And don't chuck away that bunting just yet folks, it doesn't end here... the Olympics are starting in less than a month!
Bradley Wiggins, Nicola Adams, Tom Daley et al will be heading over to Rio to do their darndest for Team GB - and we'll inevitably end up crowding into living rooms, pubs and anywhere else with a screen to cheer them on. To be honest, I can't flipping wait.
I'm no sports nut. Don't get me wrong, I like a bit of sport here and there - the Six Nations, the odd Twenty20 and a spot of tennis all go down a treat. But this summer, sport really does feel like the perfect antidote to all the nonsense that's been going on.
It seems like we can't really unite over much at the moment in this country. So, frankly, it's lovely to see everyone rooting for something. Here's hoping there's more British success to come!