Tomorrow the Oxford and Cambridge Women's Boat Clubs will take to the Thames on the same day as their male counterparts. They will row the same route. It will be televised. If things were as they should be, this wouldn't be a big deal at all.
But it's taken 88 years for the ladies to be able to share the limelight with their male counterparts and I think that's something for us all to celebrate.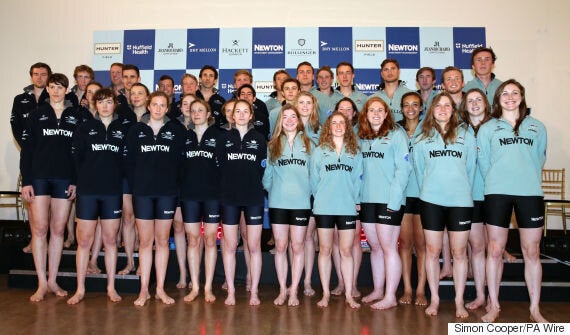 This years women's and men's teams from Oxford (L) and Cambridge
Women from Oxbridge were first graciously allowed to race in 1927 but, presumably incase they all became hysterical with the excitement and their wombs fell out, they weren't allowed to race side-by-side, instead taking it in turns. With a load of charming gents jeering at them. Of course I could go on about how many centuries it took for the universities to allow women even to study in their hallowed halls, but that's another rant for another day.
It was a long road to equality even once Oxbridge allowed women to race - descriptions of women rowing as "unnatural", being asked to pose in towels and financial difficulties were just a few of the hurdles. So how did we finally get to this point?
According to the BBC, it was all a matter of money. The women's race was offered a modest sponsorship package back in 2011 - the first it had ever been offered. The company, Newton Investment Management, is parented by BNY Mellon, the sponsors of the men's race.
But Newton's chief executive Helena Morrissey had a condition for sponsorship: rowing the same river, on the same day, with the same sponsorship. Someone give that woman a medal.
Of course, rowing isn't the only culprit when it comes to discrimination against women. The first ladies were only allowed to run a marathon (the Boston marathon) in 1972. It took until 2007 for women to be awarded equal prize money at Wimbledon. And it wasn't until the addition of women's boxing to the London 2012 Olympics that women could compete in every sport on the programme. But come on guys, it's 2015. We got the vote almost a CENTURY ago.
I'm still not sure if people will be as interested in the women's rowing tomorrow - just look at the amount of coverage women's sport gets in the media compared to men's. Recent developments herald the start of an exciting new era for women in sport. Last year England's women's rugby team won the World Cup. Yes, they WON it. How often do we actually win the World Cup? And I don't want to rub it in, but last January the England women's cricket team managed to actually retain the Ashes. These are great victories for everyone, not just women, and we should be proud of both our male and female teams' achievements.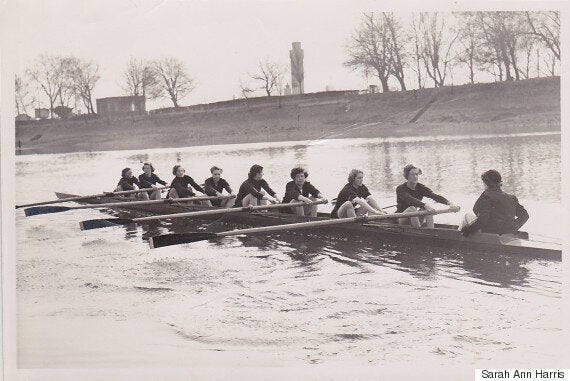 My Grandmother rowing with the Oxford University Women's Boat Club in 1953
My grandmother was a student at Oxford - unusual in itself for a working class girl from Wigan in the 1950s - and I'm particularly proud of the fact she was a Blue, competing in the boat race in 1953. Bear in mind this was only 33 years after it was decided that women who completed their courses could actually be awarded degrees. She seems pretty unfazed by this year's milestone but some of her stories about the difference between the male and female teams are telling. The women's team were given the men's old boats to row in - why waste money on the ladies when they could have cast-offs eh? Sadly this sort of attitude carried on long after the fifties. I'm not sure how she'll be feeling as she watches the ladies set off tomorrow but I do hope she has a sense of pride.
But I know that as the ladies take to the river tomorrow afternoon, I'll be raising a glass to them. Because it's about bloody time.