I'm not advocating daily post-meal dessert munching here, keeping sugar consumption low is vital for health (read my article How Sugar Is The Most Damaging Substance in Your Diet). However, I do think it's useful to have a few quick and simple clean dessert combinations up your sleeve, for if sweet cravings hit.
These clean eating desserts all take minimal time to throw together. They don't contain hundreds of ingredients, and they do have a nutritious value. They should satisfy a sweet urge without you hitting the local dessert bar for a double chocolate chip mega waffle with ice cream, peanut butter cups, syrup, and a side order of pancakes!
My personal favourite is the Quick Berry Crumble. I've tested it on various people with great success and positive comments.
1. Greek yoghurt, Blueberries and Dark Chocolate
Put a dollop of Greek natural yoghurt (such as Fage) in a bowl. Throw in some blueberries, and top with 1-2 squares of Lindt 90% cocoa chocolate broken into small pieces. Another variation for if you have a bit more time is to melt the chocolate, coat the blueberries with the chocolate, and freeze them.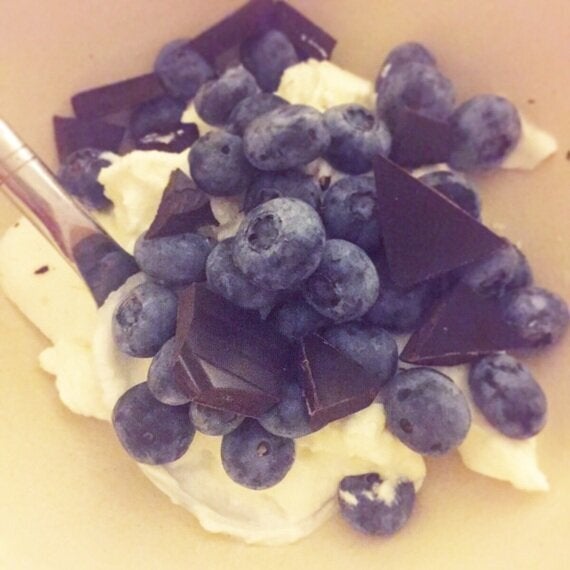 2. Warm Banana, Pecan and Coconut Bowl
Slice one banana and place in a small saucepan with 5-6 pecan nuts, 75mls of coconut milk, 1/8 of a teaspoon of cinnamon, and some unsweetened coconut flakes (optional). Gently heat the sweet mixture on a medium/low heat until it is warm and the banana goes to the desired texture (the longer you heat, the more mushy/ stewed the dessert becomes). Serve with a drizzle of maple syrup (optional).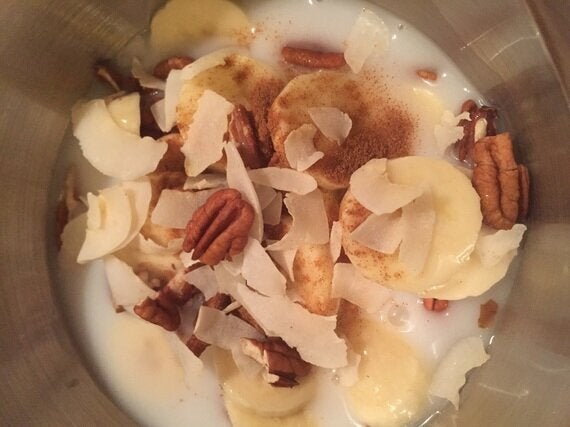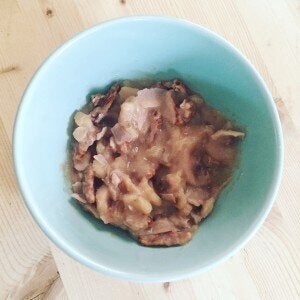 3. Apple and Almond topped coconut yoghurt
Mix about 200g of Fage Greek yoghurt with 100-150ml of coconut milk. Top with chunks of apple, a teaspoon of almond butter, and unsweetened shredded coconut.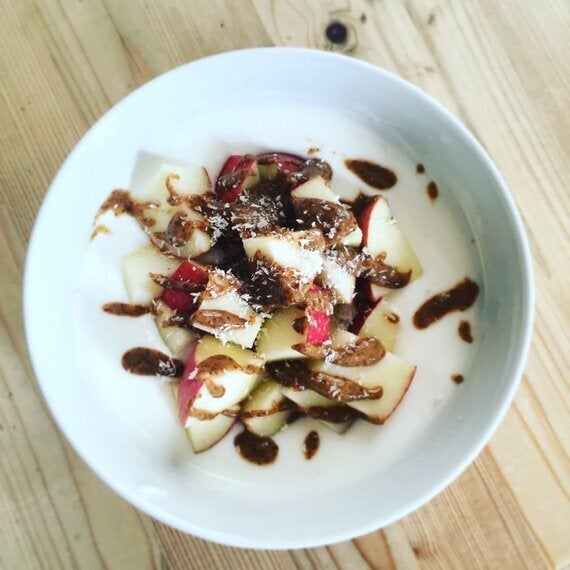 4. Frozen Banana with Peanut Butter
It's exactly what it says on the tin. Spread peanut butter on a frozen banana. If you want to be extra fancy, try my Nutty Banana Choc Ice Creams.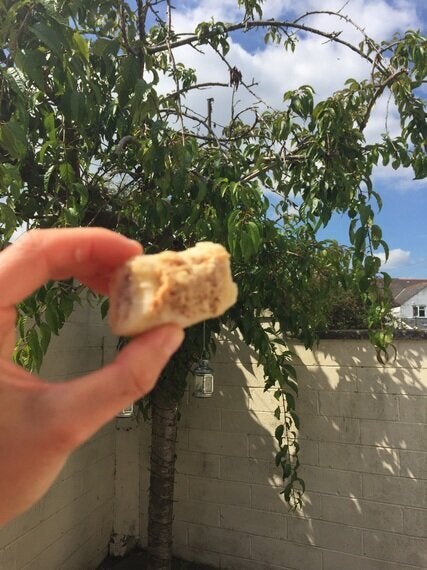 5. Sweet Blueberry Omelette
Beat two eggs with 1/8 of a teaspoon of cinnamon (more if you like the cinnamon flavour). Heat a teaspoon of coconut oil in a frying pan on a medium heat. Pour the egg mixture into the pan, and add a good sized handful of blueberries. Once the bottom of the omelette is cooked, place the pan under the grill on a medium heat, to finish the top. Serve with drizzled honey or maple syrup and Greek natural yoghurt.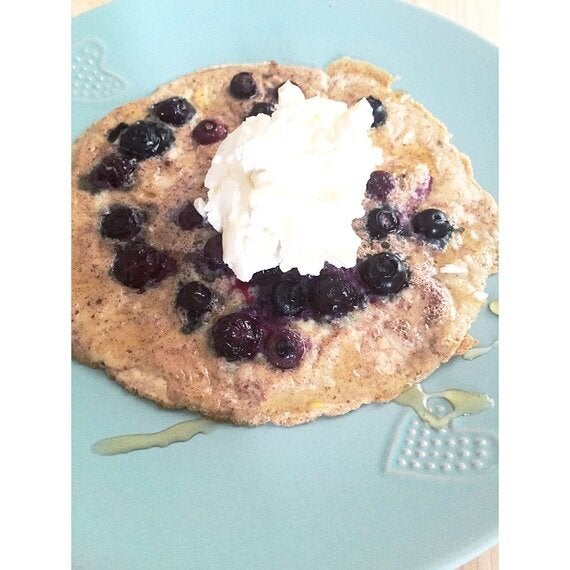 6. Cookie Dough Ice Cream
To make the cookie dough balls;
Mix the following ingredients in a bowl (using your hands is best);
100g almond flour, two tbsp coconut oil (softened), one tbsp honey, one tbsp almond butter, one tsp vanilla, two squares of lindt 90% cocoa chocolate (chopped into small chunks), and a good pinch of sea salt.
Depending on the consistency, add coconut milk or water a teaspoon at a time, until a dough like consistency is reached. Roll the dough into small balls (this recipe should make about 12), and store in the fridge or freezer.
Place two sliced frozen bananas in a blender with one tsp of vanilla extract, a splash of coconut milk, and 4-5 cookie dough balls. Pulse the mixture until it is the consistency of ice cream. Serve in a dish topped with half a chopped cookie dough ball.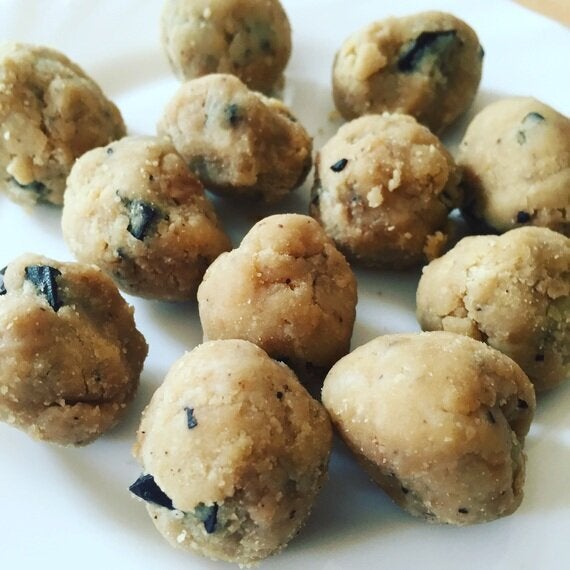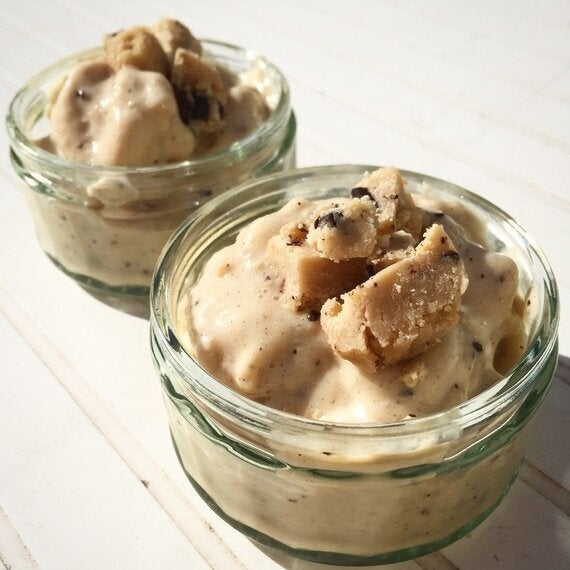 7. Quick Mini Berry Crumble
Preheat the oven to 190c.
Place 250g of blueberries in a ramekin dish. Squeeze the juice of half a lemon over the blueberries.
To make the crumble, mix the following ingredients in a bowl;
60g almond flour, 30g flaked almonds, one tbsp melted coconut oil, 1.5 tbsp maple syrup, 1/4 tsp of cinnamon, and a pinch of salt.
Spoon the crumble over the blueberries.
Bake the crumble for about 30 minutes, until the topping goes golden brown.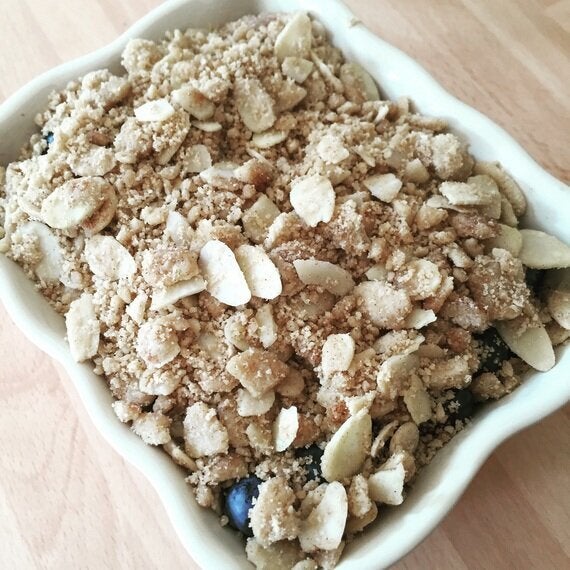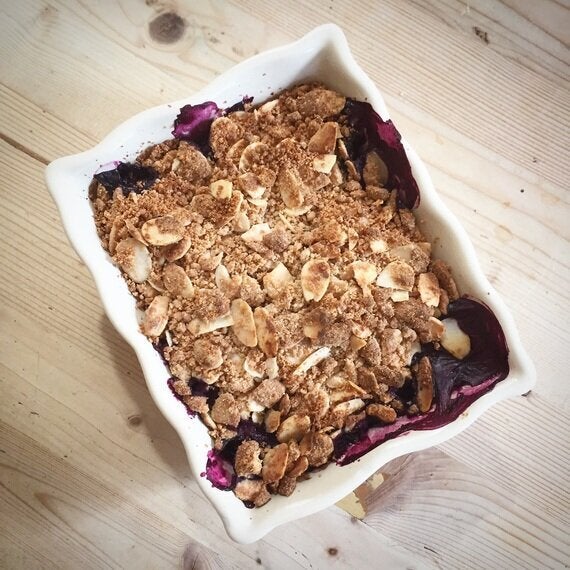 Place one large ripe banana, two eggs, 1/4 tsp of vanilla extract, and 1/8 tsp baking powder in a blender. Blend until a smooth batter is formed.
Heat a teaspoon of coconut oil in a frying pan on a medium/ high heat. Once the pan is hot, pour about 2-3 tbsp of the batter into the pan and move the pan around to form a pancake which is around 0.5cm thick. Allow the underside to cook, but as bubbles start to appear on the top side, begin lifting the edges of the pancake. Flip over with a spatula once the underside is browned.
Serve with fruit and Greek yoghurt, maple syrup and bacon, or another topping of your choice.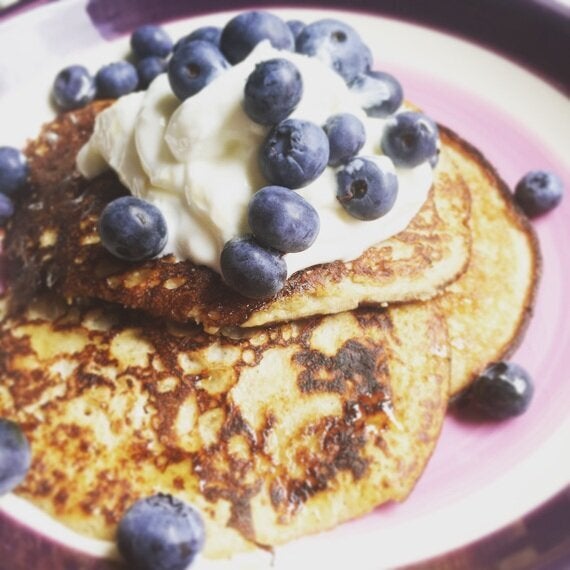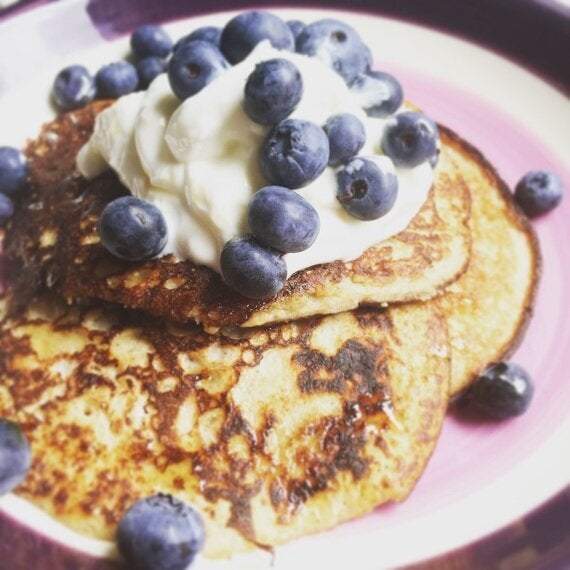 This post was first featured on Clean Food Queen Visit the site for more clean eating recipes.