What do dads want for Father's Day? I conducted a spectacularly unscientific poll which found conclusively that they all agree they don't want anything. Except they do really, they just want you to figure it out for yourself. Prove how well you know them.
I'm pretty sure this is why gift-appropriate occasions tend to revolve around three specific categories for dads: socks, pants (underwear not trousers), and 'smellies'.
I'm purposely not counting food or booze here - if getting your dad a bottle of his favourite tipple or a wheel of cheese is your traditional thing then go ahead, make his day.
But, if your imagination fails you this Father's Day and you end up relying on one of these much-mined stereotypical gift ideas, at least make the choice a considered one and don't just throw some convenient concessions in during an M&S or Tesco food shop...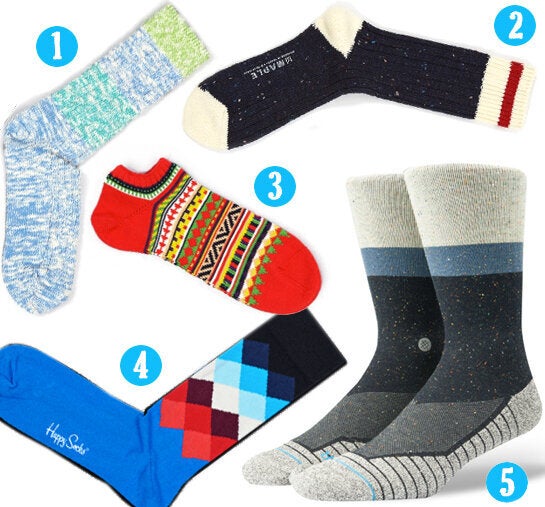 This one is easy - you can't go wrong with Stance or Happy Socks. They're easy to find thanks to plenty of stockists and they have so many designs you're bound to find the perfect style to please your pa. There are a few more niche brands including Maple, CHUP and Wigwam, that make quality styles that will elevate your old man's sock game.
1 Wigwam lightweight Capri stripe socks, £16, 2 Maple 100% wool heritage speckle ribbed socks, £30, 3 CHUP Chel sock, £21, all available from Goodhood goodhoodstore.com; 4 Happy Socks faded diamond pattern, £9 from happysocks.com/uk; 5 Stance Atacama Crew luxury socks from the Japanese 'Topstitch' range, £29, stance.com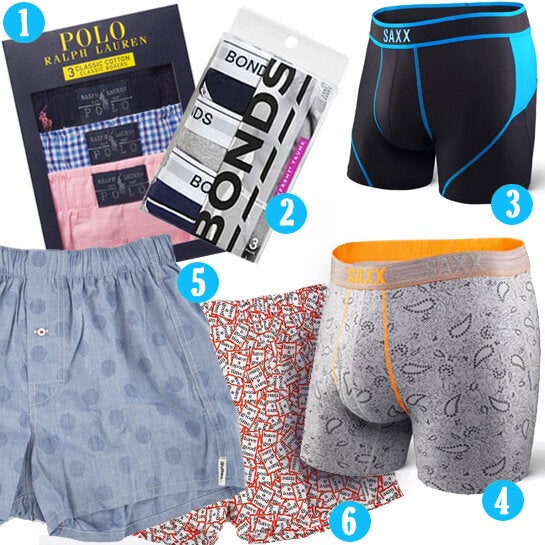 1 Classic crisp cotton boxer shorts from Ralph Lauren Polo in a bargainously preppy 3 pack - great if you're chipping in with siblings, £55 from House of Fraser; 2 Super soft comfy stretch cotton 'guyfront' trunks with a front fly by Bond. Come in a handy 3 pack where all 3 options are genuinely wantworthy - especially the nautical navy and white striped pair, £33 also from House of Fraser, houseoffraser.co.uk; 3 Outdoors-y and athletic dads may appreciate some moisture-wicking performance pants - the Saxx Kinetic boxers feature patented technology and are a best seller available in different leg lengths, from £29, by Saxx - 4 Go traditional with a twist with this modern take on paisley pants - the Platinum open fly boxers from SAXX, £25; 3 & 4 both from www.saxxunderwear.com, Blacks and Cotswold Outdoor. 5 Hipster dads - even if just at heart - might take a shine to the simple, understated design of these chambray polka dot boxers, or 6 for funsters the light-hearted 'have a good time' repeat print is a cheeky option, both hand made from 100% cotton by Druthers, £30 each at Goodhood, goodhoodstore.com
Smellies aka Men's Toiletries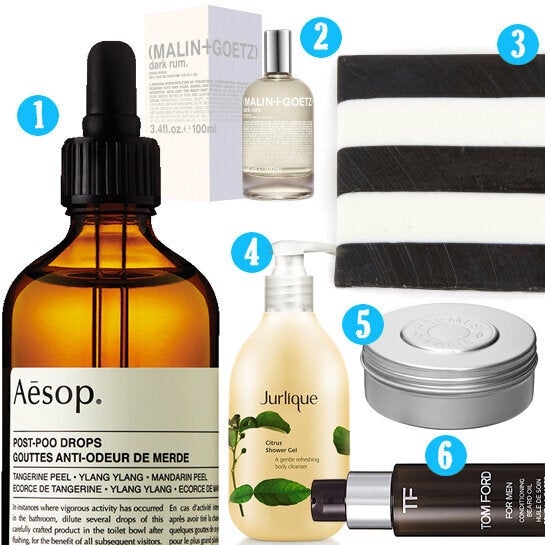 1 Aesop Post Poo Drops - one of the chicest and top high end comedy gifts around... £20, aesop.com/uk; 2 The newly released Dark Rum EDP fragrance from Malin + Goetz is absolutely divine - you may want to borrow back this warm, zesty unisex scent, £125 malinandgoetz.co.uk; 3 Old school dad who still uses bar soap? Try this humbug-looking Wary Meyers artisan cedarwood and vanilla version, £17 at Goodhood; 4 Jurlique 'gentle, refreshing' citrus body cleanser - because sometimes dad's skin needs a break from the Original Source... £17, jurlique.co.uk. 5 For the fancy father, gift with subtle gravitas an Hermes Eau d'orange verte moisturising balm, which can also be used as an aftershave £44 houseoffraser.co.uk; 6 The best smell on the planet, just pipping the aforementioned Dark Rum into second place, for me - and if your dad's beardy he can have it right under his nose... Tom Ford Tobacco Vanilla conditioning beard oil, £41, selfridges.com
This post has been published on HuffPost's blogging platform. The views and opinions expressed in this blog are those of the author and should not be taken as those of HuffPost. HuffPost does not allow bloggers to acquire products, access or accommodation for review in the site's name.