Don't forget it's Father's Day this Sunday - and whether you're clubbing together with siblings or going solo on the gift-giving, it's always nice to make your Dad feel appreciated.
My brothers and I are going in for my dad's gifts and this year I've decided not add on any freestyle element after a number of recent, let's just say 'Pinterest fails' in the DIY gift-giving department. Those sumptuous pictures of chocolate-coated strawberry towers may look beautifully simple but a) they're not, and b) try getting them to survive a cross-county cab journey...
Anyway, here are a few ideas for fancypants presents you can treat your old man to, to say thanks for all those free taxi rides, pearls of wisdom and interest-free loans.
PS. I hope you've all discovered the joys of Click + Collect - order from a number of retailers before 4pm, collect the next day from your choice of collection point - there are loads all across the UK. You can return stuff that way too - I just sent back some pieces I'd (over)ordered and it literally took 2 minutes in my local Budgens one evening. It's AWESOME.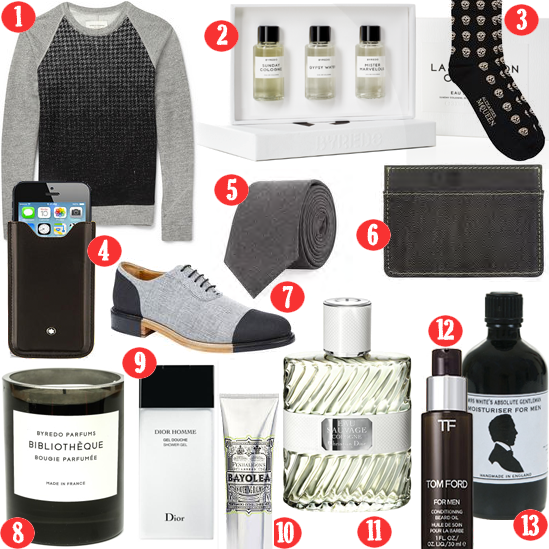 1 Mr Porter x Public School wool-blend sweatshirt, £315 from www.mrporter.com
2 Byredo Cologne Discovery Set, £42 from www.byredo.com
3 Alexander McQueen skull socks, £50 from www.harrods.com
4 Montblanc iPhone holder, £145 from Selfridges
5 EKOCYCLE x H Brothers tie, £49.95, 6 EKOCYCLE x Globe-trotter denim card wallet, £75 and 7 EKOCYCLE x The Office of Mr Scott oxfords, £380, all from the recycling EKOCYCLE initiative exclusively from Harrods
8 Byredo Bibliotheque candle - the smell of leather and dusty floors - LOVE, £50 from Harrods or www.byredo.com
9 Dior Homme shower gel, £27.50 from various Dior retailers including Harrods
10 Penhaligons Bayolea aftershave balm, £29, from Selfridges
11 Dior Eau Sauvage cologne, a modern, sophisticated and highly sensual remix of the classic men's fragrance that made it's original debut the year that England last won a World Cup, £49.50 (50ml)/£67.50 (100ml) from various retailers including Selfridges and Harrods.
12 Tom Ford Neroli Portofino conditioning beard oil - how luxurious - £40 from Selfridges
13 Mrs White's Absolute Gentleman Moisturising lotion, £20 from www.roullierwhite.com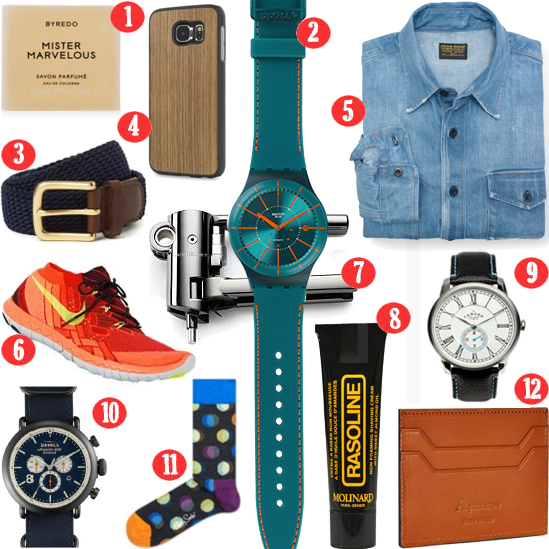 1 Byredo Mister Marvelous cologne soap bar, £17 from Liberty or www.byredo.com
2 Swatch Sistem 51 Green, £108 from swatch.com
3 Jaeger elasticated woven belt, £50 from www.jaeger.co.uk
4 Cover-Up WoodBack phone covers in a range of woods and for various mobile handsets, from £16.95 from www.cover-up.com
5 Jeans Shop at Club Monaco selvedge denim shirt, available in store, www.clubmonaco.com
6 Nike Flyknit 3.0 running shoes, £125 from Harrods
7 Le Creuset G10 lever corkscrew bottle opener in a very chic black nickel, £159 from Selfridges
8 Molinard Rasoline almond oil shaving cream, £15 from www.roullierwhite.com
9 The Camden Watch Company Men's No29 watch, £110 from WatchShop.com
10 Shinola, Runwell Contrast Chrono watch, £710 from www.shinola.com
11 Happy Socks, £8 a pair from their new Seven Dials flagship store plus www.asos.com
12 Aquascutum card wallet with blue leather back, £100 from acquascutum.com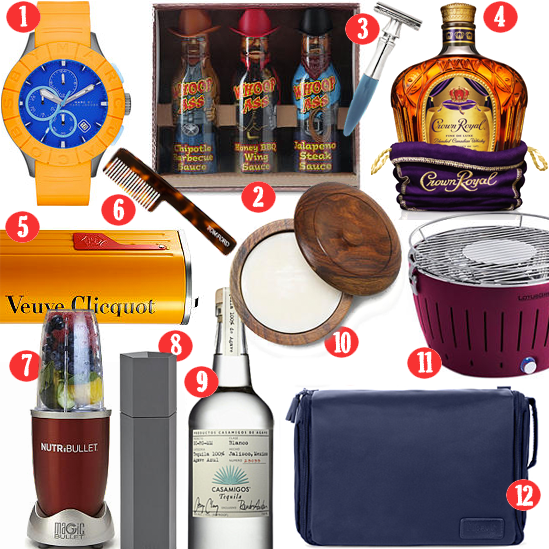 1 Marc by Marc Jacobs MBM5545, £239 from Selfridges
2 Whoop Ass BBQ Sauce set, £17.99 and 3 EShave double edge razor, £60, both from Selfridges
4 Crown Royal premium Canadian whisky, £26.95 from www.31dover.com
5 Veuve Clicquot champagne mailbox, £54.95, 6 Tom Ford beard comb, £28, 7 Nutribullet red edition, £99.95, 8 Hay anthracite salt and pepper grinder, £27, 9 Casamigos blanco tequilla, £62.99, 10 Taylor of Old Bond Street sandalwood shaving soap with wooden bowl, £24.50, 11 NONE smokefree BBQ, £140 and 12 Lipault washbag, £32 (exclusive) all available from Selfridges