Hey! Remember New Year? All those resolutions? How are they coming along?? Well, if you're anything like me, you made your annual commitment to a new fitness regime on 1 January and it was long forgotten by Valentine's.
After the Easter scoff-fest, and as magazines begin to herald the latest way to get a 'Beach Ready Body' for Summer, minds may well be turning back to those abandoned gym resolutions. Sometimes I find a little pick me up - anything from a new hair tie to a fancy fitness gadget - will give me the willpower boost to get back to it, kind of like when you got new pens for school and thought it would make you extra clever (just me? oh.)
Here's my selection of gym bag beauty treats and all other manner of exercise carrots to help you get back on track with those fitness resolutions.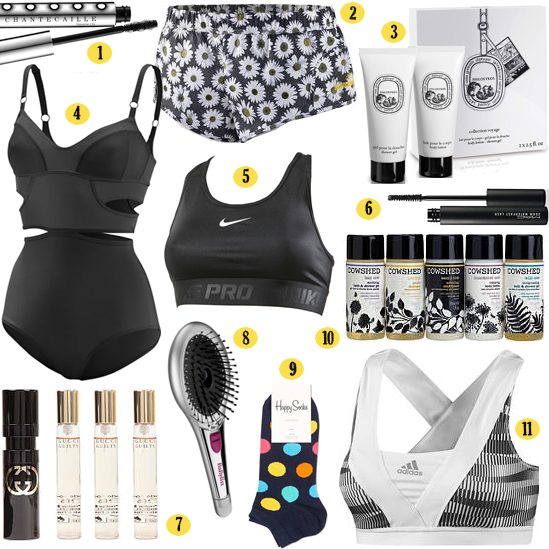 1 Chantecaille, Supreme Cils waterproof mascara (for those who insist on wearing mascara whilst working out), £45, from Space NK; 2 adidas by Stella McCartney, daisy Run Printed Shorts, £52, from www.adidas.co.uk; 3 Diptyque, Philosykos travel set (shower gel and body lotion), £20 from Selfridges; 4 adidas by Stella McCartney, Cover Up swimsuit, £75, from www.adidas.co.uk; 5 Nike, Pro Hypercool Flash sports bra, £25.20, from Simply Swim (they don't just do swim stuff!); 6 MAC, Zoom Waterfast Lash mascara, £14 from www.Selfridges.com; 7 Gucci, Guilty travel atomiser purse spray set, £54 from Harrods; 8 Babyliss, Brilliant Shine Ionic Brush, £29.99, from Argos; 9 Happy Socks, Dotted low socks, £7.00, and 10 Cowshed, Pocket Cow bath & body set, £18 from Selfridges; 11 adidas, Supernova Racer sports bra, £28 from www.adidas.co.uk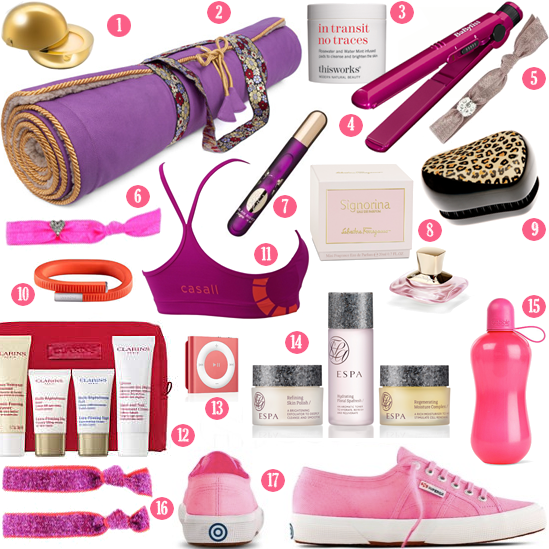 1 Mary Greenwell, Plum solid perfume, £70, from Beauty Mart; 2 Holistic Silk, yoga mat rug, £160 from www.holisticsilk.com; 3 This Works, In Transit 'No Traces' cleansing pads, £17 from www.thisworks.com; 4 Babyliss, miniature travel nano hair straighteners, £9.99 from Argos; 5 & 6 Popbands, £7 each, and 7 Leilani Bishop lilac roll on perfume, £42, all from Beauty Mart ; 8 Salvatore Ferragamo, Signorina miniature perfume (20ml), £30, from Debenhams; 9 Tangle Teezer, travel brush, £12.49 from Boots and various other stockists; 10 Jawbone, UP24 health and fitness band, £124.99 from Selfridges; 11 Casall, sports bra, £31.50, from www.simplyswim.com; 12 Clarins, travel set, £20, from www.selfridges.com; 13 iPod - take a break from your phone and clip an iPod on instead, £40 from www.harrods.com; 14 Espa travel sized products - I absolutely swear by these. Gorgeous packaging with a spa feel, effective products (I particularly love the Refining Skin Polish) and divine scents. From www.espaskincare.com; 15 Bobble, sports water bottle, £12.95 from Selfridges.com; 16 Popbands, glitter £5 from Beauty Mart thisisbeautymart.com; 17 Superga, limited edition Begonia pink plimsolls, £45 with 30% proceeds going to the Breathrough Breast Cancer charity, available from www.superga.co.uk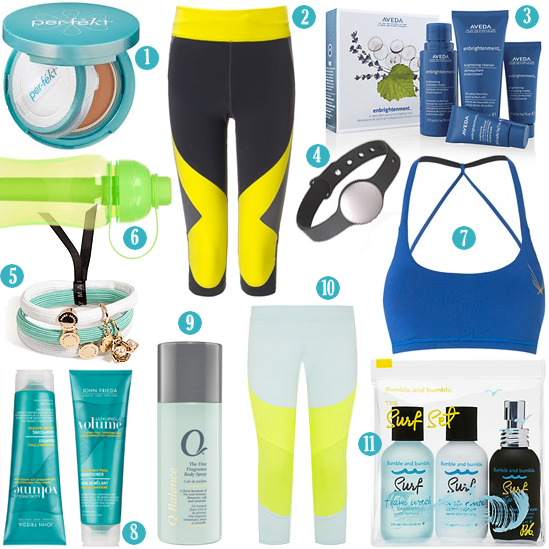 1 Per-fekt Beauty CC Creme compact - a celebrity favourite for even, glowing skin, used by the likes of Blake Lively, Rihanna and the Kardashians - £35 from Selfridges; 2 Charli Cohen, Yellow Laser Capri pants, £225, exclusively from www.Avenue32.com; 3 Aveda, Enbrightenment Skincare Starter Set, £33 from www.harrods.com; 4 Shine, Charcoal Fitness Watch, £100, from www.Avenue32.com; 5 Marc by Marc Jacobs hair tie bundle, £20 from www.stylebop.com; 6 Primark, water bottle, £1.50 from Primark stores (they have some great, affordable workout gear in at the moment that's definitely worth checking out); 7 Lucas High, Lapis blue Ion Sports Bra, £80, from www.Avenue32.com; 8 John Frieda, travel size Luxurious Volume shampoo and conditioner, from Boots; 9 Q, the fine fragrance body spray, £2.29, from Boots, Tesco and Sainsbury's stores; 10 adidas by Stella McCartney, three quarter tights, £70 from www.adidas.co.uk; 11 Bumble & Bumble, Surf Set shampoo, conditioner and surf spray, from www.bumbleandbumble.co.uk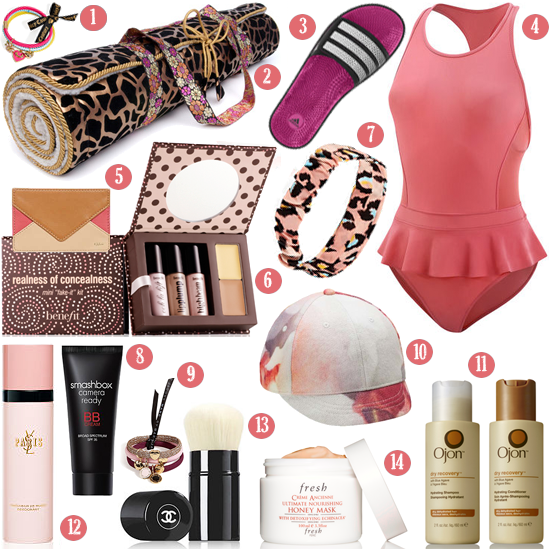 1 Juicy Couture, set of 3 hair elastics, £20 from www.stylebop.com; 2 Holistic Silk, leopard print yoga mat rug, £160 from www.holisticsilk.com; 3 adidas, adissage Light Slides, £24, and 4 adidas by Stella McCartney performance swimsuit, £75, both from www.adidas.co.uk; 5 Chloe patchwork card holder for your gym membership card, £170 from www.selfridges.com; 6 Benefit, Realness of Concealness miniature makeup kit, perfect for maximising that post-workout glow if you're going out after the gym, £23.50 from www.johnlewis.com; 7 Matthew Williamson, leopard spot print headband, £65, from www.harrods.com; 8 Smashbox, travel size Camera Ready BB cream with SPF 35, £12.50, from www.boots.com; 9 Marc by Marc Jacobs, embellished hair tie cluster, £25 from www.stylebop.com; 10 Samsøe & Samsøe cap, from www.samsoe.com and Atterley Road; 11 Ojon, Dry Recovery travel size shampoo and conditioner, £7 each from www.ojon.co.uk and Boots; 12 Yves Saint Laurent, Paris rose deodorant, £28, and 13 Chanel, Les Beiges travel kabuki brush, £35, both from www.harrods.com; 14 Fresh, Creme Ancienne Ultimate Nourishing Honey Mask with detoxifying echinacea - I love to apply a mask (and hair treatment) pre-sauna.