As someone who takes a relaxed approach to fashion, I find the easiest way to dress up an outfit quick is to add some edgy accessories and Manhattan-based siblings Giles and Brother specialise in my most favourite kind - understated statement jewellery.
Philip Crangi, the 'and Brother' half of the accessories label and former CFDA* / Vogue Fashion Fund award winner (previous winners include Alexander Wang, Prabal Gurung and Jack McCullough & Lazaro Hernandez of Proenza Schouler to give you an idea as to quite how big a deal this is), designs tough, urban pieces that are spectacularly wearable and add a sleek, streetwise New York spin to any look.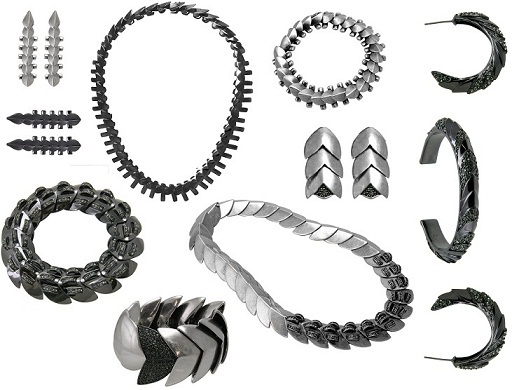 Clockwise from top left: Petal Fringe Earrings in Hematite and Silver Oxide (£58.80 per pair), Hematite Petal Fringe necklace (£159.60), Silver Oxide Petal Fringe Bracelet (£98), Petal Hematite & Pave Hoops (£70), Petal Hematite & Pave Cuff (£95.20), Nara Silver Oxide Collar with Pave (£207.20), Nara Tiered Earrings with Pave (£95.20), Nara Silver Oxide Bracelet with Pave (£165.20) and Nara Hematite Bracelet with Pave (£145.60).
The trained goldsmith's simplified graphic takes on medieval armour and Baroque iron work are statement pieces that compliment and pull a look together, rather than dominate it. Discreetly trend-focussed, this is classic costume jewellery with a real modern luxury feel to it. Even better, the price point is totally competitive, with every piece coming in under £300 (most is a lot less with pieces starting at around £60).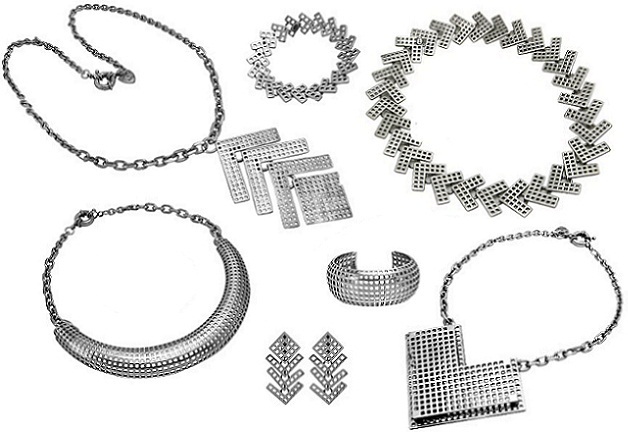 Clockwise from top left: Silver Oxide pieces from the Graph range - Pendant (£131.60), Link Bracelet (£67.20), Link Necklace (£128.80), Stacked Pendant (£184.80), Rounded Cuff (£61.60), Link Earrings (£70) and Collar (£103.60).
Highlights from the current Giles and Brother Holiday Collection include the geometric glam of the Graph range (the rounded cuff is a definite standout) and all of the structured Nara pieces whose pared down military vibe is softened with a dusting of black diamond rhinestones for a perfect pave pop. I have some major tough luxe love for the spikey stylised Petal Fringe necklace and earrings in hematite too - they're a little bit hip hop, a little bit grown up version of my teenage bike chain jewellery, and a LOT super cool street chic. The necklace is great for working the current jewellery trend for layering too, either with the silver oxide version or with other chains - although for a ready-layered look you can't get better than the 19" Multi-Graduated Chain Necklace with Pave below - how cool is that?? it's my absolute Holiday Collection must have.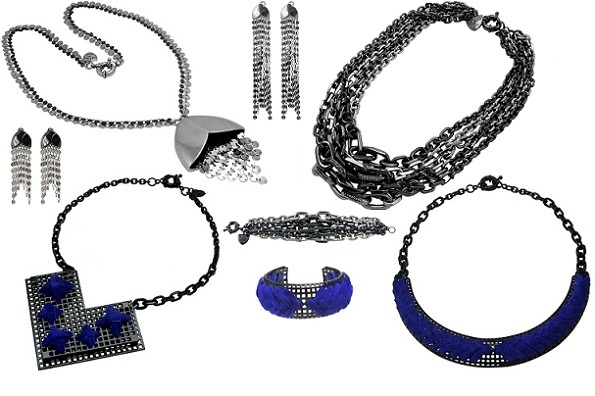 Clockwise from top left: Taki Medium Chain Earrings (£78.40), Taki Silver Oxide Pendant (£131.60), Taki Long Earrings (£86.80), Multi-Graduated Chain Necklace with Pave (£184.80) and matching bracelet (£145.60), Graph Collar (£131.60), Rounded Cuff (£98) and Stacked Pendant (£226.80) all in Black Lacquer with Blue Detail.
Available in the UK from Liberty, Browns and Net-A-Porter, Giles and Brother are definitely a duo to watch - I've had a sneak peek at their Spring Summer 2012 collection and can assure you, they just keep getting better.
*Council of Fashion Designers of America, the US equivalent of the British Fashion Council.