Every new skincare product these days seems to be promoting the benefits of hyaluronic acid. Whilst it has a number of medical uses, and was patented in 1942 as a baking substitute for egg whites, when it comes to beauty products the main reasons for including hyaluronic acid are its alleged anti-ageing properties, and its ability to ensure skin is kept hydrated.
This is one skincare ingredient I've been a huge fan of for years now, with two products being true standouts. These are my two absolute favourites and the reasons why...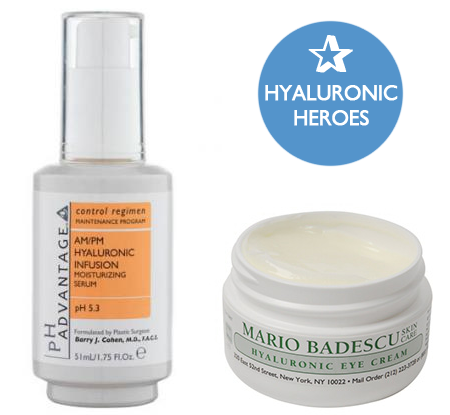 AM/PM Hyaluronic Infusion by pH Advantage
I first started using products based around hyaluronic acid in 2003 when I discovered plastic surgeon, Dr. Barry Cohen's pH Advantage line in the States. I had turned up in NYC with a completely empty suitcase and my first stop after JFK was to midtown to meet my friend whose apartment I was staying at. Her office was by Herald Square so, after checking in with her, I cheekily dropped my suitcase off in Macy's handy Left Luggage, then did a three-stop emergency dash to pick up all the essentials (Old Navy - Duane Reade - Sephora).
One of the super helpful shop assistants in Sephora saw my parched post-flight skin and suggested I try some products from the pH Advantage line. They gave me a bunch of testers to take home along with my other purchases and I loved them so much I went back a couple of days later and bought some. My skin started to look like I'd been drinking lots of water and getting lots of sleep, despite not doing either of those things.
When I got back from that trip - which, to give you some context, involved a music festival in a monsoon at the Giants Stadium, being filmed (totally randomly) by MTV whilst partying in Jamaica, Queens, and being driven home from a club by a taxi driver who had one foot on the dashboard the whole way... - I still remember how funny it was that everyone commented on how refreshed and healthy I looked. I put it squarely down to my new skincare routine.
For years after I couldn't find it anywhere but have mercifully recently discovered that pH Advantage is stocked both online and at Beyond MediSpa which is based in Harvey Nichols' London and Edinburgh locations.
In particular, I swear by their AM/PM Hyaluronic Infusion which is for dry, dehydrated or mature skin and contains medical grade ingredients, including the maximum amount of hyaluronic acid you're allowed without a prescription (45%). I use 1-2 pumps morning and night. The solution is watery so goes on easily and absorbs quickly into the skin - and one bottle tends to last me around 4-6 months.
AM/PM Hyaluronic Infusion, £80 from www.phadvantage.co.uk and Beyond MediSpa inside Harvey Nichols London and Edinburgh.
Hyaluronic Eye Cream by Mario Badescu
I hate using eye cream. I always get it in my actual eye instead of just around the eye area which HURTS. And I've also had a lot of eye cream dramas - one product actually gave me burns - so I've incredibly picky as to what I use in this sensitive area.
If I can't find something I like, I just won't use one but I decided recently that I'm probably too old to get away with that now so I hunted down my all time favourite - Mario Badescu's Hyaluronic Eye Cream. The main reason I love this cream is because I know it works.
One evening some friends and I inexplicably ended up at a plastic surgery expo. As they sought out the bar, I stumbled across a stand offering something called a 'skin scan'.
An established skin clinic was offering free facial scans that would tell you about the true state of your skin, particularly in relation to sun damage. I figured it would be worth a go so stuck my head in the machine, which then filled with blue light (UV, I'm guessing).
As I opened my eyes, there was my reflection staring back at me. But it was different. Instead of my skin having its standard northern pallor - the shade kindly known as 'porcelain' in makeup terminology - it was varying shades of blue, with two big white rings around my eyes like an inverse panda.
The clinician carrying out the scan told me that the dark blue areas that were around my forehead, nose and also formed a beard shape were badly sun damaged, and that the lighter blue areas were less severely damaged areas, whilst the white areas - purely around my eyes - were healthy skin. Puzzled, the clinician said it was incredibly odd to find such badly damaged areas next to such healthy areas and asked about my skincare routine.
I explained the products I used on my face, including the Mario Badescu Hyaluronic Eye Cream and she immediately said "Aaah, that explains it - hyaluronic acid is known to help repair the skin and reverse the signs of sun damage". No word of a lie, I went home that night and smothered that eye cream all over my face. Absolutely piled it on.
I've never had another skin scan since, or a second opinion on the first one, so I don't know if that's true, or if my continued use of the eye cream and the additional boost of the pH Advantage serum detailed above, has made any difference to the existing damage. What I do know is that I don't have any wrinkles under my eyes yet despite a lifetime of screwing my face up, wrinkling my nose at things and squinting at screens, so I'm happy.