Just as we've filled our winter wardrobes with cosy knits, jewel toned satin and oh-so-ladylike tweed, we find ourselves in a sartorially compromising early autumn heatwave situation and, tempted by the current catwalk shows for 2012, last season's already-stored summer gear just isn't cutting it.
I wouldn't normally write about things that aren't already available or at least about to drop, but the triumphant Marc by Marc Jacobs Spring Summer 2012 collection is definitely worthy of special mention as, if - like me - you have designs on the whole lot, it'll take a while to save up for.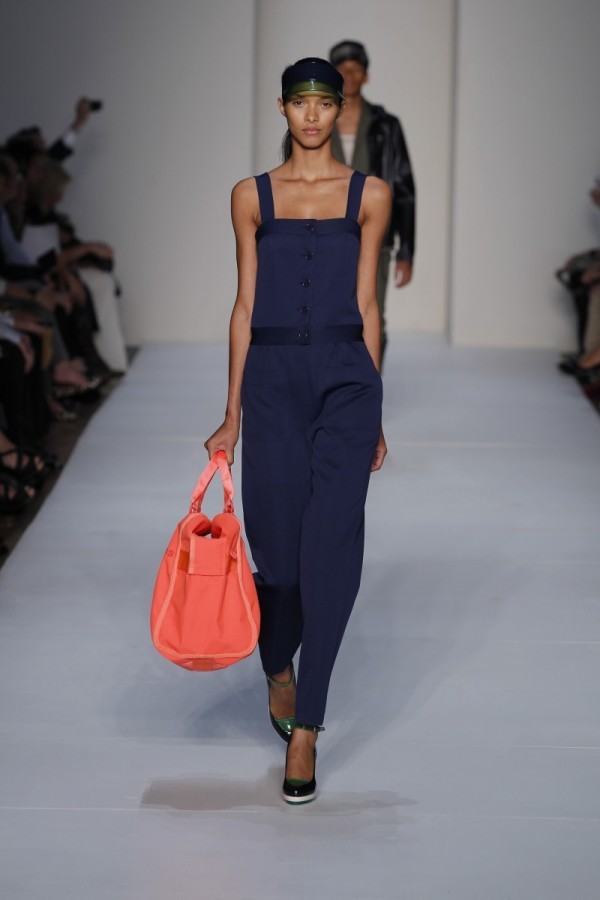 Marc Jacobs' younger line looked just that as his recent NYFW catwalk showcased a host of simple shapes and pop colours, fusing his signature playful West Village chic with retro Americana and sports casual influences.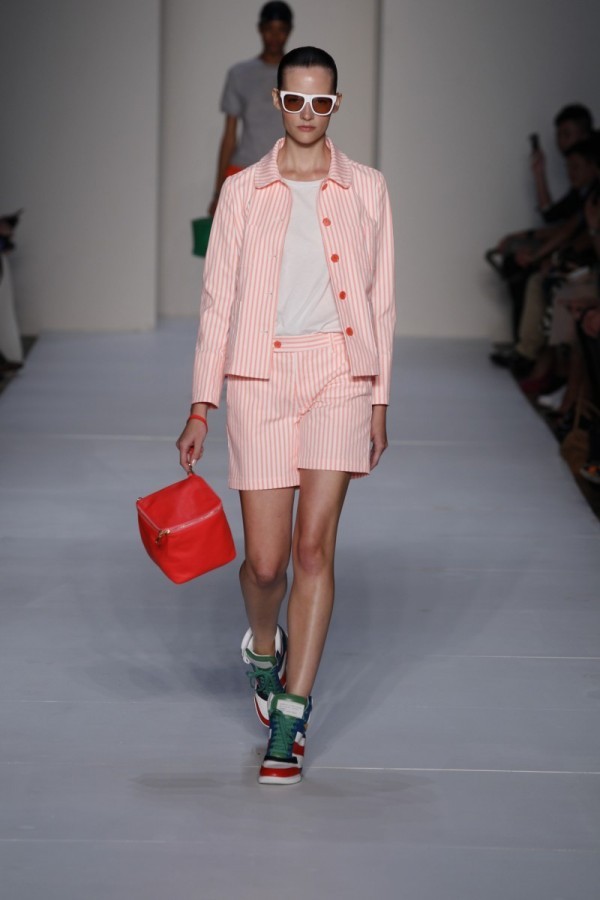 Marc by Marc is always fun, tending to play to the quirky intelligentsia and artsy media sets, but this collection felt far fresher and sportier than usual (even without the classic grey marl sweats), perhaps inspired by Jacobs' own on-going gym obsession.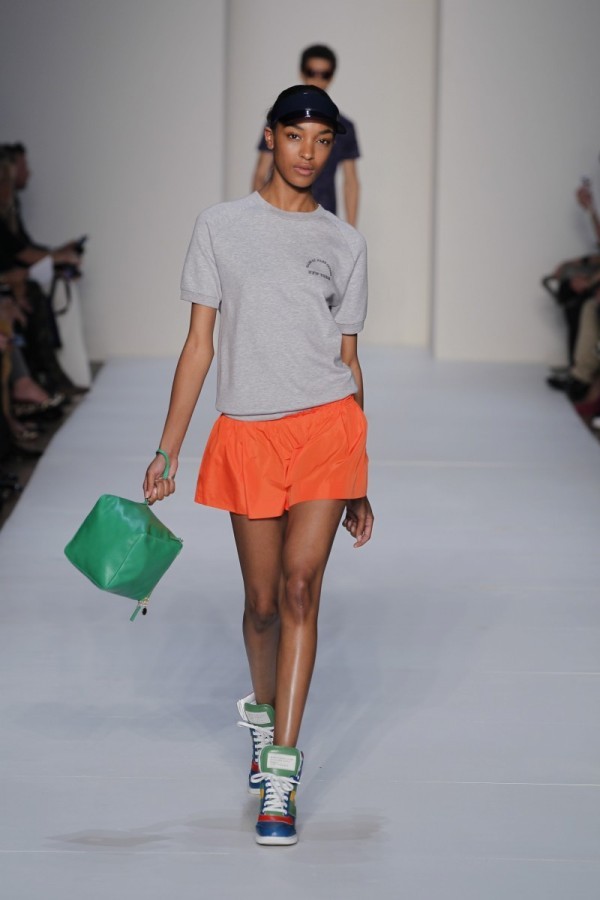 These supremely wearable designs are clearly translatable for a variety of ages, shapes and sizes - this is, after all, one of the only major designer labels to make clothes in what designers consider plus sizes (up to a UK18), even if they aren't usually kept on show in stores.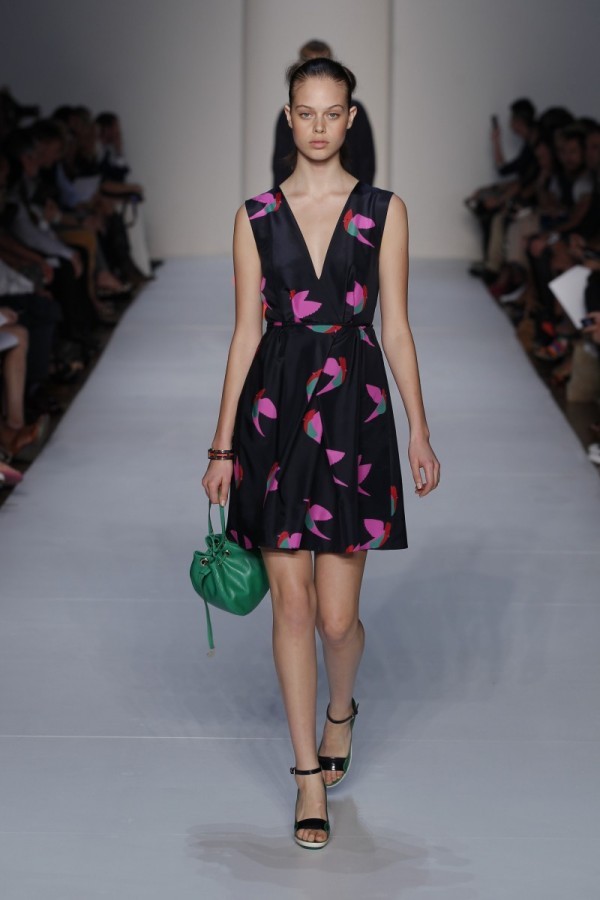 A cheery pattern palette ranging from bold horizontal blocks in classic navys and whites brought to life with Heinz Tomato Soup reds and vibrant blood oranges running like an electric charge throughout the collection, to vertical highlighter candy stripes and the most adorable cartoony parakeet prints which mixed this season's jewel colours with a neon edge, ensured each look oozed an upbeat, colourful take on urban chic, that works from Bleeker (or Borough) to the beach.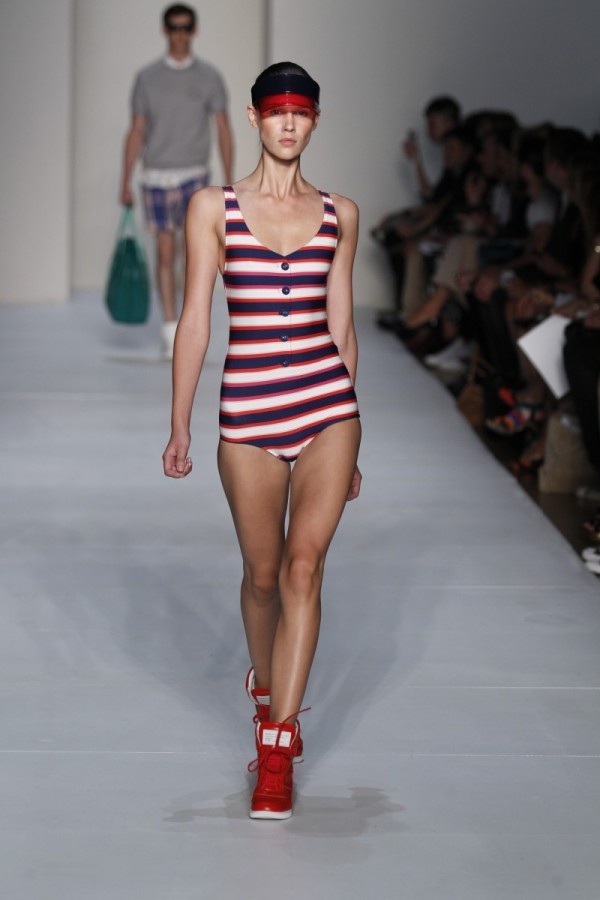 Marc by Marc accessories are big business and this collection is sure to be another banker with its awesome must-have primary colour blocked trainers with a hidden wedge heel - think iconic 1990s Travel Fox hi tops meet Jil Sander - sumptuous leather cube wristlets and duffle bags, topped with retro visors. Ubiquitous MJ Mary Jane heels for city girls on the go are also a great shoe cupboard cornerstone and have been reinvented for SS 12 to include semi-hidden wedge soles adding studiness to the design. They also come in a host of on trend colours, including emerald greens, mustard yellows and go-to black, that will help transition your current winter wardrobe into your 2012 summer one seemlessly.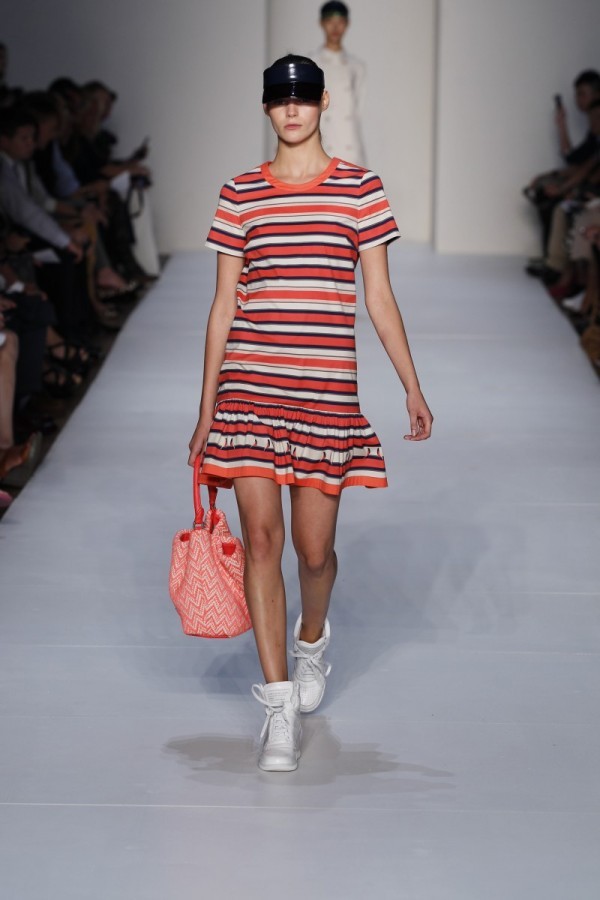 Standouts for me were the trainers - actually, truly it was ALL the accessories (I must confess to having a bit of a Marc habit, particularly where accessories are concerned) - the neon candy striped city shorts suit above, reminiscent of one of my favourite 'smart' childhood outfits from the ill-fated M&S 'Girl' label, and the drop waisted ra-ra T-shirt dress in soft jersey with a ribbon trim. Reworkings of this dress are something of a staple in the Marc by Marc shows for the simple reason that they are AMAZING. Easy to throw on, flatteringly cut with perfect proportions, great detailing and made from the softest, comfiest jersey (beware moths - I say this from experience), they induce compliments from the most unexpected of corners and are basically stylish, comfort dressing crack. Without wishing to feel like a pusher, you need these in your life.
Check out the SS12 collection show on www.marcjacobs.com and start preparing that shopping list.