As anyone who read last week's post will know, I'm pretty boobed out right now.
It's hampering my ability to get out and about as much as usual so this week I'm writing about a few fab accessories brands I've borrowed pieces from for photoshoots recently (and one piece I bought after it came up on my Facebook feed and it was love at first sight), all of whom I chose to work with because their stuff is AWESOME. Simple as that, really.
Some of it's new, all of it's classic (and one has a 50% off deal happening soon that I just know I'm going to regret opening my big mouth about when everyone else gets there before me...).
Tatty Devine:
A long term favourite brand of mine who are best known for their fantastic plastic styles but who also now have a stunning, yet still quirky, fine jewellery line. I love Tatty Devine because their jewellery never fails to make me smile.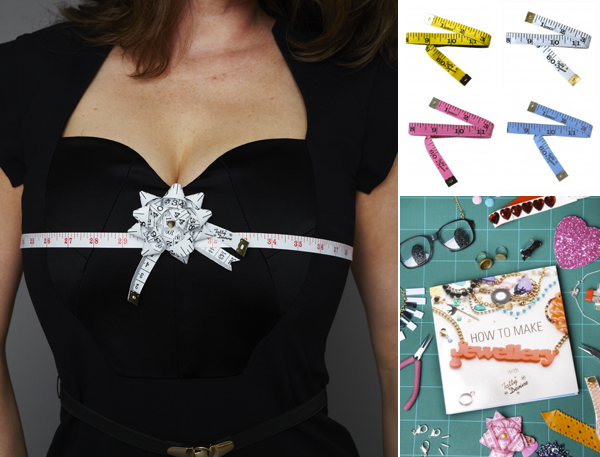 Tatty Devine classic tape measure brooch, which you can learn how to make yourself in this book (£12.99) and get the cool retro tape measures for £3.50 each from www.tattydevine.com
Tape Measure brooch worn here with:
Full length tuxedo style dress which fits to an H cup, £350 from www.saintbustier.com
Eastern Mystic:
Influenced by the Indian heritage of its designer, Sonal Talgeri-Bhaskaran, Eastern Mystic is bold and edgy with a luxury feel that can leave you pleasantly confused at how affordable some of the pieces are. The understated geometric pieces, like the Drama & Destroy styles pictured below, and the chain necklaces with neon pops are my favs right now and perfectly demonstrate the fantastic eye for shapes and colour that this brand has.
Drama & Destruct Gold Shard Hoop Earrings, £165, and matching pendant, £140, both from www.easternmystic.com
Worn with:
Little black dress, £175, and shimmer sequin dress, £275, (which both fit large cup sizes up to an H cup), from Saint Bustier, as before.
Alice Menter Jewellery:
Alice Menter produces really unusual pieces that, at first, just look like gorgeous, often chunky, statement pieces, but the closer you look, the more her innovative, industrial aesthetic becomes apparent. Handmade in Bristol by fusing together every day objects like nuts, washers, zips and bolts, the ordinary gets upcycled into luxury jewellery well worthy of Alice's recent placing as a finalist for the top new name in jewellery gong at the Retail Jeweller's UK Jewellery Awards 2012.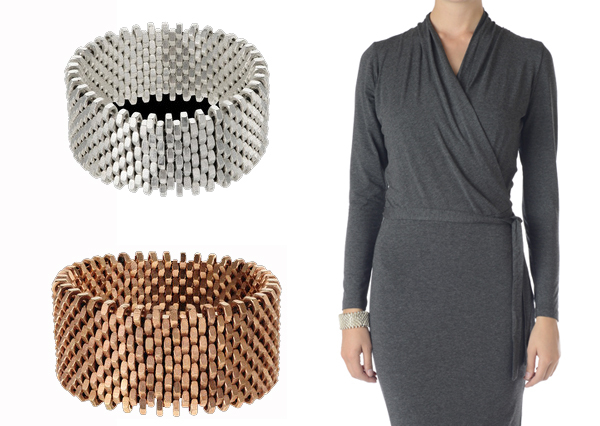 Isla cuff by Alice Menter, £195, made from silver plated hexagonal nuts and available in S, M & L , also pictured in Rose Gold, from www.alicementer.co.uk
Worn with:
Grey melange faux wrap dress with built-in, secret shapewear, £150, from Saint Bustier
Upper Street Shoes:
Upper Street are a great British company who allow you to design your own shoes online using a 3D, 360 degree view tool. You can specially select and customise every single aspect of your fantasy footwear from the silhouette and heel height (including flats) to whether you want straps, what kind and how many straps, where do you want them - honestly, I'd advise you don't try playing with this one in your lunch hour at work because it's so easy to lose hours playing with different styles without even realising.
I have a pair of ankle strap heels that are a variety of all black textures - snakeskin, ponyskin and patent leather (bad vegetarian!) - from Upper Street which I adore so can absolutely recommend these guys personally. Also, as a hoarder of great packaging, 18 months later I'm still clinging to my box, ribbon and gorgeous velvet shoe bag too, no matter how much the cat tries to claim it as her new bed.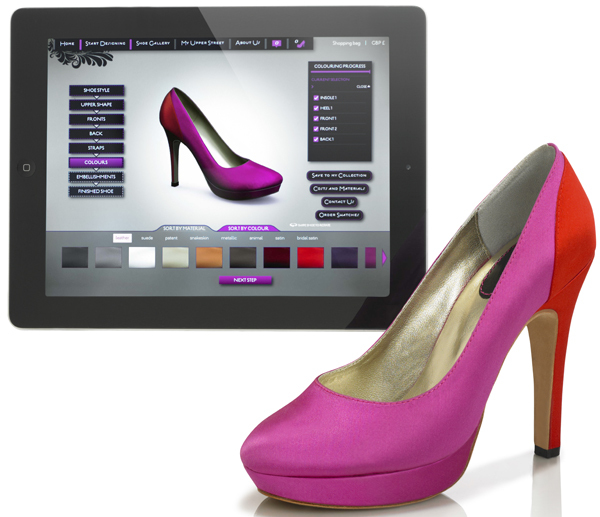 Upper Street are launching their new Shoe Designer iPad app (for all your on-the-go shoe design emergencies!) on Thursday 1st November and everyone who downloads their app from the App Store by midnight will be sent a voucher on 2nd for 50% off any pair of shoes they order by November 5th. Half price! I'm a sucker for a bargain so don't all rush in before me as it's limited to the first 300 orders placed. Check out www.upperstreet.com for full details.
Galibardy:
Finally, a site with a lot of fairly gothic pieces that I occasionally look at but have never bought from before until I swooped in on an absolute beauty of a cheeky logo chain necklace popped up on my facebook feed... it was LOVE but, as it's gone from their site now, and the logo in question that the piece was based on may or may not have been theirs *ahem*, I don't want to get them in trouble by posting a pic so instead, here are a few of the things you can get from them right now that are absolutely brilliant.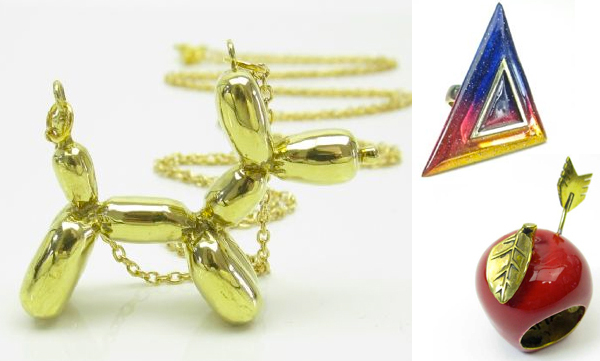 Balloon dog necklace, £16, Pyramid Galactic ring, £16 and William Tell apple ring, £18. All from www.galibardy.com