Some of you may have noticed I've been a little absent from here of late and finally I can explain why. I've been spending every waking hour, and most when I should have been sleeping, working on Saint Bustier, the first ever fashion site specialising in designer clothing for busty women.
As an E cup myself I am well aware of the problems in finding fashionable clothes that fit both your boobs and your waist and don't look like a tent from the side so I was overjoyed to hear about the project. I got involved after meeting the two hugely passionate founders, a big hitter from the world of international retail, and a stylish maven with an eye for a great fit who turned to fashion after finding it impossible to clothe herself after her already big boobs ballooned following the birth of her son.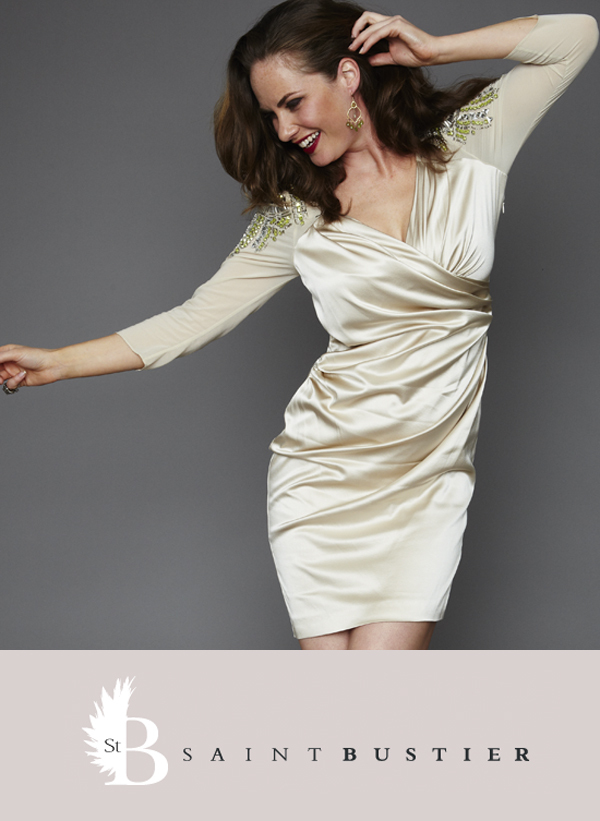 The perfect party dress, £350, from Saint Bustier, worn with Jasmine chandelier earrings, £120, from Sushilla
Admittedly, when I heard it was just two months before we launched such a ground breaking, brand new site to the world (NO PRESSURE) I was pretty daunted but the joyous, thankful even, reaction we've had from the wonderful busty girls we've spoken to, who have all been beside themselves with excitement over what we're doing, has made all the late nights and wages paid directly to Starbucks worth it. Especially when Clare Balding wore a gorgeous shirt she got from us to present Have I Got News For You, and when fashion authority Mademoiselle Robot called us "A real game changer... the Net A Porter of boobies" - awesome times...
Live now, we promise that SaintBustier.com will be 'a cup above the rest' starting with a host of fashion-conscious styles for all ages. We've mixed well known brands like Bastyan and Damsel in a Dress, alongside cool, Scandi designers like Baum und Pferdgarten and Second Female, in styles that have been tried and tested to fit cup sizes D-H but in regular clothing sizes of UK 8-18 (US 4-14).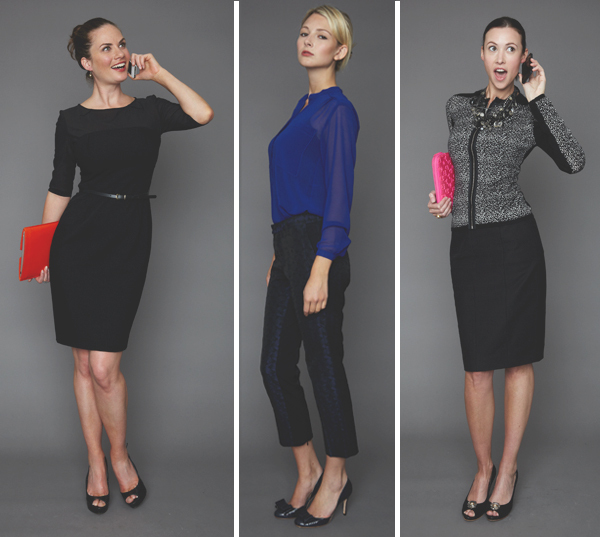 Work wear options for busty women so your colleagues will look you in the eye...
Look 1: Dress with power mesh panels, as seen on Caitlin Moran, £220, styled with a leather iPad case in Honeydon Orange, £99, from Tusting
Look 2: Cobalt shirt, as seen on Clare Balding, £54, and metallic blue and navy trousers, £179
Look 3: Abstract print zip front cardigan, £149, and the essential black pencil skirt, £95.
All clothing from Saint Bustier, all shoes by Upper Street (you design your own shoes so if you want more details on these styles, just ask!), all other accessories stylist's own (ie. mine - bonus points to any regular readers who recognised that Marc iPad cover!)
The Saint Bustier launch collection is a small affair to see exactly what our customers - who have never had this kind of brand-led shopping experience before - really want, but we already have some big plans in the pipeline and some seriously big name, international designers on board for Spring/Summer.
For the launch you'll find cool shirts that don't gape, coats that close, work wear that fits curves, party dresses - even full length black tie gowns for full on red carpet glamour. The one thing we don't do is frumpy. And because, unlike most brands who cut to a B cup regardless of clothing size, we have hand picked styles or had them adjusted to work for fuller busts, we know our picks will really work.
One of my favourite parts of this project has been working with designers on exclusive styles that work on busty women. Sick of seeing designer stuff on your friends that you love but can't wear otherwise your giant scaffolding style bra will show? US TOO. We've had extra inches added in the bust to some designs and back panels added to others to cover bra straps - we really do understand what it means to have massive melons and how - until now - this meant seriously limiting your fashion potential.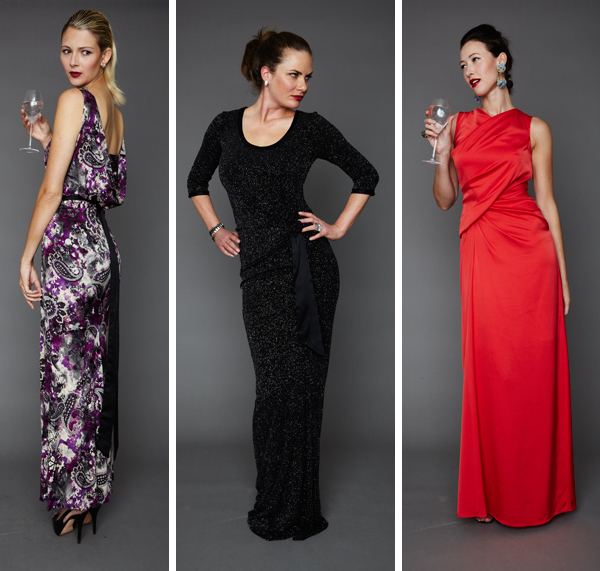 Party dresses and black tie gowns that won't cause wardrobe malfunctions.
Look 1: The exclusive Oscar dress in purple paisley, £295
Look 2: The Vanda dress, £170
Look 3: This red full length stunner will be coming in time for Christmas (this is a sneaky preview)
The images here are a few of my personal favourite pieces from the site to give you a flavour of what Saint Bustier is all about. Now the site is live I'm super excited to be able to show everyone what we've worked so hard on for the past few months - I'm so hopped up on caffeine right now I'm still a bit worried it may all turn out to be some kind of wonderfully crazy dream.
Although Saint Bustier is a UK based site, we ship internationally including to BFPO addresses, and, for those of you who aren't chest-blessed, don't worry, I'll be back to wittering about trainers and make up soon enough, after a big, big sleep.
www.saintbustier.com - the designer boutique for busty women with clothing sizes UK 8-18 and cup sizes D-H is now open and you can also find us on Facebook, Twitter and Pinterest.