With the world's sudden interest in sports, I thought it was a good time to drop the latest Jeremy Scott for adidas Originals line on you. This awesome AW12 collection (minus those controversial My Pet Monster shackle shoes which got culled) is about to start hitting stores and adidas.co.uk (first releases are in August, the second lot arrive in October) and it's as out there as ever...
This collection comprises such a compilation of styles it's like the fashion equivalent of an early 1990s Now album. There's the electro pop QWERTY keyboard designs in cheery, chart-friendly raver style dresses and long sleeved t-shirt tops with matching trackie bottoms, moving into the street cool, retro Versace-style chain motifs and leopard print accessible hip hop section featuring classic tracksuits, baseball jackets and old school tees.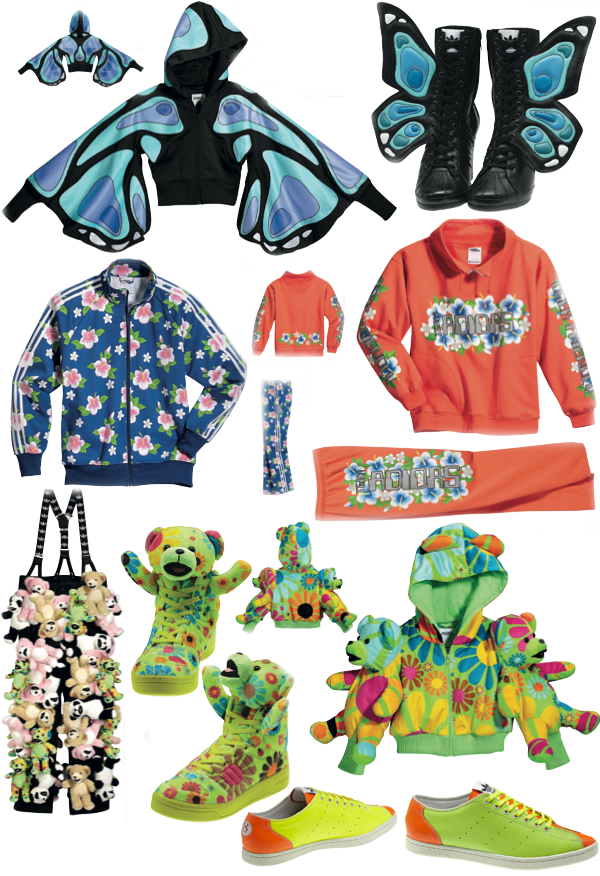 There's a brief Michael Jackson interlude courtesy of the black and silver JS Forum Hi buckled hi-tops and some moonwalk-style space-inspired outfits, and a great cropped, quilted leather jacket you just know Neneh Cherry would have worn on TOTP.
Amping it up in typical Jezza fashion are the crazy kaleidoscopic aciiiiid stylings from a winged butterfly hoody and JS Wings Wedge heeled sneaker boots to trippy, teddy bear adorned salopettes, hoodie and JS Bear shoes which slide nicely into crowd-pleasing, oh so pretty Hawaiian flower-powered pop tracksuits.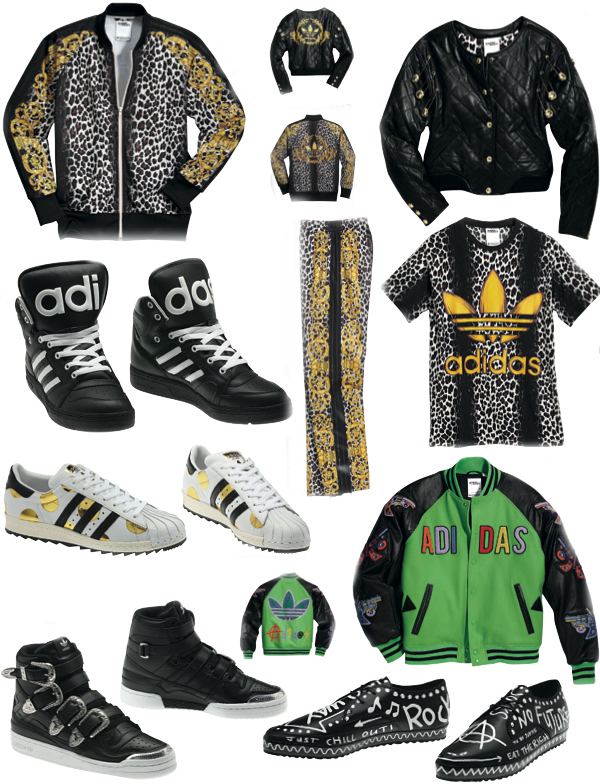 Despite the variety, each piece is clearly, unmistakably Jeremy. Mr. Scott has lost none of his signature fun but has still managed to ensure this collection comprises far more wearable designs than usual (clearly I'm not including the aforementioned teddy bear salopettes here). I love the subtle twists of the leopard print outfits, the spotted superstar trainers and the introduction of wedge heels.
I can't wait to boost my JS Wings collection with this colour-blocked fleece version of his cult shoe and I'm loving Jeremy's take on one of next season's hottest coat styles - the puffa jacket - with both the women's tie die coat (pictured below) and the fab mash-up JS Animal Print Jacket (which probably wins given they do the super cute matching JS Instinct Hi which, as an outfit, totally appeals to my inner toddler).
As regular readers will know, I'm a HUGE fan of the Jeremy Scott x adidas Originals collections and hope this collection might win the designer Karl Lagerfeld named the only person who could succeed him at Chanel, even more fashion fun-loving fans. Available from August in stores and from www.adidas.co.uk