My boyfriend and I have built a sneaker wall at home to house our respective trainer collections. The specially designed shelves spill with an array of quickstrike Air Force 1s, Jordan IVs, Air Max 1s (his side), Concords, Instinct hi's, JS Wings and Superstars (my side). It's a fairly strict divide - he has only one pair of Adidas - some fat tongued old school shell toes - and I have just the one pair of Nikes - Ferris Bueller Dunks that I bought mainly because it's my favourite film and I loved the leopard print laces. Whilst I often like his shoes and Nikes I see in stores, they never really grabbed me, until the Nike X Liberty collaborations, fusing sports technology with heritage print fabrics from London's iconic department store. I'm sold.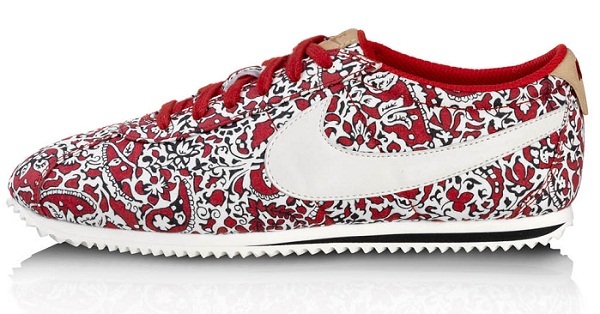 With Liberty's print pedigree lending an established, heavyweight design kudos to some of Nike's most popular silhouettes, the pair have hit upon a consistently winning formula for fashion forward footwear with serious sports credentials (and even if you're not that active, basically, they're comfy and they're cool, nuff said). The first wave of the Summer 2012 collection launches at 10am on Monday 2 April, with the second drop on 1 May featuring the hotly anticipated Dunk Sky Highs - Nike's first wedge heel trainers, as well as Blazer Mids and Hyperclaves. The range will be available exclusively from Liberty both in store, where they'll be showcased in a dedicated pop-up space this April - and online at www.liberty.co.uk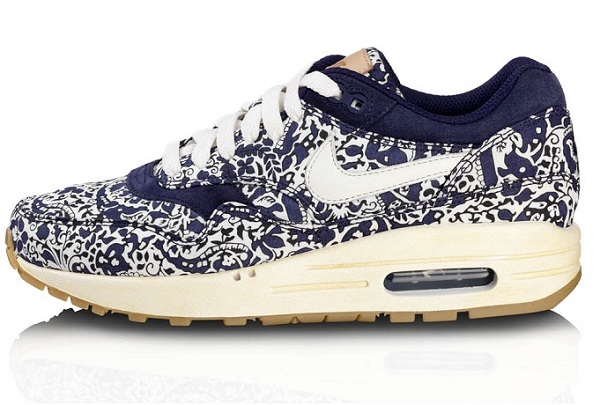 Designs include, fashionista's fav, the urban Air Max 1, pumped for Spring with the psychedelic paisley of Liberty's Lagos Laurel C print which features throughout the collection (pictured above in Imperial Purple), and the Cortez (pictured top in Red) - Nike's original lightweight running shoe which celebrates its 40th anniversary this year.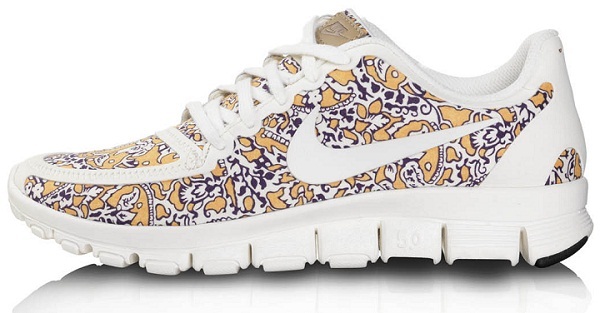 For the first time the collection will also include a Liberty look version of the innovative Nike Free 5.0 strength training shoe. Designed to mimic the action of barefoot running - apparently that's a 'thing' at the moment with sporty types. This high performance model sheds its techy image with an injection of on trend florals in a variety of colour ways (pictured above in University Gold and below in Sport Red).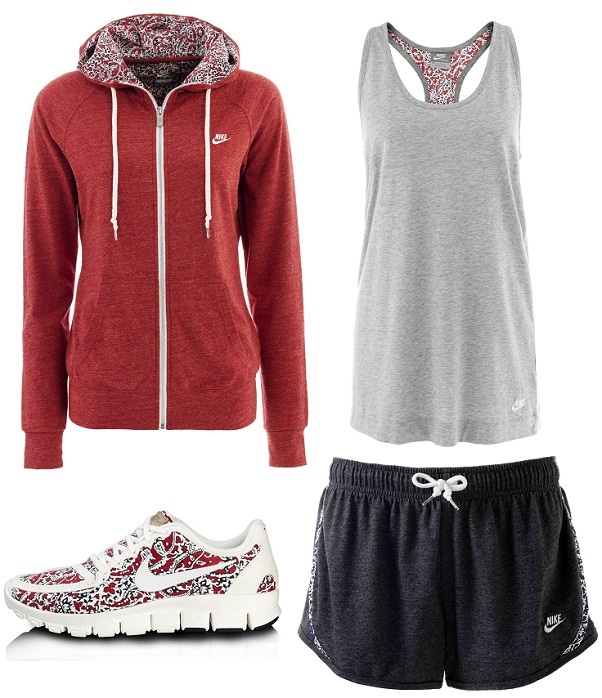 In keeping with this new focus on running classics, key sportswear pieces have also been introduced this season as part of a capsule apparel collection. I love this longline raceback tank with the Lagos Laurel C paisley print lining, and how Summer BBQ pub garden perfect is the brushed cotton AW 77 hoody? This collection has totally won me over. I think we're going to need a bit more room on the trainer wall...
Nike x Liberty available from 2 April 2012, exclusively from Liberty www.liberty.co.uk. Prices start from £70.