I asked my parent friends what they would most like for Mother's Day and the first answer was universally 'sleep', followed by the traditional flowers and chocolates. So why not give sleep related, or at least rest-themed Thank You gifts this Sunday?
You could let your mum have a lie in, then bring her brunch in bed on a beautiful tray, or make her take the whole day off and get her a stack of magazines to browse through (I'd say books but she probably has a bunch of books she's been meaning to get round to reading) whilst resting up in some new PJs, or whilst relaxing in a wonderfully scented bath surrounded by candles.
Or how about a Netflix subscription or DVD along with some snacks - take a look at this Breast Health International Mother's Day #Buns4Mums initiative - or popcorn nicely presented in a new bowl, and maybe a snuggly robe? Skincare and make up that makes you look more awake, even when you're exhausted is usually a safe bet too.
Here are a few inspirations to help with choosing presents for your mum this Mother's Day...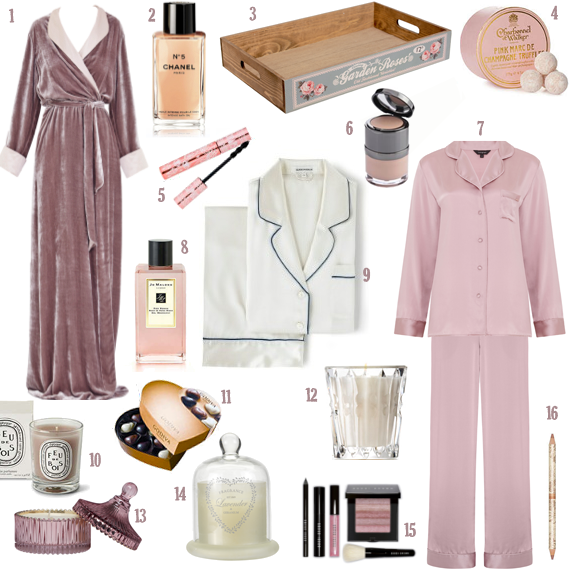 1 Jenny Packham velvet dressing gown, £1,120, see www.jennypackham.com for stockists; 2 Chanel No 5, Intense bath oil, £60, from www.houseoffraser.co.uk; 3 Garden Roses wooden produce tray, £13.95, from dotcomgiftshop; 4 Charbonnel et Walker Pink Champagne truffles, £20.99, from Selfridges; 5 Fairy Drops mascara and 6 Foundation and concealer, both from thisisbeautymart.co.uk; 7 Rosie for Autograph pink silk pyjamas, £99, from Marks & Spencer; 8 Jo Malone Red Roses body and hand wash, £32, from Selfridges.com; 9 Olivia von Halle silk Coco pyjamas, £330, from oliviavonhalle.com; 10 Diptyque, Feu de Bois miniature candle, £20, and 11 Godiva gold heart chocolates, £19, both from www.selfridges.com; 12 Waterford Illuminology Collection candle (you can use the finely cut crystal votive as a vase afterwards too!), £47 from John Lewis, House of Fraser and www.waterford.co.uk; 13 Marks & Spencer filled candle, £15 from www.marksandspencer.com; 14 Sainsbury's Home Lavender and Geranium Cloche Candle, £6 from Sainsbury's; 15 Bobbi Brown, Instant Pretty kit, £56, exclusively from House of Fraser; 16 Paul & Joe lip pencil duo, £13.50 from Selfridges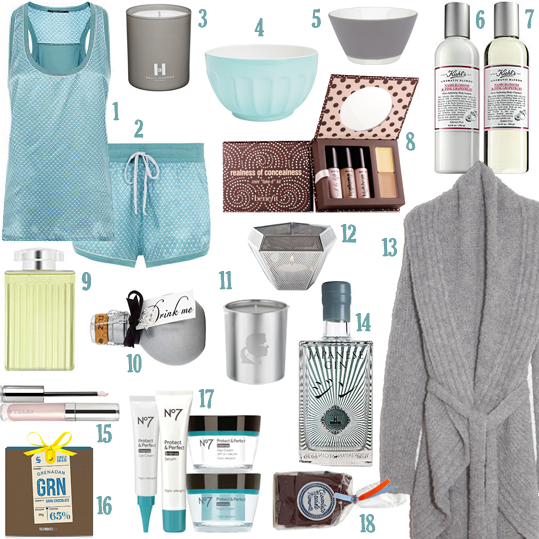 1 & 2 Princess Tam Tam, Gaelle vest top, £47.95, and Gaelle shorts, £42.95, both from Harrods; 3 Kelly Hoppen, Scent One dark taupe candle, £28, from www.kellyhoppen.com; 4 Blue bowl, from www.dunnesstores.com; 5 Nordic dip bowl in Mocha, £15 for 4, from Marks & Spencer; 6 & 7 Kiehl's, Nashi Blossom & Pink Grapefruit body lotion, £27, and body cleanser, £19, both from www.harrods.com; 8 Benefit, Realness of Concealness set - a true hero set of fantastic, miniature products for concealing, brightening and generally disguising how knackered you are, £23.50 from www.benefitcosmetics.co.uk; 9 Chloe shower gel, £23 from Harrods; 10 Grays and Feather, The Bubble, world's smallest bottle of sparkling wine, £14.99 exclusively from Selfridges; 11 Karl Lagerfeld, Figue & Poivre Noir candle, available from Karl Lagerfeld boutiques, see www.karl.com for stockists;12 Tom Dixon, Cell steel tea light holder, £35,13 Skin Robe, £165, available in store, and 14 Cambridge Gin, Japanese Gin, £64.99 (exclusive), all from Selfridges; 15 By Terry, Baume de Rose Crystalline bottle SPF 15, £35, from Harrods; 16 Selfridges Selection, Single Origin Grenadan Dark Chocolate, £8.99;17 No 7 Protect & Perfect Intense gift set, £43, online exclusive from www.boots.com ; 18 Bag of chocolate from Selfridges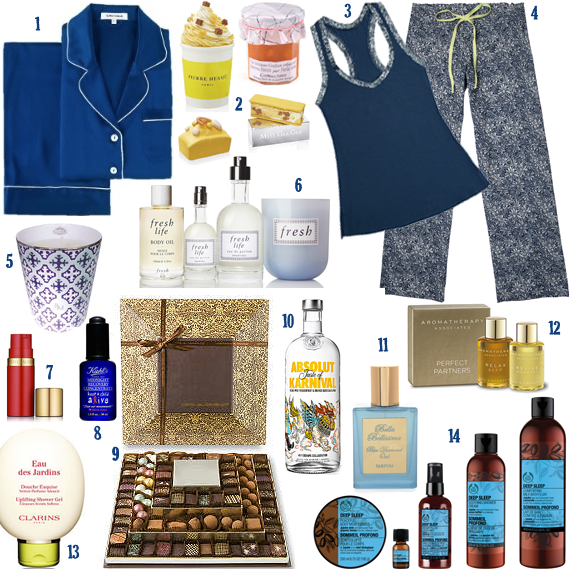 1 Olivia von Halle silk Coco pyjamas, £330, from oliviavonhalle.com; 2 A selection of foodie treats from Pierre Hermé, buy online or check for your nearest boutique or stockist, at www.pierreherme.com; 3 & 4 Elle MacPherson Intimates, Acid Rock tank top in Insignia Blue, £25, and lounge pant in Insignia Blue & Daisy print, £36, both from www.figleaves.com; 5 Rose et Marius, Neou Bleu scented candle, £69 from Selfridges; 6 Fresh, Fresh Life skincare and candle collection, from Fresh stores and online at www.fresh.com; 7 Estee Lauder Pure Colour Cheek Rush, £24 from www.Harrods.com; 8 Kiehl's x Alicia Keys exclusive Midnight Recovery Concentrate, £36, 9 Artisan du Chocolate, Pyramide de Chocolats, £125, 10 Absolut Taste of Karnival vodka (exclusive) £34.99, 11 Bella Bellissima Blue Diamond Oud parfum, £168 (exclusive), and 12 Aromatherapy Associates, Perfect Partners, relax and revive bath and shower oils set, £17, all from Selfridges; 13 Clarins, Eau des Jardins Uplifting Shower Gel, £19, from Harrods.com; 14 Deep Sleep range from the Body Shop, available in stores and from www.thebodyshop.co.uk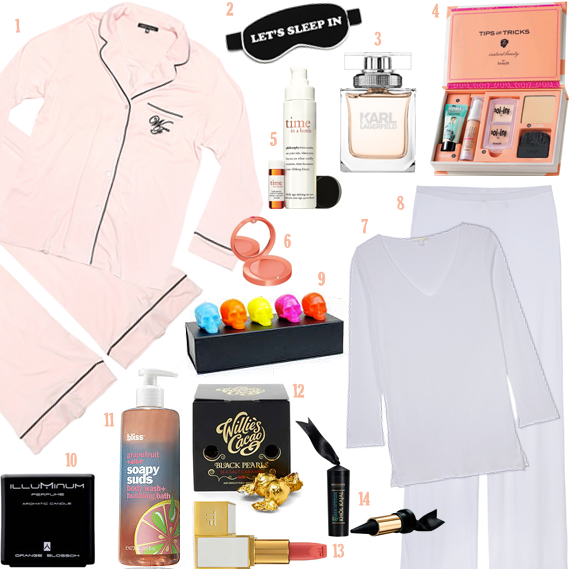 1 Wildfox, Je t'aime pyjama set, £140, and 2 eye mask, both from Selfridges; 3 Karl Lagerfeld eau de parfum, see www.karlparfums.com for stockists or visit the new Regent Street store in London; 4 Benefit, Tips & Tricks miniature make up kit, £23.50 from www.benefitcosmetics.co.uk; 5 Philosophy, Time in a Bottle, age defying serum, £55, from www.philosophyskincare.co.uk; 6 Bourjois, Healthy Glow cream blush, from Beauty Mart; 7 Skin 365 ribbed tunic, £85, and 8 matching Skin 365 double layer cotton lounging trousers, £125, and 9 D. L. & Co. Memento Mori set of five mini skull candles, £55, all from Selfridges; 10 Illuminum candle in Orange Blossom, £30, from www.illuminumfragrance.com; 11 Bliss, Grapefruit & Aloe soapy suds shower gel, £15.40, from Harrods.com; 12Willie's Cacao, Black Pearls sea salt caramel dark chocolates, £7.99, and 13 Tom Ford lip colour sheer in Paradiso, £36, both from Selfridges; 14 Bourjois, classic cream kohl, £7, from Beauty Mart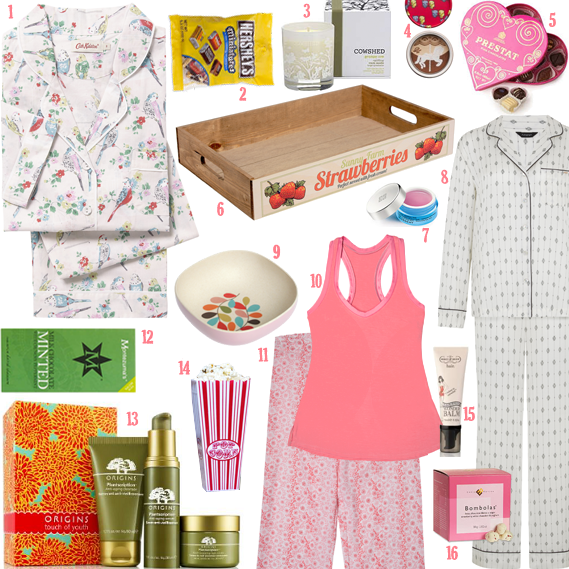 1 Cath Kidston budgie pyjama set, £50 from www.cathkidston.com; 2 Hershey's miniatures selection bag, £3.59, and 3 Cowshed Grumpy Cow uplifting candle, £30, both from Selfridges; 4 Paul & Joe, Calliope eye colour, £17, from Beauty Mart; 5 Prestat fine chocolates heart box, £15.99, from Selfridges; 6 Strawberries wooden produce tray, £13.95 from www.dotcomgiftshop.com; 7Givenchy, Hydra Sparkling Magic Lip & Cheek Balm, £21.50 from Harrods.com; 8 Rosie for Autograph satin print pyjamas, £35 from Marks & Spencer; 9 Large vintage Ivy red bamboo bowl, £12.95 from www.dotcomgiftshop.com;10 Papier tank top in Strawberry Ice, £25, & 11 Papier lounge pant in Blossom, £36, both by Elle MacPherson from Selfridges in store; 12 Montezuma's Minted milk chocolate with crunchy peppermint, £4.69 from Selfridges; 13 Origins, Touch of Youth gift set, £49, from www.origins.co.uk; 14 Popcorn holder, £1.95, from dotcomgiftshop; 15 Percy & Reed Wonderbalm, £18 from www.beautybar.com; and 16 Bonbolas, strawberry, yoghurt and white chocolate sweets, £12.99, exclusively from Selfridges