Designing an England shirt - or any football shirt - strikes me as a particularly tricky task to pull off given it has to incorporate all the intelligent design elements modern sportswear can offer, it's got to appeal to the players who need to feel comfortable, confident and unrestricted when wearing it, and - on a commercial level - it has to appeal to the fans who are, in the main, a completely different shape to your average footballer.
The man responsible for the new Tailored by Umbro England kit is head designer, Rob Warner, who talked me through the process for designing such a high profile piece as the England football shirt.
With an eye on what has come before as well as what other teams are up to now and planning next, he explains his inspiration as wanting something "quintessentially English, something that defines English design. It was all about subverting the familiar". In addition to creating something that "just looks right", there are the added performance-related constraints to consider, "Footballers need the shirt to move - it can't be too hot, or too wet - they need comfort, no distractions and full lateral movement."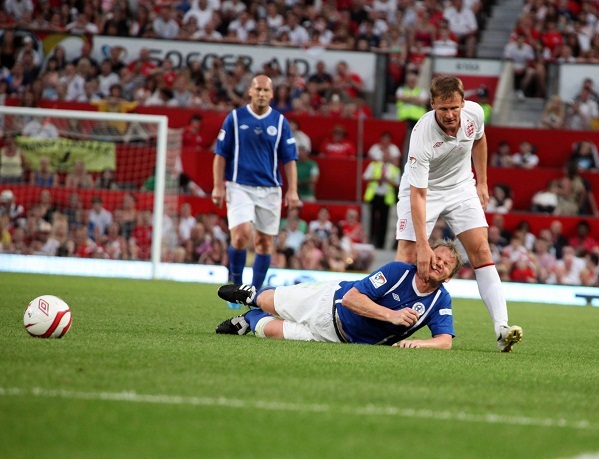 Teddy Sheringham wears the new England kit to take out the Rest of the World's Gordon Ramsay in Soccer Aid 2012 at Old Trafford, photo by Nathan Cox/Getty Images
I was intrigued by the initial stages which are far more fashion-based than you'd think. "We take an atelier approach which is fairly unique to Umbro, working on a mannequin at the design stage and using in-house pattern cutters. With this shirt we went through 11 collars before we were happy." Eleven collars? Did it not get a bit boring? "Not at all, I geek out over stuff like that" says Rob whose 'geekiness' and attention to detail saw a nod to legendary 1966 World Cup winning England manager, Sir Alf Ramsey, incorporated throughout the kit by using the striping from his iconic campaign jacket in the detailing of the shorts, socks and on the reverse of the shirt collars so it can be seen when the collars are worn up.
One major departure is the colour scheme - the pure white and red of the St. George's cross, no blue, not even on the England crest. Warner explains, "This is a big year for Britain so using just the red and white gives us the opportunity to mark us out as English." Umbro worked with typographer Paul Barnes, who has previously worked with the likes of the Guardian, Givenchy and British artist Peter Saville, to come up with a modern typeface with an aesthetic based on the fonts used in old bevelled wooden pub signs. Rob adds that they had to use Shaun Wright-Phillips' name block as a guide to ensure they got the font sizing right although, as he's been left out of the Euro 2012 squad, let's hope "Oxlade Chamberlain" will squeeze on.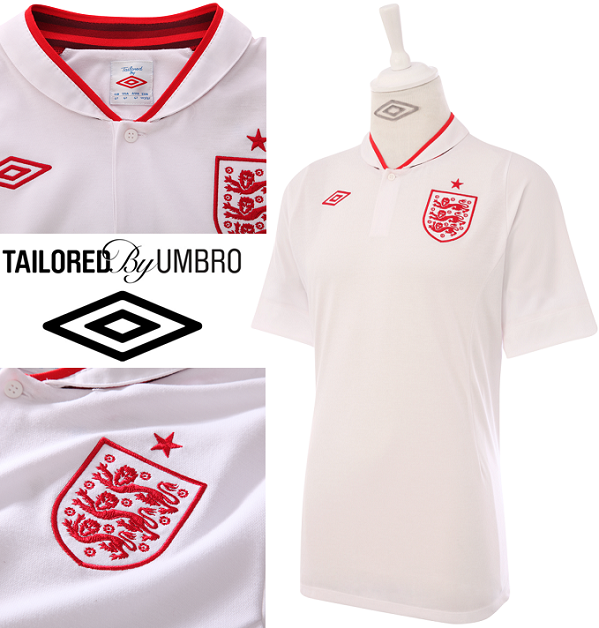 The button neck fastening interested me as, whilst it works well in smartening the shirt, adding a touch of tailoring to the design, surely that's a detail for the fans? Or was it sewn on in a special way so it wouldn't pop off as soon as any shirt-tugging occurred? Rob assured me there was no magic in applying the button but, like the rest of the kit, it had undergone rigorous testing before being included in the final design.
If social media is anything to go by, the patriotic white shirt the players will be wearing against France and the Ukraine in their Group D games next month and which was seen on the victorious Soccer Aid England team, pictured here, is one of the best received England shirts of recent times.
Robbie William's England team celebrate their win over the Rest of the World team in the new Umbro kit at Soccer Aid 2012, photo by Nathan Cox/Getty Images
One thing which did concern me when I first saw the shirt, was, whilst the 'Tailored by Umbro' England range is a great modern take on classic British footballing style, can the average fan wear a fitted football shirt? It was interesting to see how an item designed with the highest level of professional sports performance in mind looked on amateurs at last weekend's Soccer Aid, even if the players in question came in the pretty well toned forms of Aston and Marvin from JLS, John Bishop and Olly Murs. I've heard the same concern echoed by fans across the Twittersphere too and it seems the answer - from those who have already snapped up their shirts ahead of the Euro 2012 campaign - is simple: if you want a regular fit, just buy a size up.
For more information or to buy the new England shirt, or kit, visit: www.umbro.com/england