I'm delighted this trend is so prevalent this season (is it Spring yet? It must be, it's been Winter forever), as, ever since I got my first fluoro-based outfit - a black boilersuit (as rompers were called back in the mid 1980s) from Mothercare with a day glo pink belt, pocket lining and matching towelling ankle socks - I have had a huge thing for neon. My mid 1990s Red or Dead black denim and jersey pieces with neon pink piping continue to serve me well but the most recent addition to my neon wardrobe family, a bright pink Cambridge Satchel Company 'The Fluoro' bag with my nickname embossed on the front (pictured below), is possibly my favourite piece yet.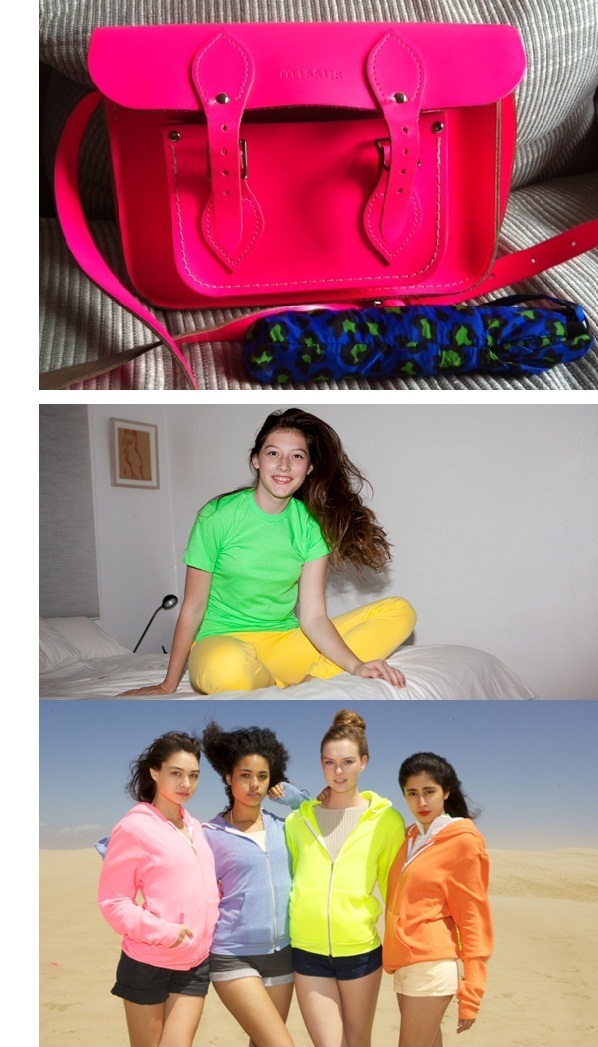 These bags were a massive hit when they first popped up around early 2011 and this eye popping colour trend still shows no signs of slowing, helped by high end designers (Christopher Kane in particular, I salute you) and youth brands like American Apparel (whose highlighter T and hoodies are pictured above and who also have an amazing array of neon in their awesome New York Warehouse Sale at 766 Avenue of the Americas which ends 31st January), alike.
It may not be the easiest on the eye, but you can take this colour trend as far as you want - keep it subtly knowing with the odd flash of a neon accessory or some fluoro detailing against a neutral backdrop, work it in a fresh new way by pairing neons with pastels or go all out bold with some dazzling day glo statement dressing. Check out some of my favourites in store now or coming very soon, below...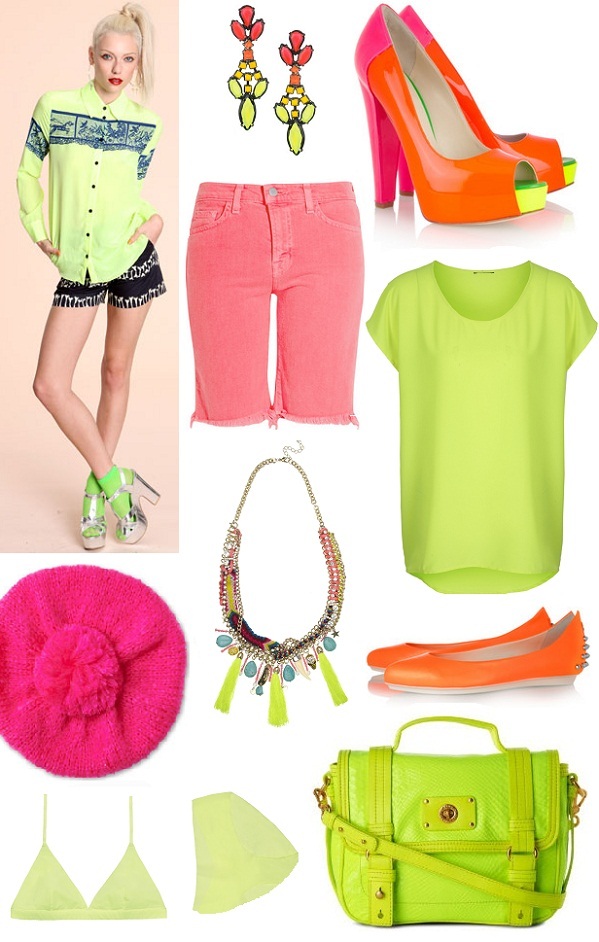 Clockwise from far left: House of Holland fluoro bunting shirt, £195 at Urban Outfitters, Tom Binns fauve hand-painted Swarovski crystal earrings £185, Brian Atwood Alima heels, £670, and Christopher Kane stretch denim shorts £185 all from Net-A-Porter.com. Neon lime scoop neck top from the Mary Portas SS12 collection, £80 coming soon at House of Fraser, McQ heel-studded leather flats, £230 from Net-A-Porter.com, Marc by Marc Jacobs neon lime python shine messenger bag, £435 from Selfridges, Cos pale neon seamless underwear for SS12 - soft bra £17, briefs £10, knitted pom pom beret, £15 by Paul's Boutique at Selfridges, necklace from the River Island SS12 jewellery collection.
Clockwise from top left: Mexican Skull T £50 and Fluoro bunting silk maxi skirt £280 by House of Holland from Urban Outfitters, Isabel Marant 'The Who' brass and neon hoop earrings, £100, neon yellow patent trimmed leather messenger bag £1,095 by Jason Wu at Net-A-Porter.com, Marc by Marc Jacobs snakeskin wallet, £160 from Selfridges, Christopher Kane wool mix biker jacket £1,100, and Lensley vest, £220 from Diane von Furstenburg, all from Net-A-Porter.com, Marc by Marc Jacobs neoprene fluoro laptop cover - available in a range of sizes and colours - from Selfridges.co.uk, American Apparel neon nail varnishes, £9 each, Brian Atwood neon fuschia 'Maniac' pumps with 5" heel, £525 from Selfridges, mini Dolce & Gabbana leopard print shoulder bag £380 at Net-A-Porter.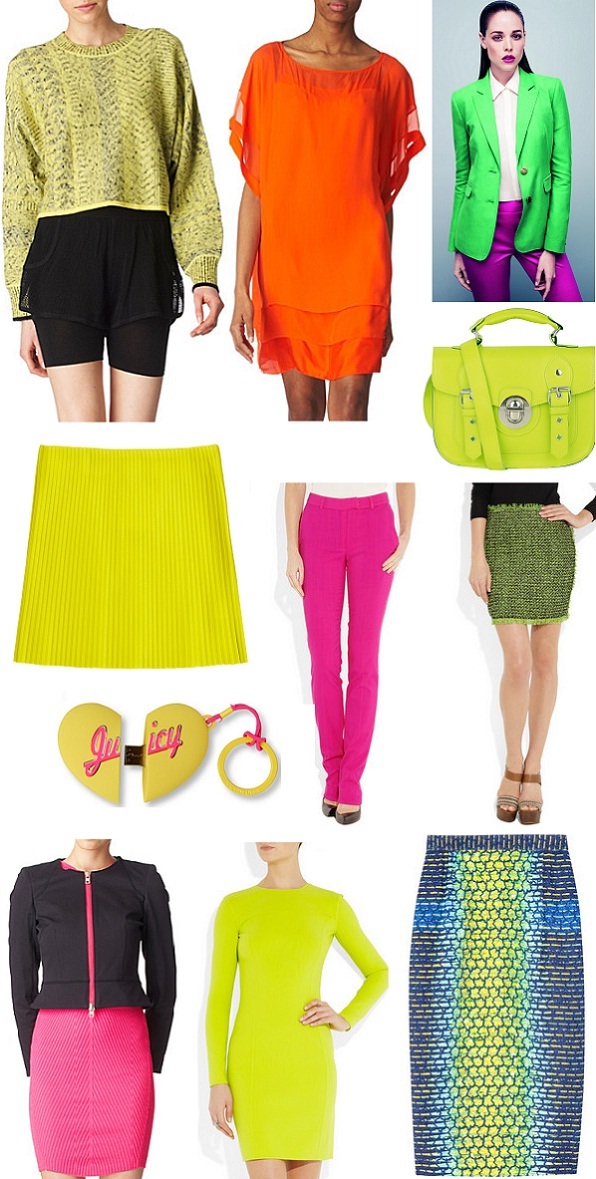 Clockwise from top left:Alexander Wang cropped jumper, £320, Umeki orange dress £350 by Diane von Furstenburg, both from Selfridges, neon green and electric purple trousers from Hobbs London's Spring/Summer 12 lookbook (available in store soon), New Look SS12 neon satchel, £9.99, Lanvin neon tweed mini skirt, £655, Preen razor pink pants £655, Peter Pilotto ruler print pencil skirt, £435 and Michael Kors stretch wool dress £1,035 all from Net-A-Porter.com, McQ knitted neon pink wool dress £210 worn with neon zip McQ jacket £365, Juicy Couture 2GB USB memory stick key chain, £50 from Selfridges and Cos SS12 neon yellow skirt to be released shortly.