Despite the sports luxe trend's focus on easy to wear leisure pieces in beautiful but generally wholly unsuitable fabrics - leather, silk, satin etc - the humble jersey sweatshirt remains a go-to, reliable unisex basic. Even high end designers like Rodarte are in on the act, producing their own spendy spins on the crew neck classic but for those who want to keep it a little more real, try A Public Nuisance.
The passion project of owner and brand marketing specialist Rupert Leigh, who has worked for the likes of Diesel and the Hard Rock Café, A Public Nuisance - aka APN - launched in November 2010 offering a mix of new and vintage sweats.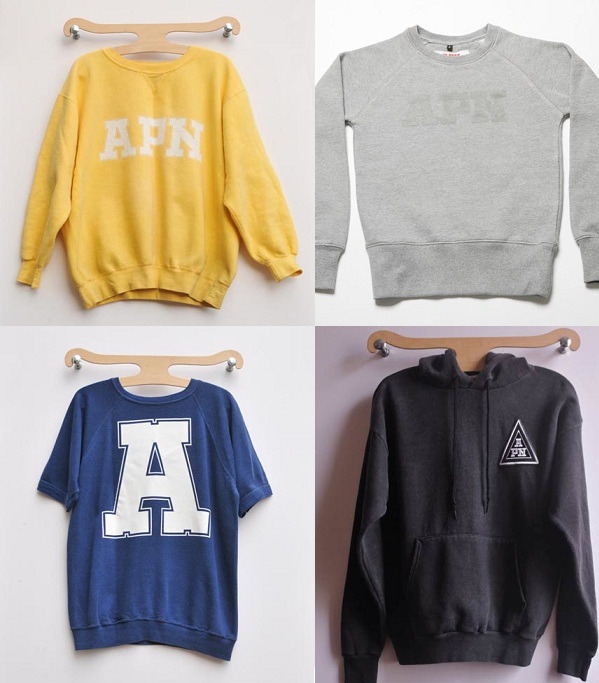 Taking its name from an interview with C R Stecyk III where the skate legend, famously documented in the cult 2001 film Dogtown and Z-Boys, described how graffiti and skateboarding was seen as "a public nuisance", Leigh who describes the brand as "essential apparel with a mischievous spirit" says that APN's culture is based around "hanging out and doing what feels right at the time".
"I started thinking about APN five years ago, but only got round to launching it in 2010 when I realised that, through my unconventional approach of 'Ready, Fire, Aim', I'm the only person now who would give me a job." Leigh, who designs APN's logo heavy sweats himself explains, "Growing up, I was surrounded by US comics like Rip-Off and Fabulous Furry Freak Brothers - the APN logo was inspired by the Mad Magazine font with a twist on the Varsity font."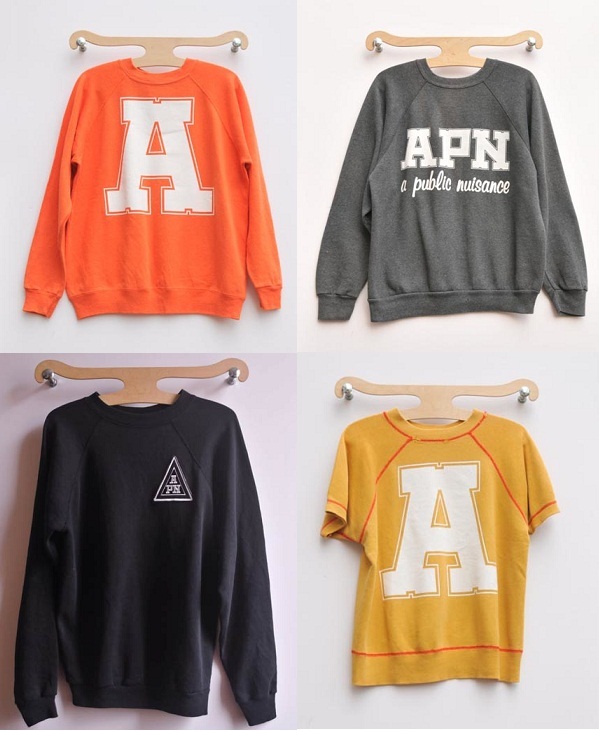 The vintage sweats - real, not faded or 'vintage wash' - on offer are what first drew me to APN. For me, there's nothing quite like the feel of good quality, love-worn jersey, as Rupert puts it, "I've been buying vintage sweats for over 20 years as they all feel unique to me. No-one will have another like it, it's the faded colour, the washed a 1,000 times feel and the unusually short length of the arms - we all like to have something that no-one else has."
The romance and sense of attachment in the vintage range is not lost on him either - Leigh writes cute website descriptions for each item based on how they make him feel. "This is the sweat you take to all the festivals, whether you need it or not...", "This is that sweat borrowed by your ex, returned with a note... I'd want this back too xxx", "This is the sweat that you don't mind lending because it means you have an excuse to see them again"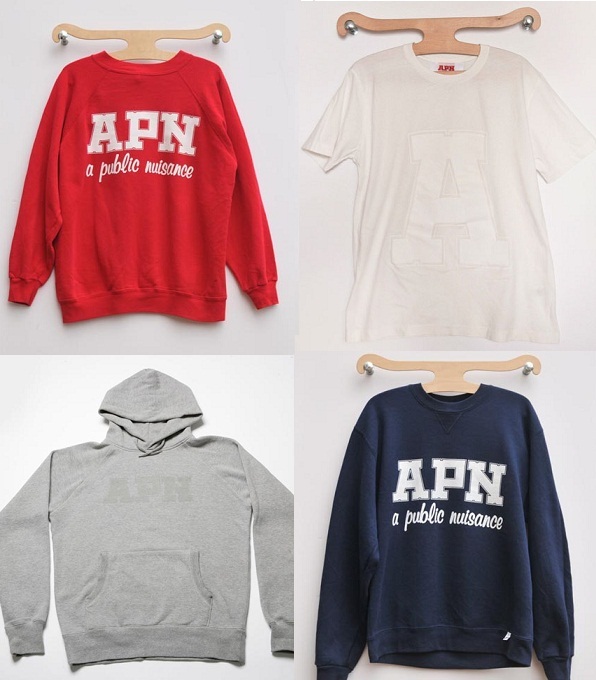 As a relatively new brand APN is concentrating on getting the basics right but has big plans for the future. The apparel range gets a boost next month with the arrival of classic APN and 'A Public Nuisance' logo tees, whilst they will also be adding to their range of longboards. "We launched our 'Sims' inspired longboards made from old wood water skis and the other Rupert who runs up the longboards is working on a 46" Pool board. I bought in Santa Cruz a while back, so you can expect some inspirations from longboarding and surf culture."
The subtle tone-on-tone APN logo black hoodies and red sweats are the best sellers, closely followed by the A Public Nuisance motif items. My favourites are the big A tops (as featured in my Weekend Shopping List) and the on trend short sleeved sweats which echo the Spring / Summer designs seen from Marc by Marc Jacobs to Gap but with the added bonus of that soft, vintage quality - as the vintage sweats are all unique, be prepared for items to come and go frequently, it's worth checking back or getting in touch via the website if something you wanted is no longer up there. Check it out for yourself at www.apublicnuisance.co.uk