I love cold, winter weather but these never ending grey skies are getting me down.
Yellow is one of those cheery colours that just makes everything a bit better and brighter. Associated with optimism, happiness and sunshine, it's a great pop colour to wear right now. Pair a yellow top, jacket, shoes or accessories with grey, navy or black as you transition from your winter wardrobe into lighter spring and summery shades. Or for a bolder look, try mixing different shades of yellow - like a buttercup jumper with lemon jeans - or adding some cobalt or coral into the mix.
Cos has some amazing primary coloured pieces at great High Street prices if you're looking for uplifting fashion options, whilst almost every beauty brand has a yellow nail polish in their latest collections, from soft lemon sherbets and zingy neons, through to clear lego shades.
Here are my picks for hot yellow pieces out now...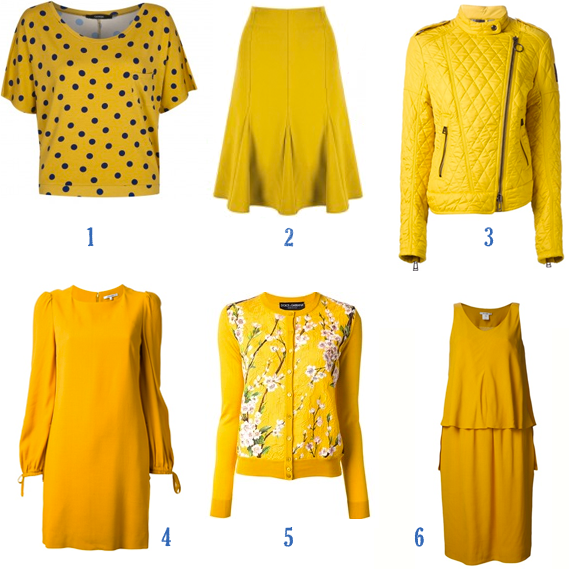 1 Spot print crop top by George at ASDA, £8; 2 Next Flared Skirt, £30 from www.next.co.uk; 3 Belstaff Longstone Quilted Jacket, £426.01, 4 Carven Loose Fit Shift Dress, £327.04, 5 Dolce & Gabbana Floral Print Cardigan, £770, and 6 Carven Sleeveless Double Layer Dress, £492.78, all from FarFetch.com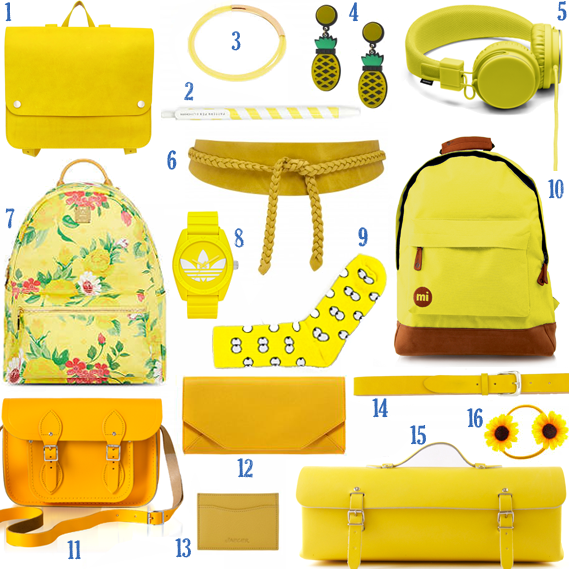 1 Kate Sheridan Lemon Yellow Leather Popper Rucksack, £260, from www.katesheridan.com; 2 Katy & June yellow pattern ball pen, £3.95, and 3 Marc by Marc Jacobs rubber spaghetti bracelet, £25, both from Selfridges; 4 Yellow Pineapple Forever earrings, £45, by Jennifer Loiselle at Boticca from boticca.com; 5 Urbanears Humlan headphones in Citrus, £39, from www.urbanears.com; 6 Belt by Slink Boutique, £109, from www.slinkboutique.com; 7 MCM Flower backpack, £725, and 8 Adidas ADH6174 unisex sports watch, £55, both from Selfridges.com; 9 Peep Toe yellow socks by Lazy Oaf, £7 from www.lazyoaf.co.uk; 10 Classic Volt Yellow Backpack by mi-pac, £19.99 from Route One; 11 Cambridge Satchel Company yellow 11" classic satchel, £99 from www.cambridgesatchel.com; 12 Saffy Clutch bag by John Lewis Collection, £29 from www.johnlewis.com; 13 Jaeger leather card holder, £20 from www.jaeger.co.uk; 14 Kate Sheridan Lemon Yellow Boy Belt, £65 from www.katesheridan.com; 15 LF Markey Leather Tool Bag in Yellow, £55 from LF-Markey-Shop.com; 16 Sunflower hair elastics (pack of 2), £3.50 from www.claires.co.uk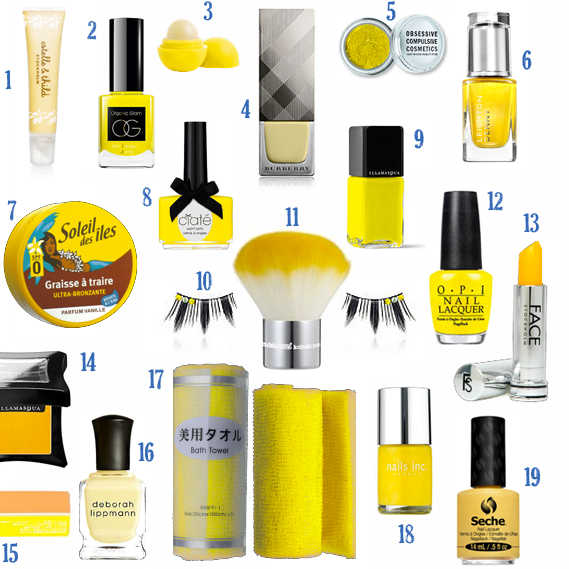 1 Estelle & Third Lip Balm in Natural, £16 from www.johnlewis.com; 2 Organic Glam nail polish, £10 from Selfridges.com; 3 Smooth Sphere Lemon Drop SPF15 lip balm by Eos, £7 from thisisbeautymart.com;4 Burberry Beauty nail polish, £15 from Harrods; 5 Obessive Compulsive Cosmetics loose colour concentrate, £9.00 from Selfridges; 6 Leighton Denny expert nail colour in Passport to Shine, £11 from www.leightondenny.com; 7 Soleil des Iles vanilla body balm, £12 from thisisbeautymart.com; 8 Ciate Big Yellow Taxi Paint Pot, £9 from Selfridges; 9 Illamasqua nail polish in Optimist, £14.50 from www.illamasqua.com; 10 Shu Uemura Yellow Quartz lashes, £16 from www.harrods.com; 11 Models Own Kabuki brush, £11, from www.boots.com; 12 OPI nail lacquer in I Just Cope-acabana, £11.95 from www.opiuk.com; 13 Face Stockholm lip treatment - Vitamin C, £20 (currently on offer for £16), from thisisbeautymart.com; 14 Illamasqua powder eyeshadow in Hype, £15.50 from Selfridges; 15 Superdry Nail Buff and Shine Block, £3.00, from www.superdry.com;16 Deborah Lippmann Creme nail polish in Build Me Up Buttercup, £16 from www.harrods.com; 17 Japanese Exfoliating Towels, Yellow Bath Towel, £3.50 from thisisbeautymart.com; 18 Nails Inc Classic Coloured Nail Polish in Carnaby Street, £11 from Selfridges; 19 Seche highly pigmented nail lacquer in Perfectly Poised, £9.95, from www.beautybay.com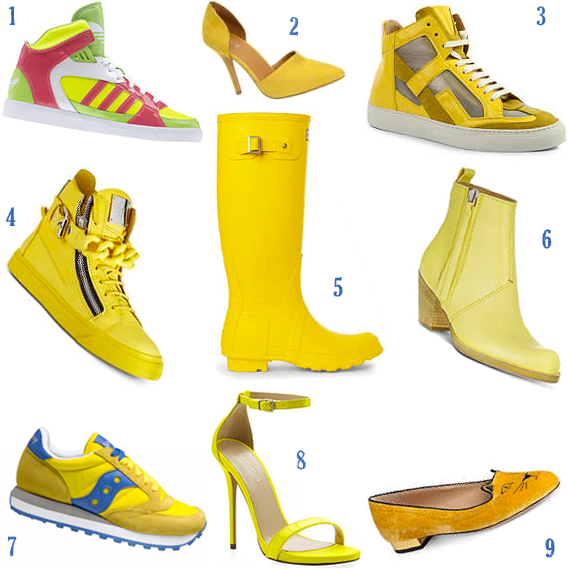 1 adidas Originals Amberlight Shoes (D65847), £70 from www.adidas.co.uk; 2 Ochre High Front Two Part Shoes, £30 from www.next.co.uk; 3 MM6 leather hi-top trainers, £260, 4 Giuseppe Zanotti Chain trainer leather high tops, £715, 5 Hunter 'Selfridges Yellow' wellington boots (Exclusive), £120, and 6 Acne Pistol short ankle boots, £380, all from Selfridges; 7 Saucony Originals Jazz Original in Yellow & Blue, £55 from www.saucony.co.uk; 8 Carvela Glacier heels, £100 from www.kurtgeiger.com; 9 Charlotte Olympia Kitty velvet slippers (Exclusive), £495, from www.selfridges.com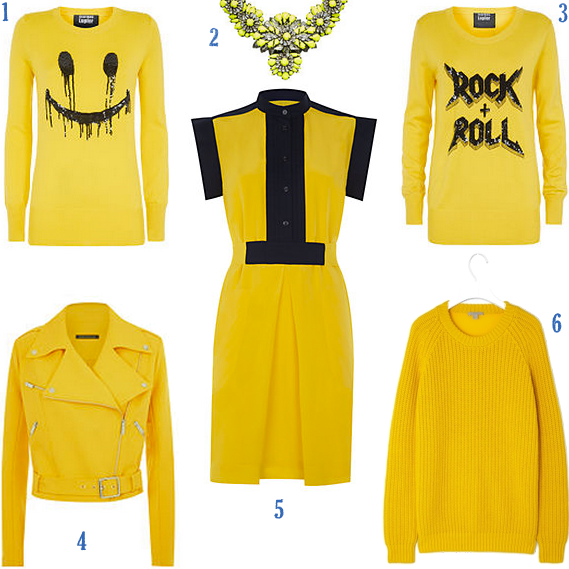 1 Smiley Face Jumper in merino wool, £270, & 3 Rock + Roll Sequin Jumper, £300, both by Markus Lupfer available from www.harrods.com; 2 Shourouk Apolonia necklace, £670, 4 See by Chloe Colour Blocked Tunic, £390, and 5 Christopher Kane Crepe Biker Jacket (Exclusive), £999, all from Harrods. 6 Silk Back Jumper, £39 from Cos available in store and from www.cosstores.com