With Valentine's Day looming it's time to spring clean the product drawers and make sure I have everything I need ready to get me looking as hot, or at least as human, as possible in time for date night. Quick fixes, cheats and absolute hero products - here's a few highlights that are never far from my beauty arsenal and a few that are good for the guys too.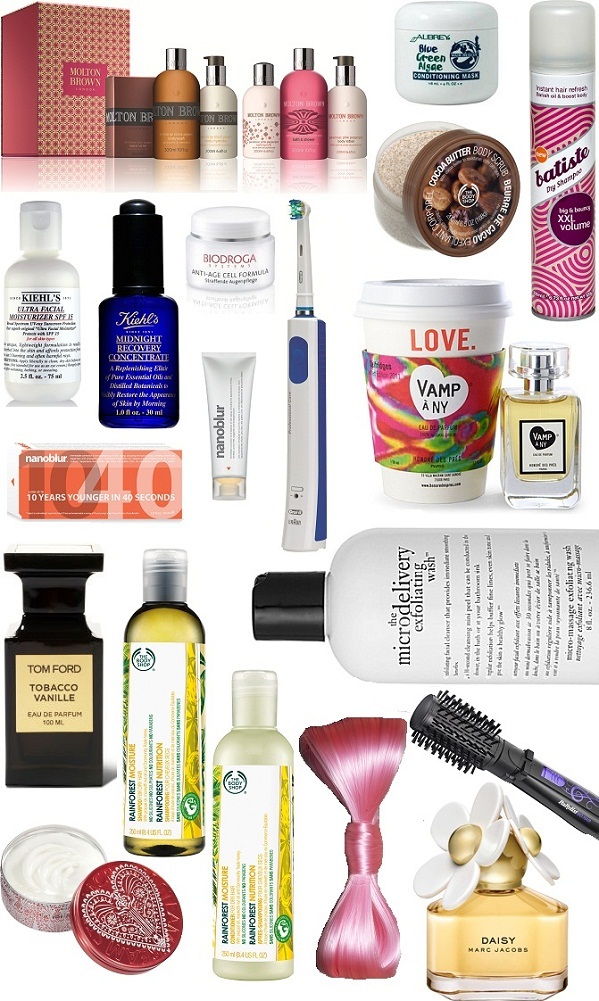 Clockwise from top left: My boyfriend loves the Molton Brown Re: Charge Black Pepper range and I like the Pink Pepper ones so these Gift Boxes are a great idea, available from www.moltonbrown.co.uk.
Aubrey Organics' Blue Green Algae Hair Rescue Conditioning Mask is a great protein boost for frazzled tresses (£12.76 from www.aubreyorganicsuk.co.uk), I've been using Body Shop scrubs (£3-£12.50 for the tubs) since I was at school and still think they're one of the best, I don't think there's anyone left who doesn't use Batiste dry shampoo but this XXL Big & Bouncy edition gives great volume too £3.99 from Tesco and various stockists.
Honore de Pres Vamp a NY eau de parfum is one of my new favourite scents - a heady mix of tuberose, rum and bourbon vanilla and, best of all, it comes in a super cute coffee cup! £69 exclusively from Selfridges.
Philosophy's Microdelivery Exfoliating Wash is a really fine face scrub that I picked up over Christmas and noticed the brightening difference to my skin immediately - massive bottle and the fact you don't use much make this more economical than the price might suggest, I love this facewash. £22 from Selfridges.
Top beauty blogger, Beauty & The Dirt's Krista Madden recently recommended this Babyliss Big Hair styler (£45.99 from Boots, Amazon and various stockists) as the perfect tool for salon style home blow dries so I'm desperate to give this a go.
Daisy by Marc Jacobs is my go to perfume for when I'm feeling sweet or ladylike (yes, it happens occasionally!) £55.50 from John Lewis, Hersheson's hair bows are amazing for when you're having a bad hair day - match to your hair colour, contrast or go bold with this romantic pink version - they're on sale too! check www.hershesons.com.
I love the smell of these Rainforest Moisturising shampoo and conditioners from The Body Shop, another fave - SteamCream vegan moisturiser has brought out a special Valentine's tin, £10.50 from www.steamcream.co.uk, my all time favourite scent that I would wear every day if I could afford to! Tom Ford Private Blend Tobacco Vanille Eau de Parfum - to me it smells just like Paris (in a good way - all cafes and macarons) £180 for 100ml from Selfridges.
Nanoblur Optical Cream goes on over your foundation and apparently 'airbrushes' away any lines or imperfections - friends swear it does what it says so I'm itching to give it a try - sounds amazing and just like a discontinued Philosophy silicone filler pen that I miss terribly! £19.99 from Boots.
Don't let your teeth or - worse still, bad breath - let you down on your date! No one should be without an electric toothbrush and always best to go for dentist-recommended like this Oral-B PC 500 Floss Action £45.99 from Boots and Amazon.
I use Kiehl's Ultra Facial Moisturising Lotion with SPF15 (£17) every day (the tinted version is great too) and top up with their Midnight Recovery Concentrate serum (£36) to look like I've actually slept even when I haven't... (www.kiehls.co.uk) and added Biodroga's Anti-Age Cell Renewal eye cream into the mix too which is a great salon-grade product for instantly firming tired under eye skin and smells beautiful too, £36.60 from www.bcidirect.com.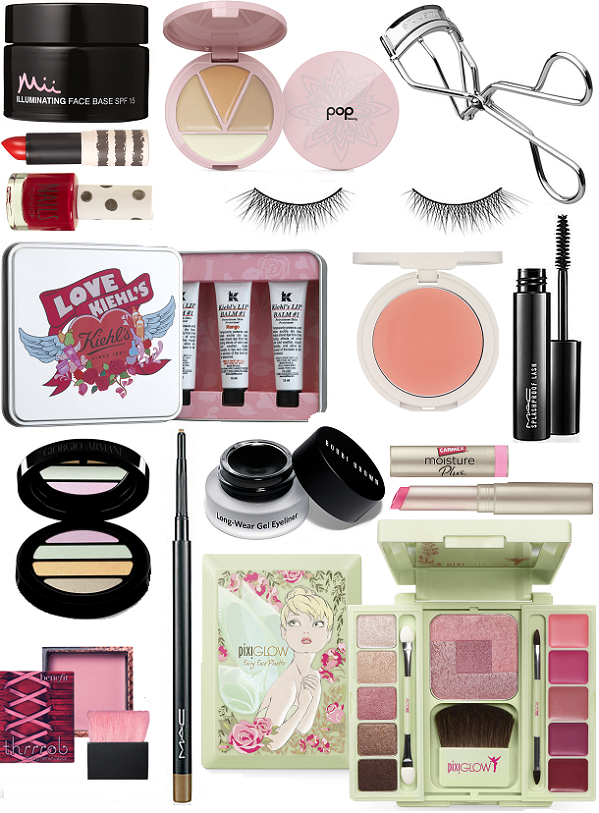 Clockwise from top left: Mii's Illuminating Face Base with SPF 15 is a great foundation for a healthy dewy look, £25.50 from www.miicosmetics.com whilst a dab of Pop's No Show Camoflage Fix helps me conceal any dark circles, spots or other imperfections (shhhh) £12 from www.asos.com.
Shu Uemura eyelash curlers are hands down essential for making you look more awake, don't forget to curl! £20 and their amazingly natural looking Soft Cross False Eyelashes 07 always draw compliments when I wear them (£15.50 - the lashes, not the compliments). Lashings of MAC's Splashproof waterproof mascara are a must for dramatic eyes that stay as you intended throughout the evening, £14 all from Selfridges.
TopShop Make Up's Neon Rose blusher is great as it gives you a healthy glow but can be built up to a more bold colour depending on the look you're going for and the tone is so flattering £6 from www.topshop.com.
I'm addicted to lipbalms and my two absolute favourites are here - Carmex for cheap, cheerful and effective (I'm addicted to this pink tinted version £4.49 from Boots and other stockists) and Kiehl's #1 lipbalm in original or Vanilla and for Valentine's Day they've brought out a cute selection box tin of all different flavours - yes please!
Bobbi Brown's long wear gel eyeliner is a total hero beauty product and stays put for far longer than you could ever need it if not cleaned off properly. Comes in loads of colours and lasts forever - lovelovelove £16.50 at Selfridges. I'm all over a bit of Disney so can't wait to pick up this Tinkerbell palette by href="http://www.pixibeauty.com/" target="_hplink">Pixi when it comes out in February.
So cute and such pretty colours - their make up is always great and beautifully subtle so perfect for that 'barely there' natural style Valentine's Day daytime date look (that takes soooo long to get right...). Eyebrow's are often overlooked - no pun intended - in the whole make up routine but great shaping and a bit of colour makes a tremendous difference - even the barista in my local Starbucks noticed when I got a new brow pencil!
MAC Eye Brows works for me, £11.50 at Selfridges, Benefit's 'Thrrrrob' gives a healthy pink flush to cheeks, £23.50 at John Lewis. This beautiful Giorgio Armani Spring / Summer eyeshadow palette has some of the most delicious sorbet style pastel shades if you're going for a sweetheart look this Valentine's Day, £49.50 from www.giorgioarmanibeauty.co.uk and various stockists, whilst if you're planning on vamping it up, Topshop Make Up has a great classic post box red lipstick for £8 (and it's called Mischief, too cute) and matching nail varnish (One Hot Minute, £5) that are totally pocket friendly.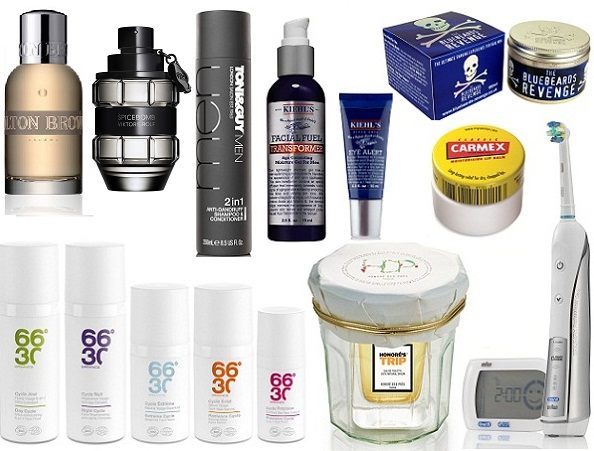 And for the boys... My fav men's aftershaves at the moment are Molton Brown's Black Pepper (£36) , the new fragrance from Viktor & Rolf in the coolest bottle ever, Spicebomb, and Honore Des Pres' Honore's Trip £49 exclusively from Selfridges (check out the jam jar! I'm such a sucker for their packaging).
I don't think I've ever met a man who didn't use Head & Shoulders but if any of you boys do fancy a change, Toni & Guy's Anti-Dandruff 2 in 1 for Men smells gorgeous, £5.99 from Boots, Kiehl's again but this time from their mens range, I'm assured you can't go wrong with their moisturising Facial Fuel Transformer (£27) and admit, I'm guilty of pinching the Eye Alert (£22.50) which is incredible, available from www.kiehls.co.uk.
Every man should have a classic tub (or tube, or stick) of Carmex Original lipbalm - even my dad uses it! Available from Boots and other stockists.
The Bluebeard's Revenge is a shaving cream specially developed for those guys who just can't shift the shadow, helping them get a closer shave as well as inhibiting future growth - I haven't tried this (OBVIOUSLY) but was suckered in by the pirate design tin and can't help but wonder if it might be good for ladies' legs too?
Organic French skincare brand 66°30 has just launched their Care range of moisturisers at Whole Foods in the UK - cool packaging, packed full of effective, plant-based goodness and you can sneak them through with the weekly shop - everything the modern man could want!
Lastly, I am totally coveting my boyfriend's new electric toothbrush - an Oral-B Professional Care Triumph 500A with Smart Guide. Unlike my version above (simple, effective, not too spendy), this is a serious piece of kit - it looks really slick and comes with this digital display with a little smiley face on that turns sad if you're brushing too hard and tells you how long to spend brushing each section of your mouth as well as doing all kinds of polishing and massaging too. My favourite bit was the super cool travel case it comes with that looks like a space ship. Honestly, I never thought I'd be raving about a toothbrush but if you're in the market for one I can highly recommend this (and, at the time of writing, it's half price at Boots! £89.99 instead of £179.99).
PS... On a Valentine's tip, this week Kipling, the Belgian bag and luggage brand launched their Play With Bags art project to celebrate their 25th birthday. Check out this image (below) created for them by iconic British photographer, Rankin. How cute is the heart-shaped rucksack? Sadly it's not being produced but if you want to see what a bit of Twitter power can do, try tweeting them about it on @KiplingOfficial and maybe they'll be able to get some out for next Valentine's Day.