As I write this I am sat by a radiator, covered in a blanket, wearing a thick jersey onesie, sheepskin-lined boots and this giant Monki scarf, and I am STILL COLD. So, it's handy I've been busying myself with finding new fashion pieces to root out this weekend which all help stave off the chill in style, with some bonus winter skin beauty buys thrown in for good measure. In the meantime, I'm going to try and coax the cat onto my lap from her snuggly, fleece radiator bed. I won't hold my breath.
New Era Caps: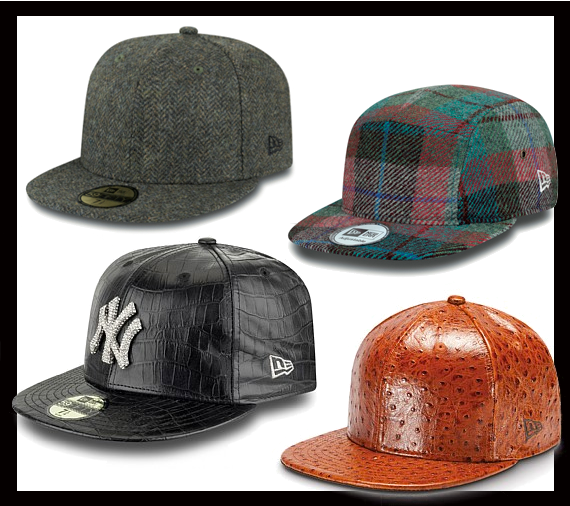 Whilst we still have some autumn sun, I'm trying not to go full on beanie just yet. These collaboration caps from urban headwear dons, New Era, are a super luxe way to stave off the cold with a street style edge. Up to you whether you take the sticker off or not...
Clockwise from top left: New Era x Moon Fabric Company grey tweed cap, New Era x Harris Tweed Plaid Camper Cap, New Era x Jeremy Scott Ostrich 59FIFTY Cap, £75, Yankees New Era Crocodile Leather 59FIFTY Cap with Swarovski Elements, £225
All caps available from New Era stores or www.neweracap.com
urbancode Neckwear: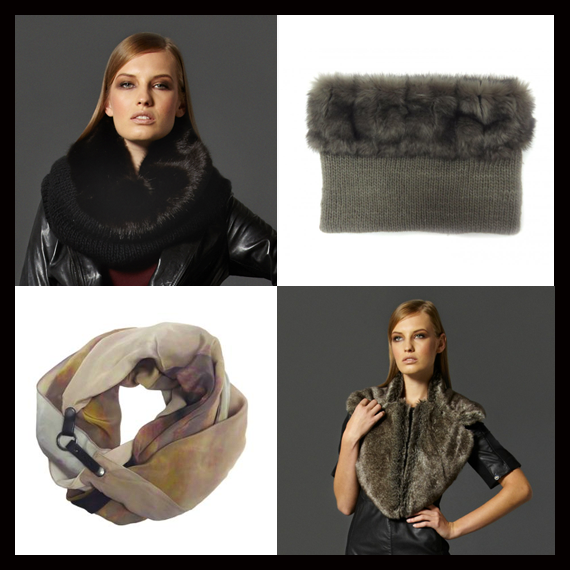 As a child of the 80's, I love a good snood. These urbancode neckwear designs take the snood to a new, more sophisticated level thanks to their luscious faux fur and double knit fabrics. Great over a simple jumper or sweatshirt for indoors, as well as over your coat or jacket for outdoors. The faux fur collar is also a brilliant, slimmer - but equally toasty and glamorous - option. There is also 'Coco', a silk infinity scarf with leather detailing for those who want something less obtrusive, which goes perfectly with a classic white or denim shirt for another fab 'inside' look. A major plus for me with everything from the urbancode range, including the accessories and gorrrgeous leather jackets, is how affordable their designs are.
Double Knit Faux Fur Snoods, £55 each (available in a range of colours), Faux Fur Lapel Collar in grey or cream ('frost'), £35 each, and £79 for the Coco silk scarf design.
All available from www.urbancode.co.uk
Hilary Grant Knitwear: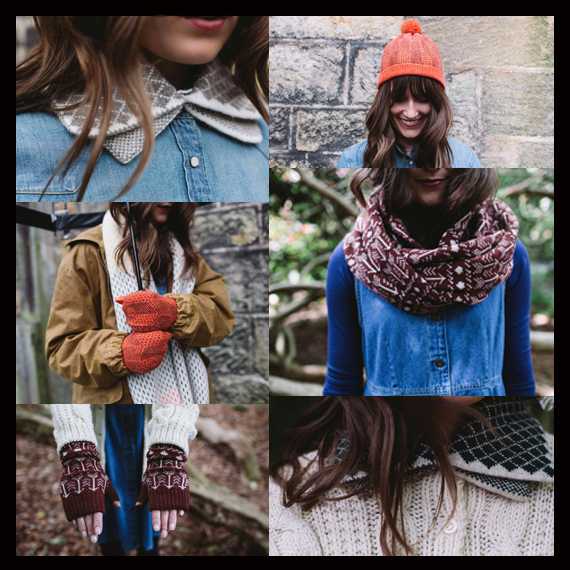 These striking designs from luxury knitwear and textile designer Hilary Grant are just adorable. Designed, knitted and hand finished in Scotland from soft, 2 ply lambswool, her charming designs appear nostalgically playful yet modern. The versatile knitted collars are my favourite pieces and are such a good idea. The feminine, easy to wear design is practical as well as pretty, and wonderful for accessorising clean-neckline dresses indoors for a nod to winter chic. Pair with one of their headbands for a super cute, cold weather look.
Collars cost £65, scarves are £60-£85, bobble hats are £60 and glove designs are all £55.
All available from Hilary Grant at www.hilarygrant.co.uk
Winter Coats: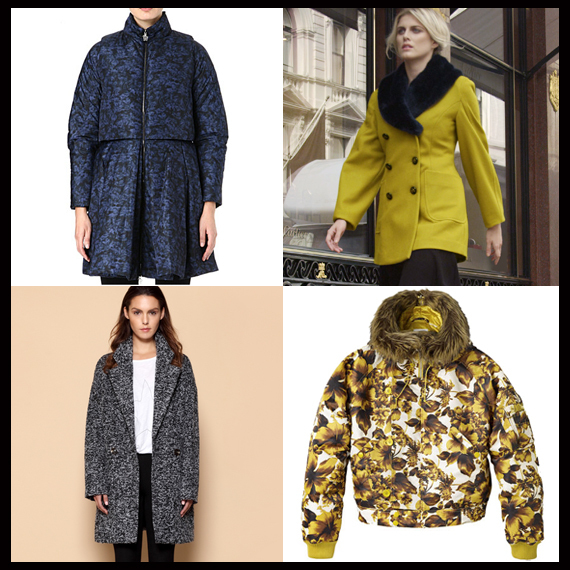 Clockwise from top left: This Moncler x Mary Katranzou Printed Flared Coat brings high fashion to the down coat and is my fantasy winter coat, £900 from Selfridges; Viv put a modern spin on the classic pea coat this season, using a hot mustard colour way and detachable navy faux fur collars. This eye-catching jacket, modelled here by the gorgeous Ashley James for Saint Bustier, also fits women with bigger busts up to an H cup. Mustard Soma Pea Coat (£620) by Vivienne Westwood Anglomania from www.saintbustier.com; This fun, in-your-face, floral down number is from Jeremy Scott's latest collection for adidas Originals - it's for guys but this is definitely one the girls can pilfer too, Golden Flower Down Jacket, £220 from www.adidas.co.uk; Mannish womenswear is still a thing and it doesn't come much cuter than this Monochrome Marl Bouclé Boyfriend Coat from Paisie. The oversized fit means you can also go down a size, £120 from www.paisie.com.
Moisturising Beauty Buys: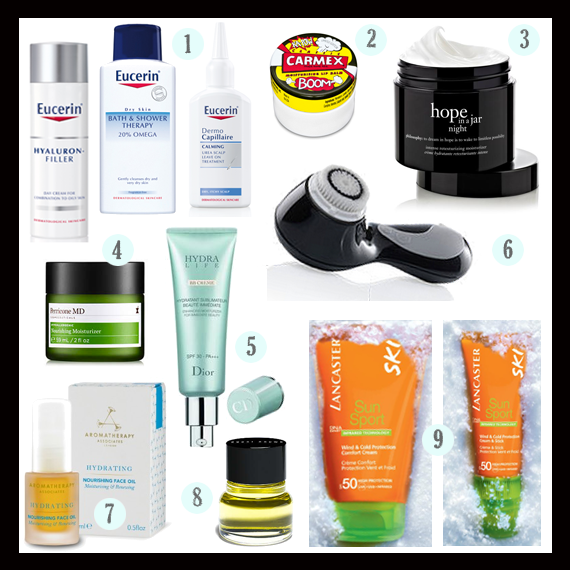 With the constant to'ing and fro'ing between the cold, windy and frequently wet outdoors and central heated, indoor spaces, it's time to pay a bit more attention to your winter skincare. My skin has been suffering recently, finding it difficult to adjust to the UK climate after the 97 degree, dry heat of Egypt, so, whilst I'm no dermatologist or skincare expert, these are the products that have been working for me in bringing it back to health, along with a few on my 'To Try' list.
1 Eucerin skincare products - Pocket-friendly, effective, pharmacy beauty brand Eucerin is great for solving basic skin issues, particularly soothing dry and irritated skin. I'm currently using the Hyaluron Filler Day Cream to help increase my skin's moisture levels and plumpness during the day. Available from Boots and all good pharmacies, visit their website at www.eucerin.com for more information and stockists.
2 Carmex - A winter wonder when it comes to preventing or soothing chapped lips, plus this new limited edition, comic-themed pot, exclusive to Selfridges, is so cool (and hard to lose). Carmex lip balm, £3.99 from www.selfridges.com
3 Philosophy 'Hope in a Jar Night' Cream - My new hero product. The effects of this gorgeously thick, unctuous, retexturizing night cream from one of my favourite skincare brands, instantly rescued my flaky, reddened cheeks with incredible overnight results the very first time I used it. I have been raving about it ever since and can't believe how little you need to use to see the difference. I'd imagine one pot will easily last a good 6 months, unless, of course, you have an unusually large face. Hope In A Jar Night intense retexurizing moisturiser by Philosophy, £37 from www.philosophyskincare.co.uk
4 Periccone MD Hypoallergenic Nourishing Moisturiser - A wonderful skincare brand that I'm pleased to see are doing hypoallergenic products which are non-comedogenic, free of fragrance, parabens, phthalates, sulfates, mineral oil, petroleum, and synthetic dyes. A reliable, soothing solution for raw winter skin, as well as sensitive types. £59.50 from www.selfridges.com
5 Dior Hydra Life BB Créme SPF 30 PA +++ - So my main appreciation for this BB cream is related to the packaging, but the SPF 30 combined with promises to reduce redness and leave skin looking even and luminous are compelling reasons to give this a whirl. Dior Hydra Life BB Créme SPF 30 PA +++ £41 from www.johnlewis.com
6 Clarisonic PLUS Black, Cleansing System - Still loving this little treasure that I wrote about a while back. It's a must-have for any time of year as far as I'm concerned. This new shiny black Clarisonic PLUS version is a special edition exclusive to Harrods and costs £179 in store or from www.harrods.com
7 Aromatherapy Associates' Nourishing Face Oil - I know I bang on about this every year but there's a reason this gem has won a load of beauty awards - it works. It soothes, nourishes and hydrates and leaves your skin baby soft. The first time I bought it I was somewhat concerned about the price tag but it lasts for ages and is utterly reliable so spending £41 on one hero product (or, even better, receiving it as a gift) versus spending £5-£10 a time on less effective solutions only to have to then buy another one, seems like a good deal to me. Nourishing Face Oil by Aromatherapy Associates, £41 from www.aromatherapyassociates.com
8 Bobbi Brown Extra Face Oil - I adore Bobbi Brown make-up but haven't yet branched out into trying their skincare. This emollient face oil smells divine and promises a concentrated boost of intensive moisture to comfort very dry skin. Sounds like heaven. Bobbi Brown Extra Face Oil, £42 from Selfridges
9 Lancaster Sun Sport Ski - I'll be gifting these to my father and brother who work outdoors a lot, whatever the weather, this Christmas as the packaging is sufficiently sporty and unisex to coax even the most reluctant moisturiser into taking better care of their skin. The wind and cold protection sunscreen formula employs infrared technology and a high SPF 50, that's as useful for the slopes as it is for the city. Sun Sport Ski wind & cold protection cream and stick SPF 50, and Sun Sport Ski wind & cold protection comfort cream SPF 50, both £21 each, by Lancaster and sold exclusively at Selfridges