Last Christmas was something of a milestone for my family; it was the year my parents decided my brothers and I - who are all in our 20s and 30s - were finally too old for Christmas Stockings.
We were crushed. Everyone knows that stockings are one of the best bits about Christmas, right down to the stupid satsuma in the toe and the walnuts that no-one eats.
Unable to take the whining, my wonderful boyfriend commissioned a gorgeous, bespoke stocking from Little Ark to put my presents inside. I was beside myself! It's such a thoughtful, touching way to present Christmas gifts and perfect for appealing to everyone's inner child (as well as, you know, *actual* children) and sense of festive tradition.
I shall be leaving it out again this year to see what Santa brings...
In case any of you are after some gift inspiration, here are a few things I'm hoping for, or will be putting in my girlfriends' stockings this Christmas.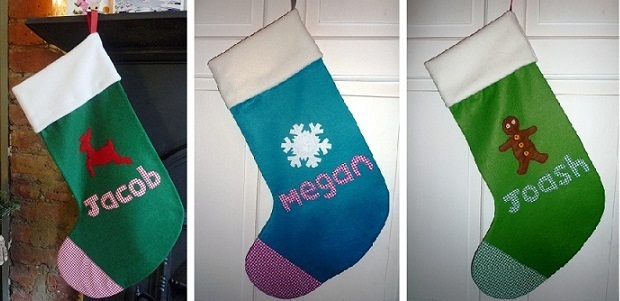 Handmade personalised Christmas stockings by Little Ark, made to order by former Saville Row designer, Nancy Heighway, £29 each. Contact her on littlearkdesign@ymail.com for more information.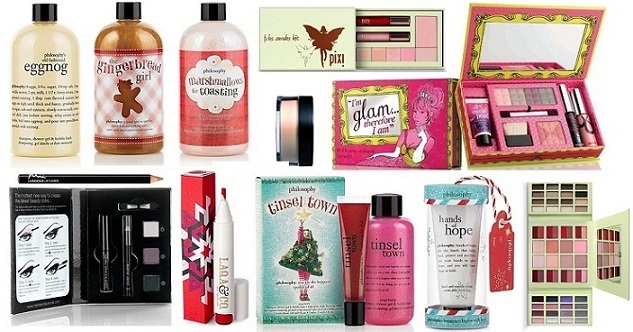 Clockwise from top left: Philosophy's Eggnog, The Gingerbread Girl and Marshmallows for Toasting 3-in-1 shampoo, shower gel & bubble bath. Pixi's Fake Awake Kit, Mii Illuminating Face Base SPF 25, Benefit I'm Glam Therefore I Am make up kit, Pixi Ultimate Beauty Kit, Philosophy's Hands of Hope hand and cuticle cream tree decoration and Tinsel Town glittery berry scented shower gel and lip shine gift set, Laqa & Co. nail pen in BMX Bandit red, Marks & Spencer Smoky Eye kit, and Mii lip liner in Intrigue.
One of my absolute favourite skincare brands, Philosophy, always has a ton of Christmas crackers - I'll definitely be snapping up some of these festive shower gels that also make wonderful shampoo and can be used as bubble bath, £14 each at Selfridges. Their Hands of Hope hand and cuticle cream, £9 and Tinsel Town Stocking Stuffer with a glittery berry showert gel and lip shine, make wonderful festive gifts and are also good for Secret Santas.
Laqa & Co nail pen isn't a nail art pen, it's a high shine nail polish in pen form. Super useful for the cack-handed among us and with such pretty packaging. £9.50 each exclusively from Selfridges.
Christmas is a good time to get products you'd like to try out - I'm dying to give Mii's Irresistible Face Base with SPF 25 mineral foundation (£21) a whirl as it appears to be a powder that thinks it's a cream. Their 'Intrigue' lip pencil (£8.95) also caught my eye - lip liners seem to be on the rise again and this shade is the perfect neutral. Both available from www.miicosmetics.com
Make up kits are super handy to keep in your desk drawer at work and are something Benefit and Pixi do particularly well. Benefit's new I'm Glam Therefore I Am set £29.50 at House of Fraser, is packed with party make up whilst Pixi's Ultimate Beauty Kit has every shade for eyes, lips and cheeks you could need all for a pocket friendly £20. I love their 'Fake Awake Kit' £19 too - great for healthy-ing you up on Christmas morning.... Both available from www.pixibeauty.co.uk. M&S have also come up with their own range of Essential Colour kits with helpful application guides, for just £7 each, including the Smoky Eye kit pictured here.

Clockwise from centre: Lazy Oaf burger socks, Ugg exposed shearling earmuffs in chestnut and classic style in berry, knitted Ugg earband with ruched shearling, Tartan earmuffs, texting gloves and bow belt, all by The Scotland Shop.
Highland heritage looks are a strong look right now as well as being festive so add a touch of tartan with this bow belt, £36 (also available as a headband, £25), or furry lined Earmuffs, £35 both from The Scotland Shop (www.scotlandshop.com) which also does these fun stripy texting gloves, £17;
As a proper 80s girl, I've always been a massive advocate of earmuffs but these snuggly sheepskin earmuffs, both £75, and knitted earcuff with ruched shearling, £65, all from UGG (www.uggaustralia.co.uk) take some beating.
Give some fast food foot fun with Lazy Oaf's new burger socks, £8 (www.lazyoaf.co.uk) - matching jumpers, hats and various other hamburger style sides also available.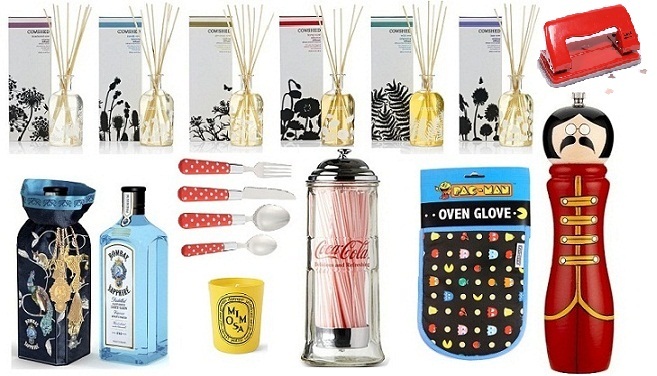 Clockwise from top left: Cowshed essential oil room diffusers, Suck UK heart shaped hole punch, Sainsbury's Sergeant Pepper-style pepper grinder, Pac Man oven mitt, Coca-Cola straw dispenser, Diptyque Mimosa special edition candle in Selfridges' yellow, Next polka dot cutlery, Bombay Sapphire with House of Hackney keepsake gift bag.
I've always loved the smell of Cowshed's products and recently got one of their room diffusers to help with kitten smells. I was looking for something that wouldn't smell too strong or synthetic and the essential oils in these diffusers ensure a beautiful, subtle fragrance that smells totally natural. The Wild Cow Invigorating version with lemongrass, ginger and rosemary, is my favourite. £36 each from www.cowshedonline.com
Suck UK is one of my go-to brands for gifts. Quirky, unique and always useful, their products are guaranteed to raise a smile whilst their flagship store in London's OXO Tower always leaves my bank card thoroughly exhausted. This twist on a classic hole punch creates heart shapes holes and the little hearts can be used as table sprinkles or put inside wrapping paper for a special packaging touch. £10 from www.urbanoutfitters.co.uk
One for the Beatles fan in your life - Sainsbury's Sergeant Pepper style pepper mill, £12.99 (currently in store only) - how cute? Whilst 80s classic - Pac Man - makes oven gloves fun, £15 from www.urbanoutfitters.co.uk. On another retro tip, this Coca-Cola straw dispenser, £31.99 from the Coca-Cola Shop at Selfridges, is more for my kitten who's a mad straw fan. Not a traditional cat toy I'll grant you, but looks like hours of stylishly packaged fun for her to me.
Diptyque's special edition Mimosa candle in a Selfridges' yellow votive, £40, is great for adding a pop of colour to any room, not to mention the divine smell.
Strange but true, I don't like metal handled cutlery so was drawn to this 16 piece 1950's style red and white polka dot cutlery set, £12 from Next. Admittedly not everyone's idea of a great stocking filler but, as with so many things, it's all about knowing your audience.
This top notch Bombay Sapphire gin in a stunning keepsake satin gift bag by House of Hackney, makes a pretty boozy gift, £34.99 exclusively from Selfridges (in store only).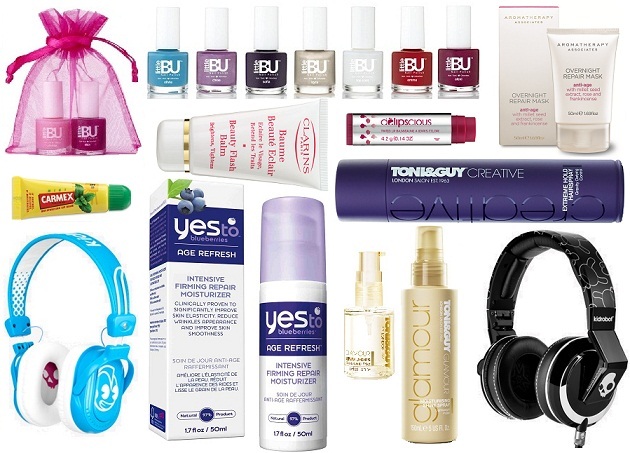 Clockwise from top left: Little Bu nail varnishes and gift set, Clarins Beauty Flash Balm, The Body Shop Berry lip tint, Aromatherapy Associates Overnight Repair Mask, Toni & Guy Creative Extreme Hold Hairspray, Kid Robot x Skull Candy Mix Master headphones, Toni & Guy Creative Glamour Moisturising Shine Spray and Serum, Yes To Blueberries Age Refresh Intense Firming Repair Moisturiser, Kid Robot x Skull Candy Agent headphones, Carmex squeezy tube lip balm in Mint.
Cruelty-free company Little BU makes quick drying, water-based, on trend nail colours that wash out of clothes (and, more importantly for us night time nail painters, bed linen)! £9.95 each from Harrods, and www.iluvlittlebu.com where gift bag sets are also available
A real beauty classic that needs no introduction, Clarins' Beauty Flash Balm, £24.75 from Debenhams, is still the best skin primer out there for my money, whilst Christmas wouldn't be the same without something from The Body Shop. Their fruity Delipscious Berry Crush tinted lip balm brings a bit of 'just bitten' colour to your lips, £8.
You may already know of my love for Aromatherapy Associates products, particularly their Nourishing Face Oil; this award winning Overnight Repair Mask is another absolute must have for tired out, fed up festive skin to help you look better than you feel. Using a variety of natural oils and botanical ingredients including frankincense, strawberry seeds and rose to rehydrate, tighten and smooth, it basically does exactly what it says on the minimalist plastic tube. £46 from www.aromatherapyassociates.com
Hair products are always handy stocking fillers - I like the new Toni & Guy range which gives affordable, professional quality in slick, modern packaging. Pictured here, the Creative Extreme Hold Hairspray which in a totally fickle way I have switched my Ellnett for because I prefer the packaging, Glamour Moisturising Shine Spray and Serum Drops for glossy locks. Available from www.boots.com
My poor Skull Candy low riders are almost worn out yet still draw admiring comments from randoms in the street so I couldn't be happier that they've teamed up with the best kidult toy store in the world, Kid Robot, to produce these new headphones. The Kid Robot x Skull Candy Mix Master headphones (black) and the Kid Robot x Skull Candy Agent style (blue), will be available from 2 December in store and from www.kidrobot.com as well as various Skull Candy stockists. Read more about the collaboration on the Kid Robot blog, Kronikle.
The new Yes to... Blueberries Age Refresh range of natural yet effective skincare packs an organic fruit-filled, anti-oxidant punch perfect for weary partied out skin. This Age Refresh Intense Firming Repair Moisturiser is really rich and creamy and I was relieved to find it has a subtle, fresh scent so you don't end up with a face that smells like a breakfast muffin. Bonus. £19.99, available from Victoria Health.
This squeezy, mint flavoured lip balm is yet another hero product from cult lipcare brand Carmex, £2.69 from Boots and various other stockists - I'm dying to try their new tinted lip balms sticks too - chic, cheap and cheerful - you can't go wrong.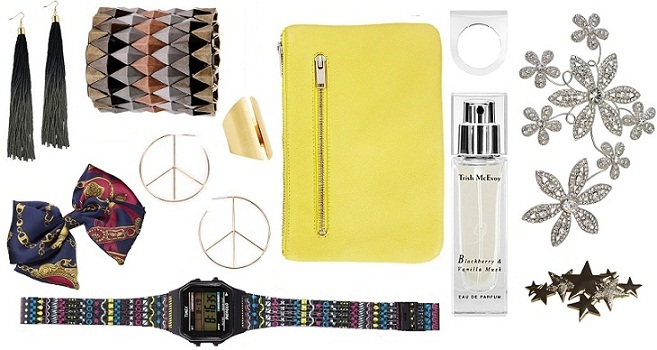 Clockwise from top left: Dark Horse tassel earrings, Urban Outfitters' studded stretch cuff; gold ring, leather purse and silver folded metal ring all from Cos, Glitzy Secrets' Bouquet of Grace headpiece, Hobbs Unlimited's Celeste star brooch, Trish McEvoy handbag sized No. 9 Blackberry & Vanilla Musk perfume, Timex geo digital watch, Accessorize Regal hair clip, Urban Outfitters' Peace hoop earrings.
Tassels are totally trending right now and these fab Dark Horse tassel earrings, £27 at EC One, also incorporate the fade look with their black to grey dip dye. LOVE. www.econe.co.uk
Rock your outfit up or Peace out with some great pieces from Urban Outfitters' jewellery collection. I'm loving the studded stretch cuff, £24, and Peace hoops, £12. They're also carrying this great 1980s inspired metal strapped Timex T80 geo digital watch, £75, that also comes in leopard or zebra print. Grrrr. www.urbanoutfitters.co.uk
Cos can do very little wrong. H&M's more grown up sibling store brings simple, edgy yet accessible Scandi design aesthetics to the High Street at great price points. I love these slick metal rings, E.15 and fresh lemon curd coloured leather purse, E.39, for stocking fillers. www.cosstores.com
For a more vintage feel, costume jewellery specialists, GlitzySecrets.com have a range of intricate, elegant sparkles for all budgets, perfect not just for Christmas but also for accessorising next season's 1920s / Great Gatsby style fashions. Bouquet of Grace headpiece, £64.50.
Hobbs Unlimited's golden Celeste star cluster brooch, £39, is a chic way to pin down scarves on blustery days.
Delicious or cloying? Trish McEvoy's No. 9 Blackberry & Vanilla Musk perfume splits people like Marmite but for me this sophisticated, fruity blend is one of the most wonderful scents around. I particularly love this handbag sized 15ml version, £30 from Selfridges.
This Accessorize Regal hair clip, £6, is a modern use of iconic scarf designs popularised by the likes of Hermes etc - very 'Queen's Christmas Day stroll around Balmoral'. If you missed out on the Versace x H&M collection this is a small and pretty consolation albeit in less garish colours.