I have to start swimming as part of my rehab after various back injuries which have had me laid up over the past few weeks, which has given me a great excuse to buy a new swimsuit.
I loathe public pools (there was an incident involving an incredibly hirsute man, a weeping wound and a large, floating sticking plaster during aqua aerobics which pushed me clean over the edge) so I figured the extra motivation of at least having a pretty looking swimsuit would definitely not go amiss.
It's a great time to buy swimwear thanks to the Summer sales, although a lot of my favourite designs, typically, aren't reduced. I'm torn between a classic-verging-on-retro style that will look super chic (not a look I usually manage to pull off but I won't be accessorising for the pool so I might just get away with it), or something more in-keeping with my usual style, although - sod's law - these are the most spendy versions.
In no particular order, here's my top 12 which should all fit women bigger busts, although not all designs are underwired or fitted by cup size so most are suitable for all bust sizes.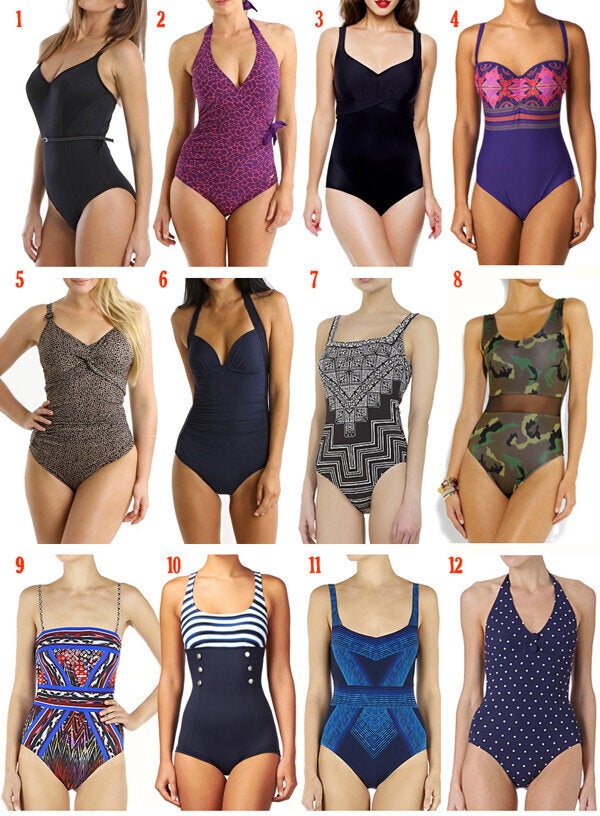 1 Fever Underwired Plunge Suit in Black by Freya, £49 from www.simplybeach.com (How 80s-tastic in this leotard-style belted suit?? Love.)
2 Sculpture Premiere Simplyglow Printed Onepiece in Purple by Speedo, £52 from Simply Beach
3 Silhouette Shaping Swimsuit in Black by Panache, £48.75 (reduced from £75) from www.simplybeach.com
4 Savannah Padded Bandeau Swimsuit in Gypsy Print with detachable straps by Panache, £47.99 from www.surfdome.com
5 Madagascar Underwire Twist Front Control Suit in Desert Rock by Fantasie, £71 from www.simplybeach.com
6 Vision 50s Gathered Halter One Piece in Ink by Jets by Jessika Allen, £133 from Simply Beach
8 Lucy Camouflage-Print and Mesh paneled swimsuit, £235, by Beth Richards, exclusive to www.net-a-porter.com (This one gets bonus points for being less girly and hugely on trend for AW13 too)
9 Okinawa Bandeau Swimsuit with detachable straps by Gottex, £165 from Harrods
11 Indochine Swimsuit by Gottex, £165 from www.harrods.com (Love how this print looks a bit Mary Katranzou)
12 Antibes Halterneck Swimsuit in Marine by Vilebrequin, £210 from www.selfridges.com (Polka dots get AW13 trend points but, especially in this colour way, are also totally timeless)