Thanks to the likes of Sharmadean Reid, founder of WAH Nails, and Sophy Robson, creator of the legendary 'Eek' show nails for Giles and TopShop Unique's Dalmation design, nail art has come out from between the chicken shops and international phone card stores to take its place in the beauty spotlight.
Being one of those odd bods who prefers to do her own nails, up until now I'd taken to having friends in the States send me over Sally Hansen Nail Art pens - like precise, pointy marker pens filled with thin nail varnish - to create my own designs and doodles, or going for spotty motifs painstakingly created using a pin head brushed with polish.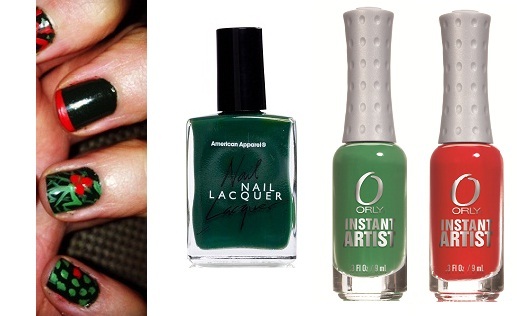 Festive French, Holly and Spots: All use American Apparel Nail Lacquer in Hunter (£9), Orly Instant Artist in Leafy Green and Fiery Red, £5.80 each from www.lookfantastic.com
Recently though, as the trend has spread from East London - where WAH Nails first opened it's Dalston salon back in 2009 - to the rest of the UK, the High Street has responded with some great DIY nail art products making it so much easier and quicker to do at home.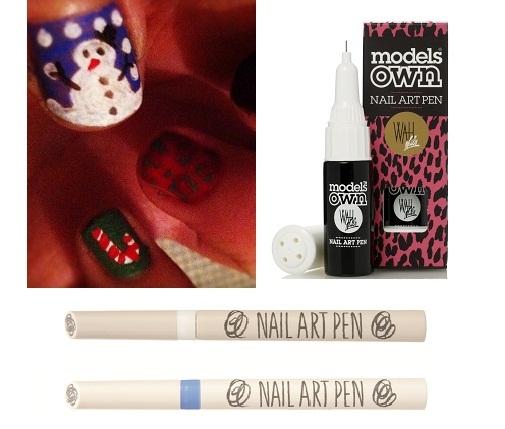 Snowman: TopShop Nails Nail Art Pen in Frozen (white) and Hustle (blue) £6.50 each, WAH Nails x Model's Own Nail Art Pen in black, £6, also available from Boots.
I was lucky enough to get to try out TopShop's new nail art pens and am delighted to report that they're the only products I've come across in the UK to rival my cherished Sally Hansen's - and a whole lot less hassle to get hold of! They are BRILLIANT - great colours and easy to use (even with your 'wrong' hand), they work in the same way as those metallic marker pens do - shake it to wake it, push down until the ink appears then off you go! Launching in store and online from December, they'll be available in black and white (must haves) as well as silver, pink and blue. Just make sure you finish off with a top coat once the ink is dry to seal everything in. I forgot and after a close encounter with my kitten and the duvet, my snowman (above) melted a bit :(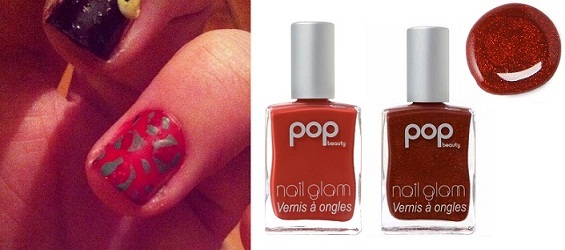 Christmas Glitter Leopard Print: POP Beauty Nail Glam in Strawberry (base), and Xmas glitter polish (used inside the leopard markings), both £6.50. Orly Instant Artist in Leafy Green, as above, used for the markings.
These pics show a few of my recent attempts at festive Christmas nails all created using the products shown. It's really good fun just experimenting and seeing what you can come up with - I maintain that anyone can do at least the leopard print, you don't even need that steady a hand thanks to these pens and Orly's new Instant Artist polishes which have a really long, narrow brush that's great for tiny details and lettering. Best of all, they come in a ton of colours (as nail pens are so new the colour choice tends to be limited) and finishes including metallics and glitters.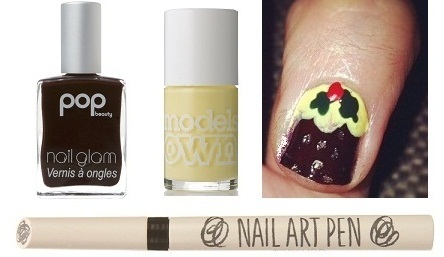 Christmas Pudding Nail: POP Beauty Nail Glam polish in Wine (base colour, £6.50) , black currant spots - TopShop Nails Nail Art Pen in Nightrider (black), £6.50 from www.topshop.com from December, Model's Own varnish in Lemon Meringue (custard design), £5; American Apparel 'Hunter' nail lacquer and Orly Fiery Red Instant Artist (both as above) used for the holly.
WAH Nails have collaborated with beauty brand Model's Own on a collection of nail products which includes my favourite mani-extender, Smash Up crackle polish which I tend to apply once my existing nail polish is chipped to get a couple more days out of it. Just apply a coat or two of the Smash Up over the top of whatever base colour or design you like, ensuring it's totally dry first, then wait and watch as it splinters giving an edgy, modern finish that - particularly if you have a few different colours underneath it - gives an effect like the ripped layers of posters on billboards.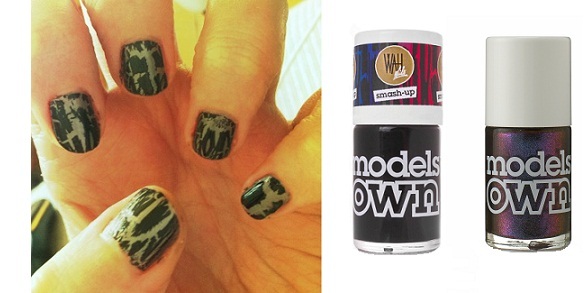 Crackle: WAH Nails x Model's Own Smash Up polish in black (£5) and Model's Own Beetlejuice varnish in Purple Blue (£5) - a great new polish to wear under a crackle thanks to the oil-slick type colour changing properties.
For inspiration and professional video tutorials check out WAH Nails' site, Sophy Robson's tumblr, or Orly. Tweet me pics of your efforts on @FightForYrWrite but remember, stickers and Minx are cheating!