One of my favourite set of books growing up was Cicely Mary Barker's exquisitely illustrated The Flower Fairies.
This season's fashion florals seem to split into two categories - the exotic, tropical prints seen in collections for Stella McCartney resort, Alberta Ferretti, Altuzarra and Givenchy resort, versus the more modest, English Country Garden style blooms featured at Erdem, Dolce & Gabbana and at Louis Vuitton through Marc Jacobs' Broderie Anglaise daisy patterns. The latter reminded me of my much-loved childhood books and, as I browsed various brands' takes on these trends, a whole host of Flower Fairyesque looks surfaced.
Mixing motifs of lowly field flowers like the dandelion or daisy, with luxe fabrics, silky textures and sharp cuts, sometimes also incorporating lace for a more ethereal edge, feels so modern.
Whilst florals for spring may not be 'ground breaking', the success of the recent Laura Ashley Archive range for Uniqlo and print pro Mary Katranzou's line for TopShop - which launched yesterday for the start of London Fashion Week and has already sold out of most designs - shows if they're done right, they certainly are popular.
Here's my selection of great fairytale florals out now or coming very soon...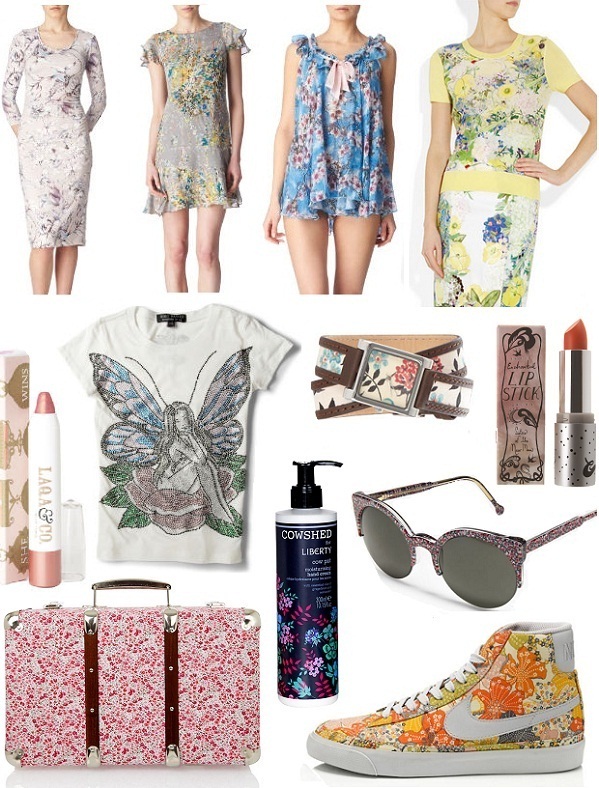 From top left:Reiss Balbina floral dress, £139, Paul & Joe Carpi dress, £390, Dirty Pretty Things Blossom babydoll lingerie, £199, all at Selfridges. Erdem's Arizona silk crepe and fine knit top, £420, and Criona high waisted skirt, £1,485, at Net-A-Porter.com; Laqua & Co. fat lip pencil in Fairy Blood, £13, Most Wanted exclusive diamante Fairy T (for girls but goes up to age 14), £59, both from Selfridges. Edenham Liberty print wrap watch, £85, Topshop Make Up lipstick in Charmed, £9, from the mystical Sisters of the New Moon collection, retrosuperfuture Liberty print Lucia sunglasses, £130, Liberty x Nike Blazer mid trainers in Mauvey print, £75, Liberty print Cowshed hand cream, £16, and Liberty Phoebe print miniature suitcase, £65, all from Liberty.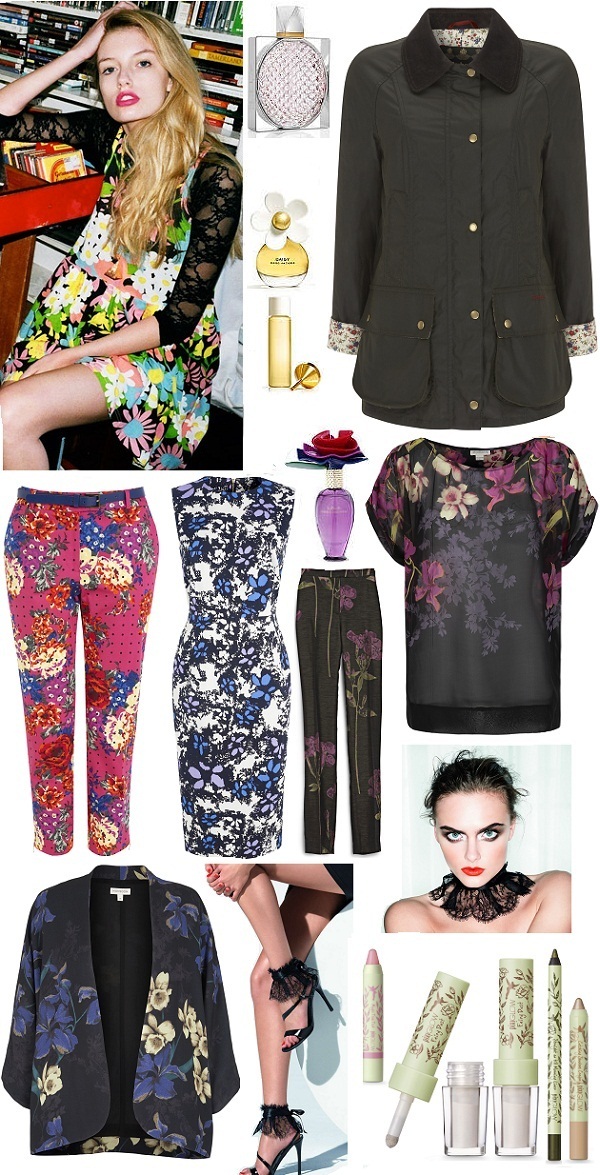 From top left:Lazy Oaf summer collection Fast Flowers dress, £55, Stella McCartney L.I.L.Y eau de toilette, Daisy by Marc Jacobs travel scent set with atomiser, Lola by Marc Jacobs perfume all at Selfridges, Floribunda Liberty Print khaki waxed Barbour jacket, £219 from Liberty, Preen/Edition Floral Chino £45, Roksanda/Edition Lace Print Dress £75 both from Debenhams,
Monsoon Martinique Top, £45, and Martinique Jacket £55, both out March; Hobbs Unlimited Iris Trousers, £149, Wolford's stunning fairy gaiters - delicately sexy lace and ribbon accessories for neck and/or wrists - ADORE these! from www.wolfordshop.co.uk and various stockists, Pixi Tinkerbell super cute make up range - see www.pixibeauty.co.uk for details.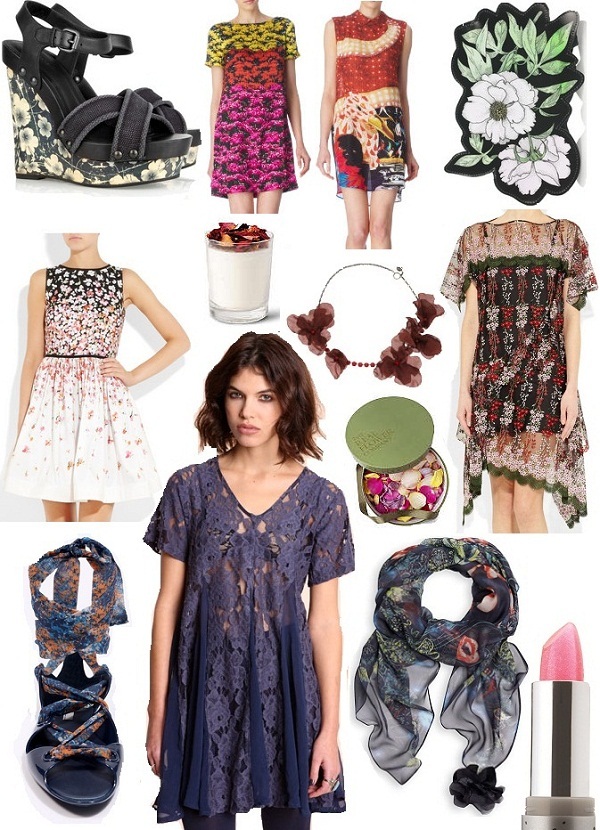 From top left: Bottega Venetta painted wedges, £575, Strip Valley shift dress, £635, and Dandilion blouse dress, £705, both by Mary Katranzou from Selfridges. Christopher Kane Clematis clutch, £400, Junya Watanabee floral embroidered tulle dress, £1,100, Lanvin red petal gem necklace, £360, Red Valentino floral prom style dress, £590, all from Net-A-Porter. The Real Flower Company scented Garden Rose candle, £33, and gift box of multi-coloured scented rose petals, £45, both from Selfridges.com. Melissa Blue Wind sandals , £45, and Evil Twin Bad Moon Rising lace dress, £80, both from Urban Outfitters, Hermione de Paula for Liberty London Black Poppy Field silk scarf, £155, Topshop Make Up heat sensitive lipstick in Charmed, £9, which changes colour to suit, according to your temperature - like a lipstick version of a mood ring! Clever...