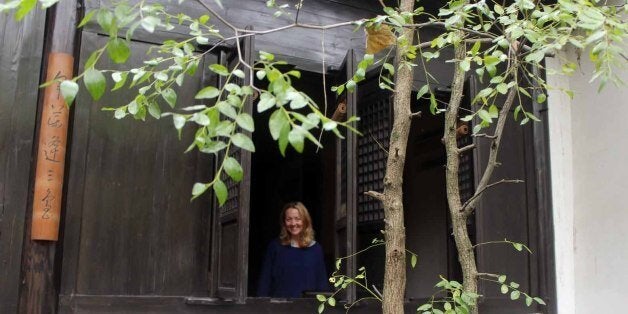 You could lock your front door with a key. But it's far more satisfying to use the thick wooden bolt that secures the tall, dark yew gate of the wall that surrounds your Amanfayun villa courtyard. And to imagine the methods that dynastic intruders would have been forced to undertake in order to penetrate your home, 700 years before.
At the Amanfayun resort, in the hills behind the former Imperial capital of Hangzhou, a rare instance of architectural foresight by local government has preserved an historic glimpse of China that tourists rarely see.
Here is the chance to retreat to a beautifully roofed, wooden home, whose image could be lifted directly from a classical Chinese movie scene.
Sadly, much of the China of most Westerners' lyrical imagination has been blown away by the winds of time. Or rather, the events of history. A fondness for wooden structures and 5,000 years worth of legendary warring has led, inevitably, to many ancestral halls and statues being razed to the ground.
But in Hangzhou, the horizon will be instantly recognisable to visitors from any country. The iconic, tourist magnet of West Lake stops the tatty retail facades, shopping malls and cheap-looking tower blocks in their tracks, as modern life is forced to give way to the China of plates, vases and our hearts.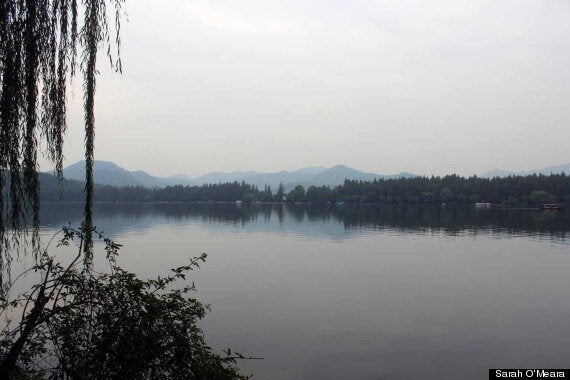 This halcyon vision is no accident.
However, despite the appeal of this throwback to a time when poets were governors, attempts to enjoy this enchanting scene are regularly shattered by China's burgeoning love of domestic tourism - and its imperial history.
Fast-moving tourists on buses, bikes, or herded by megaphoned tour leaders, intrude on all views. And that's why at Amanfayun, tucked away in the mountainous backdrop of West Lake, it feels so miraculous to be left alone with history.
As you walk along cobbled paths, lined with camphor trees, the only regular sound comes from the beating of drums calling monks to prayer at the local temples, and the smell of osmanthus flowers replaces that of car fumes, fried dumplings and stinky tofu - the signature scents of modern Chinese tourism.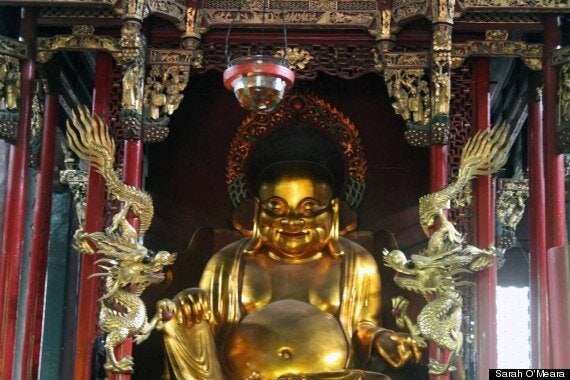 Sakyamuni Buddha, Lingyin Temple
The village owes its longevity to the surrounding Longjing tea fields. Emperor Qianlong (the ancient name for Hangzhou) designated 18 of the mountain's tea bushes as 'Imperial Tea Bushes', from which only the royal family were allowed a brew, thereby establishing Fayun's tea-bush-owning merchant class.
Centuries later, the villagers were still reaping the rewards of this leafy inheritance, and resolved to use their fortunes to have their ancient homes destroyed and rebuilt, to look shiny and modern.
Luckily for tourists, in 2003, the Hangzhou Bureau of Landscape and Cultural Relics intervened.
Five years later, a Beijing businessman joined forces with local officials and the Aman resorts group, to refit the homes to a five-star spec, while bringing in local restauranteurs to provide the food. But, somehow, during this traditional chain of corporate events, nothing got lost in translation.
Monks continue to walk the grass-tufted cobbles towards their temples, through the resort village. And the communal heart of the complex of residences is filled with local art work, from Hangzhou's China Academy of Art - still the country's most influential arts university.
The public too are free to walk through the village and marvel at the carefully preserved rock Buddhas dating from the 10th to 14th Centuries serenely tucked away behind the trees, while the restaurants are affordable and infinitely better quality than the sticky snack shops that populate the main tourist areas, nearby.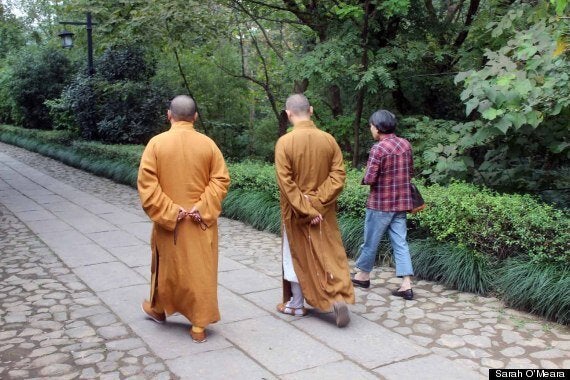 Monks walking through Amanfayun
And for residents of Amanfayun, the moment of pure bliss comes first thing in the morning.
While other tourists catch early taxis to try and beat the hoards, Amanfayun guests simply wander up through the mountain mists into one of China's most important Buddhist structures, Lingyin Si - also known as The Temple of Soul's Retreat - to share in the Buddhist monks' morning calm.
What Amanfayun manages to capture above all else is a sense of retreat. Here you can imagine the 12th and 13th Century Chinese poets, who came to Hangzhou to hide away from politically turbulent times, finding their bliss.
Away from the hoards of cheesy iPhone selfies, young women tottering up steep walkways in high heels and greasy takeaway boxes, there is a genuine sense of contemplation, in one of the only places in China that time was allowed to forget.
Here's a visual tour of the temple complex of Hangzhou and Amanfayun.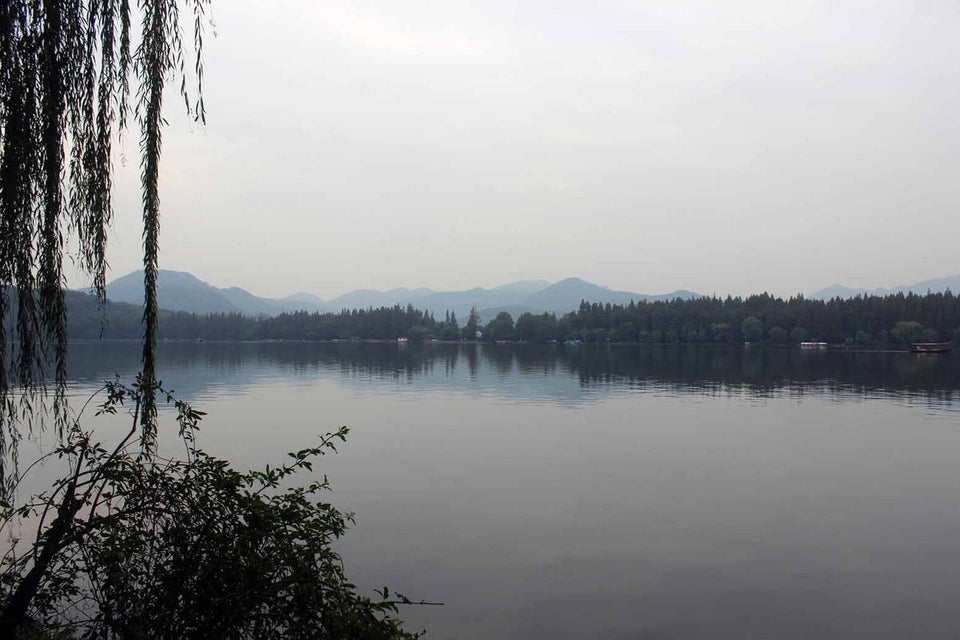 Hidden Hangzhou Secrets
Ampersand Travel offers three nights at Amanfayun from £1,685 per person including international flights from London and transfers. www.ampersandtravel.com/+44 (0)20 7819 9770