Travelling home on the Eurostar from this year's EphMRA conference in Brussels, I pondered whether the pharmaceutical market research industry is 'Embracing Change and Cultivating Opportunity' as per the title of the conference. Certainly, this year's debate was a change from that of previous years. The papers and discussions I participated in were about the bigger picture; how we make a difference, and change our mind set, rather than 'here is a new technique I made earlier'.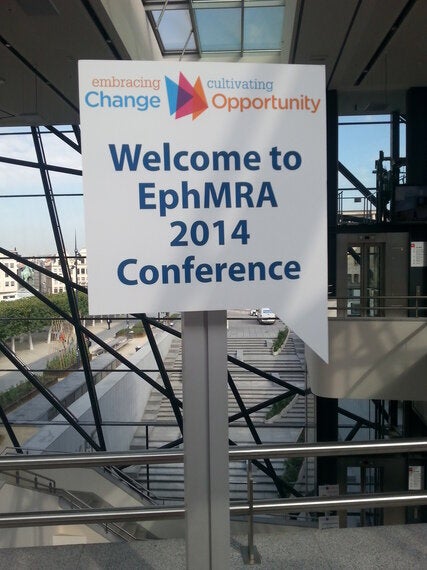 I had the pleasure of chairing the paper session by Denyse Drummond-Dunn, which provided a very different perspective from her experience working in FMCG companies, such as Nestlé and Philip Morris. My key takeaway was that we must strive to move beyond insight towards the 'socialisation' of research. This means getting out from behind our desks and making ourselves indispensable to the business. For someone on the client side, I can see how this makes a lot of sense. I also think that there are some very simple things that agencies can do to facilitate this; for instance, through building confidence and trust with our client's internal stakeholders and changing the way we think about presenting data. We should consider it less of a 'presentation' and more of an experience of 'immersion' and sharing.
Craig Scott was as entertaining as ever when presenting his paper. He has a very engaging way of describing complicated concepts through simple-to-understand analogies. His challenge to the audience was to 'do things differently, embrace change, don't fear it'. I'm not totally convinced, however, that I will follow his advice of finding a new way to work every day for a week; clearly Craig doesn't live near the North Circular in London!
My PowerPoint crush goes to Paul Edward's slides. His premise that the future is about answers not questions was compelling. I really liked his argument that the manner or speed in which you answer a question can be just as important as what your actual answer is. I have been a strong proponent of observation for many years; it adds a very different dimension to any research study. I feel there is something in the data he showed about speed of response, but how do we interpret what this actually means?
One immediate change I would like to see following the conference is in how we embrace new concepts. A 'buzz' implies something exciting and new. Can we please stop using that term in relation to behavioural economics, social media and the rest? We have talked about these for many years; surely, the battery must have run out in the buzzer by now!
It was a great conference, with lots of ideas to mull over. Watch this space for change; I can certainly see the opportunity!