Talk about a culture shock. The last time I went to Florida was as a single girl, you know the party-all-day-sleep-all-night vibe for the 2010 Superbowl.
Fast forward five years and I'm swapping my party frocks for an extra pack of nappies and a giant Peppa Pig in my suitcase.
I'm on a mission to discover Florida's hidden treasures and to see what the sunshine state has on offer for those looking for more than just the obvious in a family destination.
So we grabbed a budget rental car and headed to the laid back beaches of Fort Myers, compared to the more hedonistic Miami where an overnight stay at Loews hotel gave us a glam glimpse of city, with a super safe family swimming pool and Nikki Beach's famous brunch just a stone's throw away.
It was time to look at an alternative side to Florida. So after a two hour drive to the quiet, quaint and idyllic beaches of Ft Myers and Sanibel, it honestly felt like a whole other world, a sanctuary away from the fast life.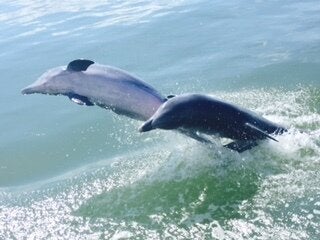 Dancing dolphins at Cabbage Key
Education was top of my list - how to engage a three-year-old with both fun and learning at the same time. So after checking into the DiamondHead Beach Resort & Spa, we headed to the Imaginarium Science Center.
As a mum I was so impressed because it was like a scene out of Back to the Future. You could transform your little ones into mini Nutty Professors. My toddler got to perform his own science experiments, aged three!! The piece de resistance was a puppet stage that you could perform on yourself, playing the whimsical characters to engage your child's imagination. I was so jealous we didn't have anything quite so cool in England!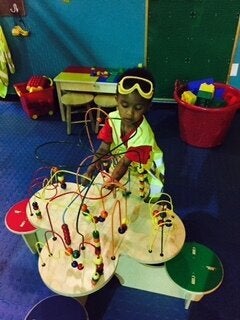 Nutty professor: Science is fun afterall!
Car enthusiasts should visit the historical Edison & Ford winter estate. As we took in some of Henry Ford's earliest motors, we popped our lad on his own set of mini wheels inspired by Olympian Greg Rutherford's little trikers campaign to get kids fit.
Hopping on board a Captiva Cruise to Cabbage Key was something special for everyone - as a family of dolphins cleverly accompanied us on our way to the tiny island just an hour away from the mainland. The views were terrific, but Mosquito spray is a must - though it's totally worth it to see The Bubble Room restaurant decked out in Christmas nostalgia and toys from the 1930s onwards.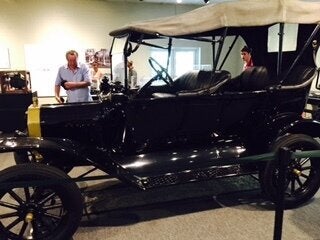 Revved up: Early motors on display
Sometimes the simple pleasures are the best, and the beach off our hotel was great for collecting shells off the Gulf of Mexico. There's Time Square for pizza, burgers or sushi dinners or you can stay in the hotel to enjoy the sunset and the fab Ed Sheeran impersonator during happy hour! While it's great to entertain the tots with Dragons race to the edge on netflix before bed, the leapfrog epic was a great alternative with its interactive library of education games to brush up on maths and English. Luckily there's the FtMyersSanibel facebook page that provides lots of activity ideas too.
Orlando was fun in a more obvious way. What's not to love about Disneyland and its magical worlds? The Lake Buena Vista Resort Village & Spa had a shuttle service so it was no drama going to and from Disney and Universal, late enough to catch the brilliant night-time firework shows. It was an adventure everyday just looking out of the window of the family friendly apartment, which overlooked a giant pirate shipwreck in the pool where you could even walk the plank.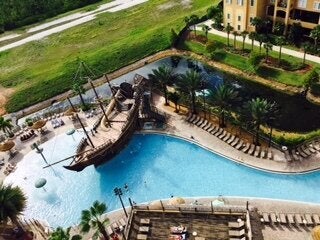 Pirates of the Caribbean - a splashing time in Orlando
But asides from Disney, I was keen to explore what was new in Orlando, and I-Drive 360, a new entertainment complex which included The Orlando Eye, Sea Life Orlando, and Madame Tussauds, was a great day out for fun and adventure.
I mean how often do you get to huddle up to the statues of Taylor Swift, box clever with Mohammed Ali and go back into time to think out strategy with the likes of Albert Einstein?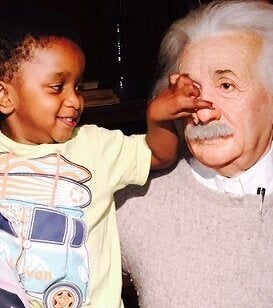 Nosy: Einstein's always full of ideas at Madame Tussauds
The Orlando Eye also left us in awe of the incredible views of the city on the 400ft tall observation wheel.
What I liked about the restaurants was that they were pretty unpretentious - and the sports themed Marlow's Tavern had a great kids menu and a family vibe. The massive entrees, signature chicken wings and pizza keeps even the fussiest eaters full for hours, and geared up for the ace Gatorland, where hopefully the crocs won't be too snap happy!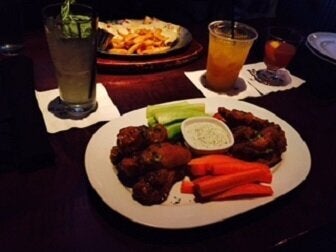 A taste of America: Fuelling up for the rides.