It's been an epic week in music - teeny-boppers and chart pretenders beware! The old school is back in the form of Girls Aloud, The Jacksons and the NME Awards, and they are not taking any prisoners.
Last week I witnessed three shows that would make the likes of Justin Bieber and One Direction quiver in their boots, and it's just the kick up the backside several new pop acts need to bring them up to scratch and rival these eras that are as yet unparalleled.
Not since Beyonce reunited Destiny's Child has there been such a buzz about a girl group getting back together this year - and Girls Aloud did not disappoint with their 'Ten - The Hits' tour at London's 02 on Saturday.
It wasn't just their back catalogue of hits that got the audience on their feet - it was their deliverance of the show that was on another level as Nadine Coyle, Sarah Harding, Kimberley Walsh, Nicola Roberts and Cheryl put their old rifts and heartaches behind them and were reminiscent of the Supremes with their sisterly bond, especially in their red fishtail frocks for showstopper The Promise, for the finale.
There was no time for lazy choreography, and didn't Cheryl Cole know this. Despite her suffering with flu, she put her all into her trademark grinding and body popping, only stopping to slap Kimberley Walsh on the butt and joking to the crowd: "Your arse is going to get me through this."
The girls delivered dancefloor favourites, with Nicola's vocals particularly in fine form for Wake Me Up.
The setlist included...
Sound of the Underground, Something Kinda Ooh, and I'll Stand By You.
They were sexy, yes, yes, yes, with their costume changes, the first resembling a Tina Turner style black and diamonte dripping bodice.
It was quite a feat as the ladies were just as energetic in their routines and worked the crowd just as they did for their sell out 'Tangled Up' tour in 2008.
Despite all the glitz and glam, the best moments were unscripted. Cheryl stroking Sarah's hair to reassure her if she got nervous, and planting a massive smacker on her lips after performing Jump.
As they writhed with topless male dancers in bondage gear during Untouchable, they let the boys know it was the girls that ran the show.
One fan behind me said at the end: "That was better than the Rolling Stones."
Not bad going, ladies.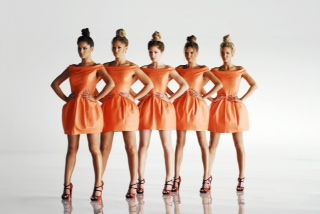 Girls Aloud: Copyright Supersonic Pr.
There's just one word to describe The Jacksons: Smooth.
Michael Jackson's death left a gaping whole in the pop world, which has yet to be filled. Until last Sunday night that is, when The Jackson's came to town, and shut down the Hammersmith Apollo with a tremendous set propelling us back to their Motown days, when everything was groovy.
And didn't the industry get a treat when the brothers came to London- blamed it on the boogie, and left all other boybands in their dust.
Their electrifying set was so strong it had the audience back-combing their non-existent afros and screaming just from hearing the intro of hits including Can You Feel It.
As the foursome launched into this opening track, immediately they showed off their slick moves, which would even make Usher and Chris Brown sit up and pay attention, at what these men, old enough to be their (grand)dads were pulling off.
It was sheer class, they came from a different era, one where they were whopped into shape by their strict father, and they wouldn't dare get a step wrong. And it was this difference, sharpness and passion for perfection that put them a cut above the rest.
The brothers were on fine form for the ABC, Stop The Love You Save medley, as Marlon showcased his fancy footwork busting out a few of his late brother's moves.
They had a minimal set of just mics and a light. They let their snazzy tuxes with, glitter and diamontes do the talking.
Their tribute to Michael brought tears to the audience eyes.
During Rock With You, Marlon, Tito, Jermaine and Jackie did Michael proud as they blew a kiss at the screen with images of Michael as a child in the background, and dedicated I'll Be There and a track called Go To Sleep to the King of Pop.
But going to sleep was the last thing on their fans minds as they rattled through more uptempo hits.
Jermaine was in his element when his brothers stepped off stage for a break while he sampled some of his solo material which sounded like it had been influenced from his new life in the Middle East.
The band were entertaining even between songs. Marlon said: "We had to locate the brothers before we could get back together. Jermaine was in Middle East. Jackie in Hawaii in a studio recording. Tito was working on his antique cars." Tito chipped in: "No I wasn't. I was working on my fourth child".
Got To Be Starting Something was the perfect finale, the brothers even got the crowd to imitate Michael's trademark "heeee heeee."
Who knew they could pull off such a show? In the words of Michael, don't stop till you get enough, Jacksons!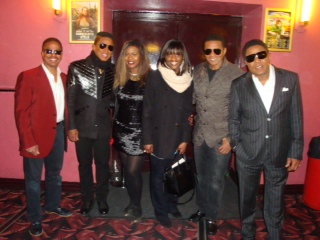 The Jacksons: Copyright Sarah Tetteh.
And the award for the best Award show goes to... The NMEs. What's not to love about it, it's gritty, real, unpretentious and after a lacklustre Brit Awards, it was just what the doctor ordered.
The who's who of rock n roll headed to The Troxy in east London for the annual knees up.
It was beers and pizza all around, and barneys at the end as Liam Gallagher was said to have squared up to Idris Elba because he had a problem with his bobble hat. As you do...
But my favourite man of the night was rocker Bobby Gillespie. So chilled, Kate Moss's best mate said: "I wouldn't miss this for the world. Let's have a mad one tonight. I'm not getting up before 4pm tomorrow."
Spoken like a true professional.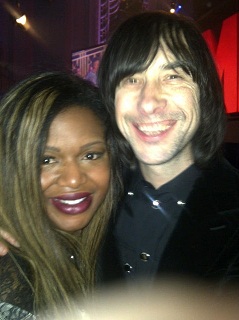 Bobby Gillespie: Copyright Sarah Tetteh.