The music industry has been exposed as notoriously hard to crack if you're a woman trying to make it as a top executive.
Fair play to Lily Allen who laid this bare more recently.
So I meet one lady who is quietly tinkering away in the background creating mega-hits for the likes of X Factor winners Little Mix who are taking America by storm, and also hit-making for the mighty Cheryl Cole.
Step forward Nicola Roberts - who shot to fame as one-fifth of Girls Aloud. Don't be fooled by the former candy-coated girlband persona - this savvy red-head is revved up and ready to go.
'Oh, please. Cheryl's definitely her own woman,' she says of her equally fearless BFF and former bandmate returning to X Factor and not taking any rubbish from Simon Cowell. 'She's genuinely excited about finding new people and helping them.'
Speaking of writing for her pal's hotly anticipated new album she says: 'When we're in the studio - we're talking about the music. . .and gossiping. About boys as well.
We always make sure we are well fed. We have our tea breaks. We love a PG Tips - a good brew, a biscuit and a gossip. Then you get back to it.'
Nicola, 28, adds: 'I can't wait for this new record. Literally she plays me things and I'm jumping around the room with excitement. And she's an amazing writer - even working with her on this album I've seen different things about her that I've never known about her before. Which is crazy because we've been friends for 12 years.
I'm not gonna say what it's like because she's gonna kill me - it's her baby I'm just helping her feed it a little.'
Must be hard though taking a backseat when you're used to the limelight yourself?
Not so for Nic, whose on the path to becoming the next Cathy Dennis. She's got it sussed.
'I'm enjoying writing for other people - it's a new experience and is so rewarding. It's like someone wants to sing your song! It brings freedom.
It's a challenge for me that I'm focusing on for a minute. There might be a song where I think, actually, I don't want to give this song away, and I'll keep it for myself. It's also quite a competitive industry so it's almost like a little game working out who all the writers are. It's quite challenging in that respect. I've thrown myself into studio life.'
And studio strife with those cheeky Little Mix girls and their legion of fans.
Dainty Doll make-up creator Nic, told me: 'I'm working on Little Mix's third album just now which is exciting.
They are killing it on the Billboard chart - reached number 4 which is unheard of! I haven't seen them for a year since I worked on the last album - the first album I worked on they were so young and giddy, then the last album you could see such a change in them - they had become young women. They ask me 'Are we allowed to do this? Are we allowed to ask for time off?' I say 'Yes, you can do all those things, but do not tell your management that I told you!' I think they should have their own reality TV show - they are hilarious. I was speaking to their A& R - why has this not happened yet? With Little Mix the second you get there until the second you leave you just laugh. They speak in accents from Australian to Indian to American - and you leave talking in a different accent.'
No wonder Nic enjoys being a mentor to young girls - she's teamed up with Lil-lets for their latest campaign to help teenagers.
'I thought it was an amazing campaign to get involved with as I have a good relationship with young girls online - always sharing their problems. I've seen how hard it is to be a teenager. If they've got any questions they can go online - we didn't even have the internet when I was a teenager. There's mental and physical changes when people hit puberty. Us girls were all very different with our figures - there's only five of us - we grew up together - because we were forced into a situation where you literally eat, breathe and do everything together which is never the case in normal life. It was always really good, but your limits aren't pushed with siblings, though with four other people we were all tired at the same time, fighting for the same goals. We'll always be sisters - we've shared too many experiences. If I was having a down day - someone would say 'get yourself together.' It keeps you grounded - keeps you in reality.'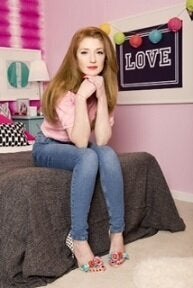 Bossin' things: My girl Nicola is Calling The Shots as she makes her way to up the notoriously hard to crack music executive ladder.
Copywright: Lil-lets/Shinecommunications
Nicola can't wait to be an aunty to bandmate Kimberley Walsh's tot that's due in a few months, she can't wait to spoil the little'un rotten.
Nic tells me: 'She says she feels like a mum already. I think her body is made to temple babies, she's so curvy and gorgeous. She is breezing through it though she broke her arm. But she's a trooper - putting her make-up on with her left hand now.
She's got baby books for her and Justin - it's just an exciting time. We are going to spoil that baby - babysit and get her and get her own closet.'
So that's a relief for Kimberley then, who can just put her feet up and relax...or can she?
Bless the mum-to-be, she is just anxious about the birth.
Catching up with the yummy mummy at the Body Frock launch at London's Mahiki she told me: 'All my friends' births have never gone to plan so I'm going to try and go with the flow and just make sure bags are packed.
My beauty regime has kind of gone out of the window since I injured my arm, so a nice bright lippy is my go-to or a Body Frock dress which stretches so fits my bump nicely.
The girls are great already shopping for the baby - the way they are spoiling me I might just have the best dressed baby in town.'
And when it comes to entertaining the baby in a few months time, Kimbs can take tips off former Blue Peter presenter Konnie Huq, whose just become a mum of two (under two) eek!
And she's already coming up with ways to keep the little ones entertained over the bank hols, Easter and upcoming summer hols.
I caught up with the former X Factor presenter who told me that to while away the hours she sticks on Netflix for Disney staples The Muppets, Up and a fave of mine too the adventures of Elmo in Grouchland. Then remember the sock bunnies they made in Friends? Well, she creates those with gloves, sticky back plastic and hey presto, you're good to go.
She says holidays are: 'great for having the time to hang out with family and friends, go out in the garden or park (if the weather is nice) maybe try out some craft ideas with the kids, watch telly, eat nice food...
'Having had a baby a month ago, (this hols) I am really looking forward to my hubby having time off work to hang out with our new family unit.'