Every woman will know trying to get your body back after a baby, or even just a big meal, can be a nightmare. Likewise trying to dress a baby bump can go horribly wrong, unless the tent look is your thing or you're a Heidi Klum type of mum who can look good in anything.
So just how important is it for women to feel confident in their skin whatever their shape, size, and wobbly bits?
I tapped into two different spectrums of people to find out.
I never thought I'd be getting fashion and health advice from the party-loving stars of Mtv's Geordie Shore, but behind those rippling muscles, boy were they full of words of wisdom at their season 9 launch which hits our screens at the end of the month.
Fitness fan James Tindale said: 'Generally speaking it's good to stick to lots of vegetables and protein,' he assured me while his cheeky co-star Scott Timlin pinched the chicken off my plate at their vip banquet in central London.
'We used to stick 40 chicken nuggets in the oven as soon as we got home from a night out clubbing. But now when we get in we'll have a protein shake and drink loads of water.
We can't believe we've been going for so long, it's brilliant. If it continues like this we'll be Geordie Geriatrics.'
So that was my diet tips sorted - but I was eager for some fashion inspiration to embrace my shape, have fun with fashion rather than feel a slave to trends that you simply can't pull off.
Luckily British fashion designer Dawn O'Porter, whose expecting her first baby with Bridesmaids actor Chris O'Dowd, was on hand to advise women of all shapes and sizes, how to work it on the red carpet - and in every day life when she hosted the TK Maxx Style By Me debate.
And there's no way you'll catch this mum-to-be wearing baggy dungarees - she's a vintage fiend.
She said: 'Dressing up a bump is fun. I'm trying to stick to my vintage style and just take things to the tailor to get them slightly reshaped. When it comes to fashion let your personality shine through - when people just don't bother with clothes they are missing out on a part of life that you can express yourself with - so just enjoy it.
So the idea of following trends and wanting to look like everyone else - why would you want to do that?
Stand out as an individual - whatever mood you wake up in the morning, wear something that suits it.'
But what about tips for disguising unwanted baby bellies or food babies for that matter ahead of awards season and not to mention office Christmas party season coming up!
'You need to look at late 60s and 70s for an empire line or something that tucks in under your bust and just falls over your belly. I live in them. I love them.'
Thanks Dawn! I gave it a shot for the Xperia access Q awards and htc Mobo awards and went for a Cheryl Cole inspired Fashion Fair make-over using warm autumn/winter shades including a smokey eye and bad-ass Posh nude lippy.
Lucky Chris O'Dowd has got a live -in stylist in his wife Dawn then...
'Oh no I don't style Chris.' She assured me. 'He's really stylish - he doesn't need any tips - he dresses like a drunk Irishman all the time - it works for him.'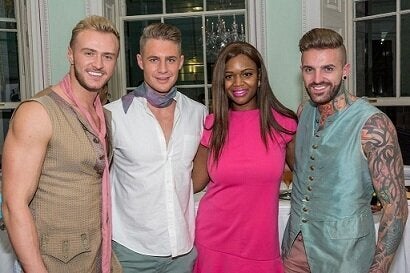 Why Aye Man - Getting fitness tips from Geordie Shore lads.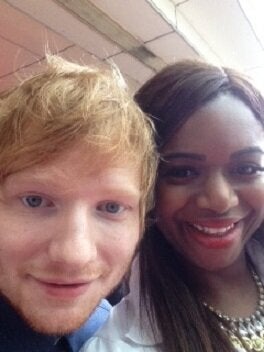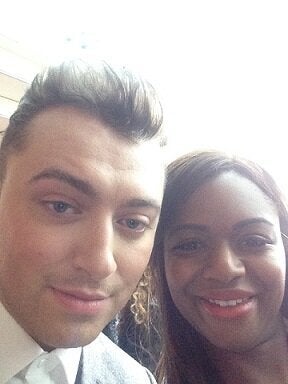 An empire frock is a winner (and so are Ed Sheeran and Sam Smith) at Q awards.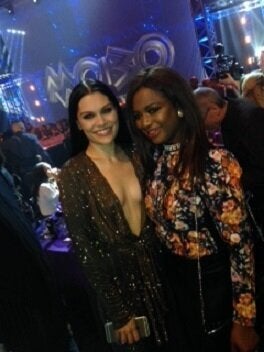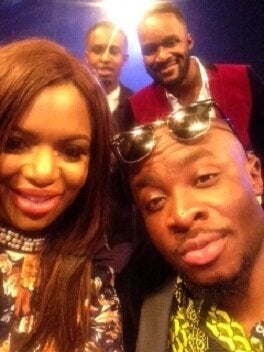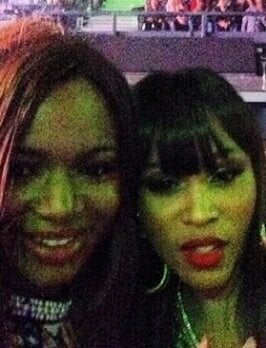 Some Mobo Magic - with Jessie J, Fuse ODG and Eve at Wembley Arena