IF there's one thing the passing of Nelson Mandela has taught me (except not
to take selfies during funerals), is the importance of looking after the
Let's face it, old people rock!
And you never know when they might pop off, leaving you wondering, did I
really do my best to look after them?
Dizzee Rascal agrees. He told me at the Capital FM Jingle Bell Ball: 'Nelson
was a figure who was always there when I was growing up. Someone who you
think will always be there in the background. So now that he's gone it's a
Old people should be respected as they have been through the wars,
literally, survived slavery, the Holocaust and show wisdom through their
experiences. Yet they are so often snubbed and forgotten in modern society.
However growing up in a family that cared for the elderly was some of the
BEST times I've had in my life.
Dementia is an illness that affects 800,000 people in the UK. Most of them
are over 65, but young people have it too. X Factor's Union J singer JJ
Hamblet is urging fans to get behind Alzheimer's research.
Eastender's villain Larry Lamb who hosted the fabulous Older People in Media
awards - organised by Barchester Healthcare and Independent Age tells me:
'Age does play a factor in the sort of roles you get and the roles you get
He explained it was just one category now...'old.'
'It's important to raise awareness and portray older people in a positive
light. The awards were brilliant for that.'
He supported fellow telly veteran Bruce Forsyth whose had stick from critics
calling the 85-year-old 'doddery' on Strictly Come Dancing, saying: 'Leave
Bruce alone. If they think they can do a better job they should do it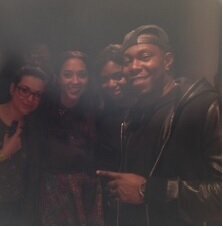 Dizzee Rascal at Capital FM Jingle Bell Ball.
Partying like a rockstar this Christmas?
Keeping up with Kate Moss was a tall order at the British Fashion Awards.
She might be turning 40 in the New Year, but Mother Moss sure knows how to
party with the best of them during her slightly shozzled speech when
accepting her gong to celebrate 25 years in the industry. In a room full of
fashion's finest, I had to make an effort to keep up with One Direction's
Harry Styles who caught the eye of milfy Donatella Versace as they were
treated to Patron Tequila cocktails and Evian too.
For my look, I opted for Fashion Fair's 40th Anniversary Kit - and took a
bold risk with the vibrant Ole Orange. 'Just wear it and bounce' said my
make-up artist. 'It's the seasons hottest colour.'
And I didn't regret it! Coupled the True Fix Foundation
and the Illuminating Powder, from Debenhams, Oxford Street, I was good to
Designer to the stars John Rocha agreed as he cosied up to me for a picture.
Kanye West would be well jel..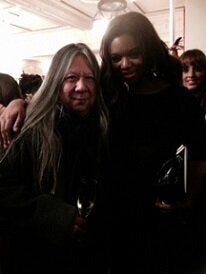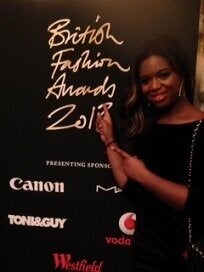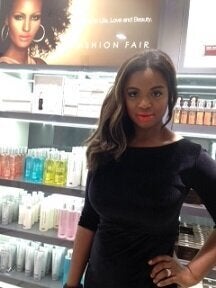 - Sarah spruced up for British Fashion Awards
*I added some frosting to complete the look with this season¹s latest bold
bling Freedom from Topshop.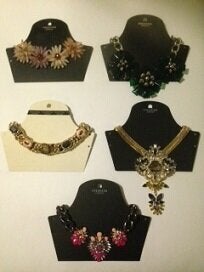 EVEN granddaddy of rock'n' roll Sir Paul McCartney knows a thing or two
I was just a few tables away from the Beatle's legend, 71, at the Cucina
Asellina restaurant where he treated his adorable grandchildren to a slap up
pizza feast at the eaterie that is a favourite of Victoria Beckham, Iggy
Jaime Winestone and The Saturdays, who've all popped into the ME London
hotel for little taste of Italy.
Lucky Sir Paul had his own vegetarian menu created especially for the family
including wifey Nancy Shevall, fashion designer daughter Stella and son
James as they tucked into healthy magherita pizzas and their signature
So I had to try it for myself, obvs, to see what all the fuss was about...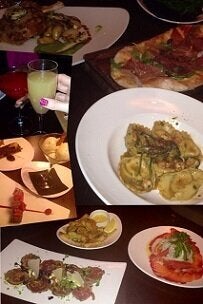 Amaze . . . Need I say more.
Get a taste of Hollywood at home...
Don't settle for a Christmas dinner that is, well, a bit of a turkey this
I was intrigued with different ways to spice up the bird before carving it
So the top dogs at Honky Tonk restaurants in Clapham and Chelsea told me how
to do a Rock Star Turkey with Bourbon.
Mark Cutler, restaurant partner said: "Each 7kg farm reared turkey spends 14
hours in a bucket containing 4 litres of bourbon. They absorb the smoky,
oaky flavours and we roast them for four hours basting them with more
bourbon so they're extra moist and tender."
Note to DIY chefs - make sure the bird is dead before you feed it Bourbon.
Don't want PETA coming after me...
This year I was bowled over by the celebs quaffing delish and really easy to
make Remy and Ginger cocktails at the GQ Awards.
So here's how to make them at home if you want to cut cost on going out at
You can grab Rémy VSOP, Coeur de Cognac, and even Sailor Jerry Christmas
gift sets from Selfridges and Harvey Nichols.
All you need for the R&G is
You pour Rémy into high ball over ice, top with ginger ale and add a twist
I was loving the Mothercare Countdown to Christmas party with Myleene Klass
and was very excited to see that a lot of money is going to the
Philippines disaster - where her mother is from.
On doing the juggle before Christmas, she told me: 'I don't stop. I've been
surviving on four hours sleep, but it's totally worth it to see how well the
Baby K range is doing. I even take my daughters with me when I work- they
helped design the leopard print and leather jacket.
It's been the hardest year of my life, but the most rewarding. Christmas
will be all about my girls. We can't wait.'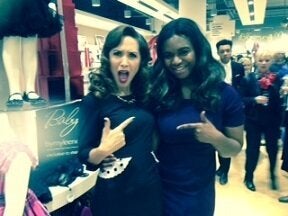 I don¹t know about the other parents to 18-month-old tots out there but mine
prefers to navigate his way around the iphone rather than want to sit and
play with teddy bears. Fair play.
So I checked out this P2 Games Jingle Bells App for age 2 plus - and it
actually includes fun learning games like jigsaws, musical books, pictures
to colour and how to make Rudolph's nose glow red.
This is funny too - A video of Santa's ransom can be found for download here
https://www.youtube.com/watch?v=3b4-QzEwkkI
Surprisingly a new survey from Ribena Plus shows a fifth (19 per cent) of
parents think their children are more active than they were at their child's
age, showing that today's generation of children are not as inactive, or
sofa-bound as they are often perceived to be. Also that kids aged four are
the most active and happiest.
So I would tell my four-year-old self to relax, throw on another VHS of the
Care Bears, and don't fret about spending hours on end playing with Barbie.
Kids are in such a rush to grow up, but enjoying the simplest things and
savouring every moment of playing is what it's all about.
I¹d tell myself to watch more Wacaday, but don't bash people over the head
too hard while playing the brilliant Mallett's Mallet.
The sheer excitement of not being able to go to sleep the night before
Christmas as you eagerly await Santa wondering if you've been good enough to
get the doll that wets itself.
As a matter of fact, that¹s back on my wish list for this year.