It takes a lot to knock Barack Obama off the top spot for the coolest president. He's first African American man in charge, who knows the Gangnam Style dance and has friends including Beyonce and Jay-Z on speedial.
But this St Patrick's Day, it's the president of Ireland who reigns supreme. Not only is he BFF's with the world's biggest boyband One Direction, he's been hanging out with Bono and Adam Clayton since they were kids.
AND, more importantly, I hear he can to do a mean Irish jig.
Never before have I felt so welcome in a stately residence, or even in my mum's house, than I did at President Michael D. Higgins sprawling mansion for afternoon tea.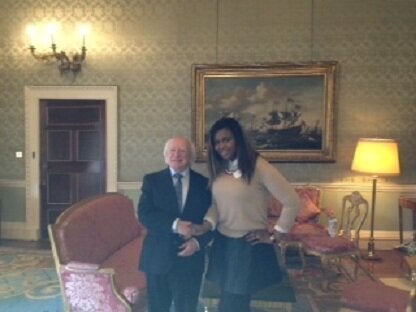 Everything in his 'white house' from the clotted cream to the cakes were organic produce: "We're completely green", he chortled. Take note Obama.
After personally greeting each of his international guests, an eclectic mix from LA, Japan, Berlin, Africa, India, and Europe, gay and straight, all come to celebrate The Gathering, a year long of festivities to put Dublin on the map, kicking off with St Patrick's Day, I was invited by his PA to have my own chin wag with him to talk showbiz, of course, what else?
So whose on your iPod Mr President? (If he even has one!)
"I'm a huge fan of One Direction. I met Niall a few days ago. We had a lovely chat, he's going to get me to a gig. I'll be there, I love his pop music... He's a great ambassador. I am a huge fan of Imelda May, her voice is one of a generation, I met her the other day for The Gathering festivities along with The Script, who also make me very proud. They will be touring America very soon.
There are many young people coming out of Ireland, Georgia Salpa is very patriotic too." Refreshing to see that the Pres, 71, is still getting down with the kids. And it seems he's had decades of experience too.
"I used to have a column in a rock magazine.
"Bono, I knew from when he was a little boy. But I'm more in with Adam Clayton, we know the same people.
"Bono is great, he spreads his message across the whole world and is a great example of our culture". What a dude!
And just when I thought my trip couldn't get any better, we were ushered off to The Church restaurant for a delicious three course meal, then to try something that Africans rarely do... And that's to River dance. That's right, I joined the actual cast of the Grammy winning theatre show for a spot of training in the Irish famous dance.
Now if you thought boggling was hard, or even the Gangnam Style dance, you should try this.
My fellow guests from around the world joined me as we had a blast trying to master the quick steps, hopping and kicking our legs and doing our best not to fall on our faces. This followed by another session of Irish folk dancing worked us up in a sweat and in a fit of giggles. It set us up nicely for a well deserved trip to the Guinness Storehouse. There's no better place to be for St Patrick's weekend than the home of Guinness. And for the newbies like me, once I mastered the half a pint of draft Guinness with my blackcurrant (tut, tut) a new world opened up to all the different varieties.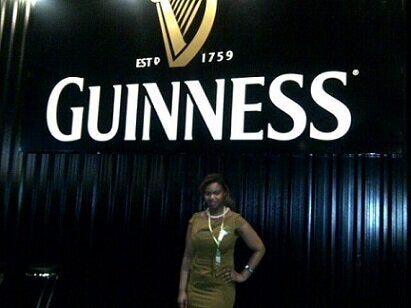 They squeezed in a jam-packed schedule of entertainment at the Storehouse over the weekend including "So You Think You Can Irish Dance" for a traditional boogie, Irish rock bands and also the unexpected samba session.
With our Guinness in hand, we were ready to paint the town black for the St Patrick's Day parade. The sea of green hats, and revellers young and old dressed as Leprechauns, The Pope, and St Patrick himself made for a more colourful celebration than Notting Hill Carnival.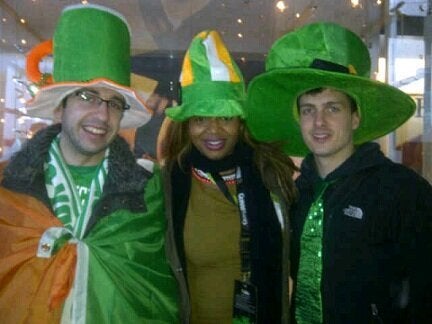 En route we took in St Anne's church where Bram Stoker married Oscar Wilde's ex girlfriend Florence Balcombe, after Wilde came out of course. And we also learned how Bram Stoker got his inspiration for Dracula through tales of vampire lesbians. St Patrick's Day might be done and dusted, but the celebrations are going on throughout the year thanks to The Gathering.
I'll certainly be back for a weekend of craic, and to check in on my old pal the President of course!
*For more information about The Gathering or to plan your visit to Ireland, log on to www.ireland.com
1) No-one ever says "Top of the morning to you".
2) Guinness gives you strength. (In Moderation. It's quite calorific.)
3) Leprechauns aren't real.
4) Couldn't see a four leaf clover. Except the biscuit variety.
5) Dubliners party the hardest for the parade.
(Up for debate, it's usually the tourists that are the last ones standing as many locals prefer to watch it indoors.)
Related