Feeling queasy, hot sweats and nauseous? Doctors are scratching their heads over the latest epidemic sweeping the nation. The Valentine's Day bug - and it's contagious. Just ask US chart-topper Trey Songz.
The Heart Attack singer, nominated for a Grammy just now, is probably the most romantic man in music - but don't get him started on V-Day.
"My worst Valentine's Day ever, we fought the whole night. There were rose petals everywhere. It was a disaster. The day had gone okay, but when it came to the night there was no romance at all. I can't even remember what we argued about."
He tells me after his sell-out London gigs: "My best tip is don't just get flowers, guys. Be creative. Whether it be cooking her favourite meal at home, or getting a chef in a fancy restaurant to make her something special."
Shame he didn't have my new fave wickedly delicious TV chef Nadia G on speed dial. The Canadian hottie, who cooks in no less than three-inch stilettos, has an Anti-Valentine's menu, and recipes including the Break-Up Brunch and One Night Stand breakfast, which quite frankly are a breath of fresh air from the 'perfect housewife' Delia Smith and Nigella Lawson concoctions that take forever.
Nadia, whose show Bitchin' Kitchin has become a runaway success in the States and is heading to our shores this month tells me: "Everyone's tired of vanilla cook shows pretending everything's perfect. Things are not perfect and that's fine. So get dirty in the kitchen. Posh and Becks should make a dirty shepherd's pie this Valentine's. Why spend all that money on a posh french restaurant?"
Here's Nadia G's tips for Valentine's, and they do not involve sitting at home sobbing into a box of chocolates.
"Have a blast - if you don't have a partner have an anti-Valentine's Day feast. Make bacon chocolate - it's salty and sweet, who needs a boyfriend or girlfriend if you have that? Invite single friends for an anti-Valentine's Day party. Do a DIY vodka bar, fresh berries with jalapenos peppers, it's spicy and it's sweet."
And now for my favourite... the Break Up Brunch.
"Cooking has always been so sterile on television so this is designed to be like a take-out burger and fries, eat and get out. Just like a break up.
"The One Night Stand Breakfast - if you want them to stick around do home fries.
If you regret it, do a really quick breakfast. Probably as quick as the one night stand."
*Bitchin' Kitchin is on weeknights at 10pm from February 11 on the Food Network
Now for my guide to getting it right this Valentine's Day. If you want to survive to see the next one, that is.
1) If it's good enough for J-Lo...
Treat your loved-one to a stunning piece from Dolce and Gabbana. The Heart Fine Jewellery from the Barocco Collection is a must have, if it's not about the price tag this Valentine's.
Celebrity fans of the jewellery include Scarlett Johansson, Monica Bellucci, J-Lo , Kim and Kanye.
So if your better half wants to keep up with the Kardashians, grab them the diamond encrusted bow and ruby heart shaped earrings and stunning necklace collections.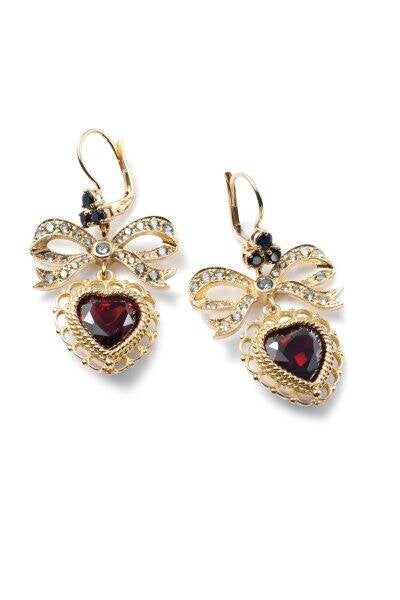 *Photo credit Dolce & Gabbana
2)Ramp up the raunch factor with Sam Fine, Dynasty Red Lipstick from Fashion Fair, which I will be wearing on Valentine's Day and to the Fashion Fair event at the Corinthia Hotel on 12 February. It's moisture rich and delicious, especially for Valentine's.
Beyonce, Rihanna and Nicki Minaj have bagged the collection ahead of the awards season to really make their lips pop for The Grammys and The Brits.
3)If you want all the glam, but with a High Street budget, check out the fabulous bling from Freedom jewellery at Topshop.
Kate Moss and Beyonce are big fans of the brand and have been known to enjoy after hours private shopping sprees at the London Oxford Street Store. Topshop jewellery has all the hottest trends from bold diamonte statement pieces for the red carpet, to vampy rockstar metal spikes, and neon coloured coat bling for the fun factor this Valentine's Day.
Topshop is opening in LA this month with a lavish bash. Form an orderly queue guys.
4)Smell your way to her heart with the fun, flirty new Lipsy London Love fragrance.
If anything, the glamorous heart shaped bottle will get you in the Valentine's mood, and the scent including orange blossom for intensity and alluring musk is actually a hit with the JLS boys, who have each nabbed a bottle for their ladies.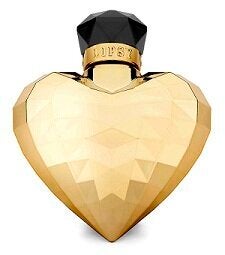 5) The way to a (wo)man's heart is through her stomach. So visiting luxury British chocolatier to the stars Hotel Chocolat won't do any harm- well except a little to the waist line.
Hotel Chocolat created the dessert menu for the likes of Bradley Cooper and Jennifer Lawrence at the Baftas including the Salted Caramel Crémeux with 70% dark chocolate mousse.
C'est délicieux. Need I say more...
Related