WHEN your name is being chanted by thousands in a packed World Cup stadium - it's easy for footballers and their fans to think they got to the dizzy heights of fame all by themselves.
Everyone knows that behind the force of nature that is Cristiano Ronaldo stands a stalwart of a woman whose been his backbone ...No, not his supermodel 'wifey' Irina Shayk, but it's his mother Maria Dolores dos Santos Aveiro, a humble cook from Madeira who he can thank for whipping him into shape.
As England pins our hopes on not just newbies like Sturridge, bringing it home for us - it's the staples like Rooney who we are relying on to drive in the goals.
So I caught up with his missus queen bee Coleen Rooney - just before she jets off to Rio this week to support her man.
And even she agrees with me. Behind every successful man is a woman, right Coleen?
'Yes, that's true', she laughed. 'I can't wait to get out there and cheer him on.'
And it's true, she reassures me, just knowing his missus will be in Brazil to cheer him on will mean more to the 28-year-old than you know as England counts on the legendary striker.
Running in heels after hot-footing it from Liverpool to London to host the Comfort Creations launch, Cols looks the real deal - an alpha woman and proud mother of two. 'The boys will be watching their dad on the telly - but I'm not sure how much they'll get it. They're still so young,' she smiles.
She is a far cry from the shy teenager I first met in a bar in Liverpool in 2005, not long after her childhood sweetheart had hit the big time as the boy wonder new signing for Manchester United - and Coleen, his loyal girlfriend, alongside her bff Claire, Rooney's cousin, were catapulted into the limelight.
When I see her confidence and no-nonsense attitude now as she is constantly faced with women claiming her husband has cheated on her, and more recently Big Brother's Helen Wood, I'm reminded of the words of Beyonce's 'Bow Down ' with the lyrics 'I took some time to live my life, but don't think I'm just his little wife,' when I see Coleen.
Like a true diva, Coleen finds her inner Beyonce and just brushes it off her shoulders.
Her biggest show of unity came when she tweeted to her 1.1million Followers just days ago: 'Six years ago today I became Mrs Rooney! Through the good times and some bad...We are stronger than ever.'
Just because their other halves are big names, it doesn't mean these women are not calling the shots too whether it be quietly in the background like so many women everyday, or Fierce on stage like Beyonce's alter-ego Sasha.
Let's hear it for the girls!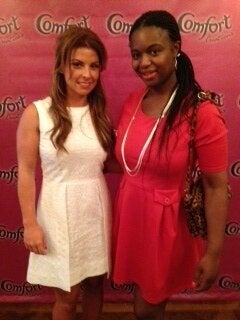 Candid: Girl talk with Coleen
Now this really tickled me...
To celebrate the beautiful game, snapper to the (fake) stars Alison Jackson has imagined home life at Beckingham Palace as well as the antics of Chelsea and former England player John Terry left at home blubbering while singing the national anthem from his living room. She teamed up with Birds Eye for the World Cup spoofs including David Beckham in his infamous white pants preparing a half-time fish finger sandwich for himself and Victoria.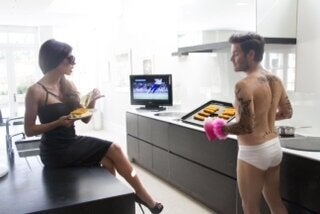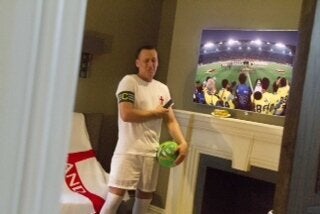 When the kids are in bed...
I don't know about you - but I have been gripped by the second season of Orange is the New Black - and I was lucky enough to grill the cast in person about the scenes that quite frankly leave us all stunned and desperate for more.
Lead actress Taylor Schilling, who plays Piper Chapman, has opened up about the horrific scenes that have led to her not being able to sleep at night while starring cult Netflix prison drama where she pummeled an inmate with her bare hands.
Speaking at London's Soho hotel for the Season 2 premiere in June she said: 'I do have nightmares sometimes. I just can't sleep. But I have to try my best as an actress to come home, make some jokes, cook dinner and get on with it.'
Meanwhile her co-star Jason Biggs practically faded into obscurity after the debauchery that was nineties hit American Pie.
Now he finally has something to smile about and can move on from being asked about ' band camp' and 'Stifler's mom'.
'They are all jealous of me,' he jokes about his old American Pie cast-mates, adding: 'That's your aim as an actor, as it's so competitive, to make everyone jealous of you.'
'I didn't know how people would react to the show, and certainly it is a relief to be back after American Pie.
Some of my old cast-mates have seen the show and have nothing but good things to say.'
While the likes of ex co-star Tara Reid are more famous for their past party antics than the show, it was certainly time for Jason to move on.
'Now I get people coming up to me of all ages wanting to talk about something other than American Pie. Before, that's all people would want to talk to me about, and I'd attract a certain type of person who was into what went on in American Pie. So it's great to be back.'