Why is it that when you say you're giving up booze people just want to ply you with more alcohol?
I had to do that old trick of pretending to down a shot and surreptitiously throw it over my shoulder.
But my game was given away when the waiter almost tripped over the pool of liquor that was behind me in a restaurant. Taxi!
I've been lucky enough to take part in the Brita Boost Go Dry and Stay Hydrated challenge to encourage people to drink more water.They identified five main reasons people drink - for the taste, to help them socialise, boost their confidence, help them relax and simply for the buzz - and laid on alternative activities to help achieve them without drinking including a booze-free ( gasp) mixology class, their fill and go and tap, and dinner party, confidence boosting lesson, and a pampering sesh.
This was going to be a breeze. Surely? Here's my diary of how I beat the winter blues.
January 8
Roll on my first showbiz event of the year.
The MasterCard Brit nominations is always a pleasure for catching up with old industry friends over a glass of vino at the ITV Studios in Southbank.
But no. This year it was all change, and it was murder plucking up the courage even to speak to my old mucker Ricky Wilson of Kaiser Chiefs and The Voice fame, without the help of a cheeky tipple.
Even bopping to the fabulous Rudimental and Tinie Tempah took some effort.
Looking around at the sea of journos we were all in the same boat. Had we really become this dependant on alcohol to get through?
January 10
The day when most people give up their New Year's Resolutions - one of mine being dry January - surprisingly I haven't had a drop of alcohol.
The buzz I needed came when we attended the mixology masterclass for mocktails (non-alcoholic cocktails)
Dragging myself to Shoreditch past all the pubs was hard work - but worth it when our team won the mocktail making competition with our grapefruit, grenadine and coconut cocktail, shaken not stirred.
Whether it was the sugar rush or the pure fun factor, we were having a blast - without alcohol.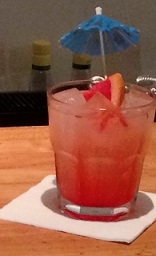 A winner: Our cocktail!
Copyright Sarah Tetteh -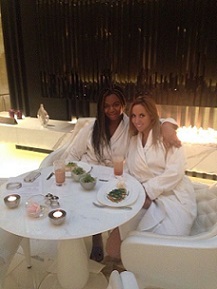 No carbs please!: Detox day at celeb's fave London spa The Corinthia
Copyright Sarah Tetteh
January 11
Robin Thicke's calling.
I had to give myself props after I was invited to join Remy Martin ambassador Robin Thicke at his sell-out gig at the O2 supporting Maroon 5. While some revellers were drinking their bodyweight in booze, I enjoyed the show teetotal and drank fizzy pop. And I told Mr Blurred lines that myself - and he tweeted me back @sarahtetteh Thank You. I had a great time.
It's little wonder he was on such a high - he was also celebrating the launch of his very own limited edition VSOP bottle in Selfridges, and celebrated by knocking back Remy&Gingers at the 02 aftershow at London's Maddox club.
January 15
Oops - I may have been off alcohol but I'm putting on weight by compensating with yummy snacks at work.
I enroll in a month long Beyonce fitness program.
Well, I wasn't going to get my buzz as an alternative to not having alcohol just on the treadmill was I?
Thankfully I had James Tindale from Geordie Shore's brilliant Bodysculpt VT virtual personal training system on my phone to push me past the pain threshold as I dreamed of getting Rihanna's abs, as well as my Davina McCall work out dvd!
January 18
It's the weekend, it's raining, and a trip to the gym is almost too much to bare - plus I couldn't drag myself away from my little man.
With episodes of Breaking Bad to catch up on, there was only one thing for it - doing my own work out in front of the TV.
Like most mums, I just have to wing it when it comes to creating time to work out. So I caught up with scrummy mummy Niki Wibrow who has teamed up with Netflx #getfitwithnetflix to create workouts you can do in front of your favourite shows for a short burst or up to an hour depending on what time you have to play with. Her demos are on YouTube. She told me: "Like all mums know it's a struggle to find time to exercise, so you can do it in front of your favourite shows for as little as ten minutes, or up to an hour depending on what time you have. Then you're not missing out on precious time with your little ones."
Wise words.So while I was doing the downward dog and squats, my little man was in fits of giggles jumping around me and imitating my poses.
Priceless mummy time or what!
January 21
A big reason why people drink is to socialize.
So we had a Sex and the City night - all girls, obvs, with our very own private chef to make us a delish three course meal without booze.
Now, no sooner had we taken off our coats one of the girls pulled out about a bottle of wine to liven up the celebrations.
'No. Put it away.' I shuddered. It was like she'd taken out an explosive or something.
My pal and I quickly got to making delicious Lavender mocktails for everyone. The batch was knocked back so fast we made two more.
Our fab chef Gareth whipped up seared tuna starter, succulent duck mains and a bitter chocolate dessert mouse that went down a storm.
We laughed so much through the night we couldn't believe we hadn't had a drop of alcohol.
January 22
National TV Awards.
Most people would need a tank of ale before they pluck up the courage to speak to Naomi Campbell.
But on the glitziest night in the showbiz calendar or the 'Ant and Dec Awards' as Graham Norton told me, where TV execs and telly stars alike were getting sloshed off their faces trying to get selfies with the Queen of the Catwalk in the background, I couldn't help but have a chuckle.
As I saddled up to The Face star Naomi, who had two doting men alongside her to carry her handbag, the teetotal star gave me a wink as we looked around at the debauchery.
For once, just once, I was glad to be going home without a hangover.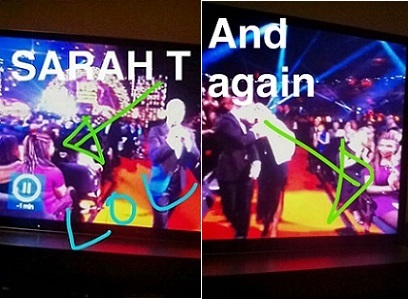 Sober Sarah at the NTAs
Copyright: Lady Asha Oojageer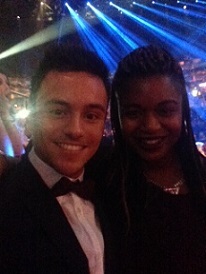 Sarah with Splash star Olympic hero Tom Daley
Copyright: Sarah Tetteh
January 31
So with my tools learned from this month of sobriety, I'm pleased to report I have definitely stayed hydrated, and feel healthier for it too thanks to the extra exercise and water. I really enjoyed making mocktails and am not missing the hangovers so I'll keep going sans plonk until mid February at the Brits.
Though I'm secretly planning my first tipple on the night.
Make mine a double.
Just kidding!