Ten everyday exercises for busy parents:
Squat to enjoy 0.2 seconds of sofa-sitting. Return to standing immediately when you hear shouting (repeat x infinity).
Weight lift children who are refusing to move of their own accord (it's not really possible to do reps here, you simply have to carry them forever unless you can find some bribes in the change bag).
Sprint to stop your toddler free-falling from the deadly corner of the climbing frame he would otherwise topple off.
Challenge muscles you never knew you had by climbing up endless rope ladders whilst carrying straw mats to access shit slides.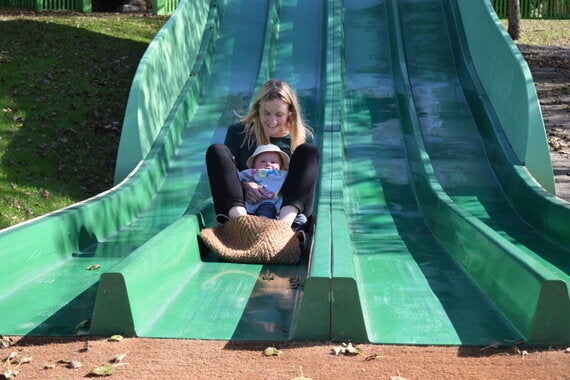 Hurdle over discarded items like regurgitated banana and naked Barbie. When it's no longer possible to dodge all the crap in front of you it might prove easier to dive right in and swim through it.
Lunge to pick up flattened raisins off the floor (WARNING: exercise caution if you spot chocolate raisins you don't remember buying).
Hop the length of the landing in agony after stepping on bastard Lego.
Commando crawl to the fridge for healthy snacks/wine.
Invest in a punch bag and pretend it's Topsy and Tim's mum and/or your husband when he is more than ten seconds late home.
Bounce a teething baby on your hips (WARNING: once you have practiced this exercise a few times you may find yourself repeating it involuntarily at the checkout when you have no baby with you. Like a bouncy weirdo).
Well done! Refuel with some custard creams.
THIS IS NOT A SUBSITUTE FOR REAL EXERCISE.
OBESITY KILLS. EAT AN APPLE.
ALWAYS DRINK RESPONSIBLY.