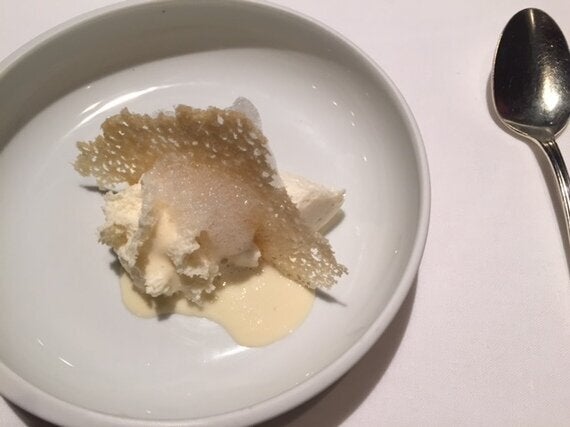 The deliciously famous "Five Stages of Parmigiano Reggiano" at Osteria Francescana
Today I return to London after having traveled to Modena, Italy for the weekend. My husband and I planned our entire trip around a dinner reservation at one of the top restaurants in the world. We were, and are, not alone in doing so. In fact, we shared a taxi to the town with another couple that was doing the same thing. It just so happened that the woman works for one of the top world restaurant ranking organizations. We talked the entire drive about traveling the world for food.
Culinary travel has exploded over the past decade. TV personalities such as Anthony Bourdain have helped to popularize it and as people are becoming increasingly interested in farm to table eating, knowing where their food comes from, how their food is made, and experiencing different tastes, the demand for foodie focused travel has followed suit. I could not be happier as this is right up my alley and something I love to plan for my clients. Besides eating spectacularly delicious food, the culinary world often brings one into the culture they visit. Food is culture and culture is food.
The four-hour dinner we had at Osteria Francescana was divine and a wonderful way to spend our anniversary. Talking with Laura, Massimo's wife (the chef), was a nice addition to the pristine dining experience. We had been looking forward to it for months and yet our favorite part of the trip was not the restaurant. That dinner had far too big expectations. It was the other eating and visiting experiences that were less hyped that truly delivered. Though the restaurant brought us to Modena, it is the charming city itself full of the most delicious tastes imaginable and being not overrun with tourists, which would cause us to return.
There are tastes that are to be discovered only in certain countries. Yes, you can import Balsamic Vinegar from Italy but to taste it in the small family run balsamic vinegar factory where it is made is an entirely different thing. To learn about the process of making it and the history of the people who created it brings a new level of appreciation for the food and the culture. It is never just the food; it is the experience as well.
Food has proven to unite people. The image of a dinner party paints a portrait of people enjoying taste and conversation. Finding your way to a table at a local restaurant can be an incredibly great vehicle for cultural immersion. It is a wonderful way to taste, see, smell and hear a culture. I have made momentary friends with strangers at small restaurants in Paris, Dubrovnik, San Francisco, Buenos Aires and all over the world. In Italy this weekend we laughed with those gathered next to us, joked with our waiters and smiled as we listened to the beautiful sound of the Italian language that surrounded us.
I have been lucky enough to eat at a number of Michelin starred fine dining establishments but many of my favorite tastes, memories, and certainly cultural education experiences have come from local small restaurants or markets that I have stumbled upon.
My friend who is a chef in Mexico brought me to a farmer who made and sold the most delicately delicious fresh cheese tacos I have ever tasted. I dare say that if it was served up in my kitchen in London it would not taste as magical as it did that day on the side of the road somewhere north of Cabo San Lucas.
In places like China and India I have fond memories of having our hired local driver take us to where he or she would eat instead of the typical tourist place that they would normally take us to. This resulted in eating some amazing food for less than a dollar and amongst all locals. Since I was leading the trips, I had to get the consent of my travelers and though a few slightly hesitated in their agreement to do so, they all said it was one of their favorite memories and an experience they would never forget. It also created a relationship with the driver that introduced us further into the culture we were visiting. Sharing a table has a unique way of breaking down barriers in order to connect people effortlessly.
When friends, family and clients share their favorite travel stories, they almost always include a food experience from some amazing restaurant or street market.
Sharing a meal by tasting the food that is local to a country and in an environment that is authentic to the community is an experience that brings you deeper. Every bite is worth traveling for and savoring.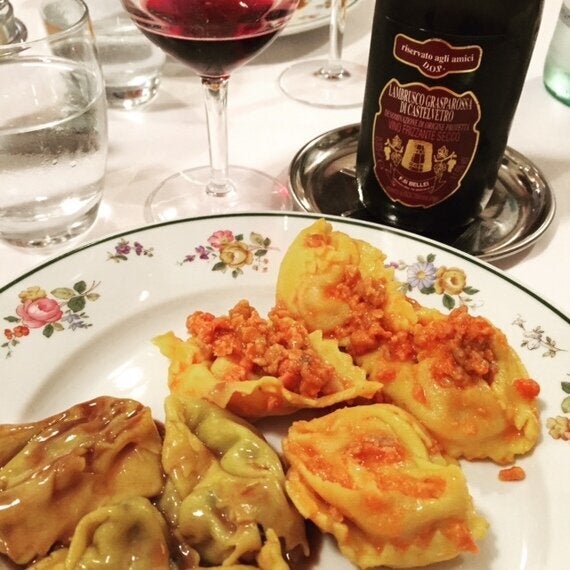 Dinner at a local ristorante in Modena