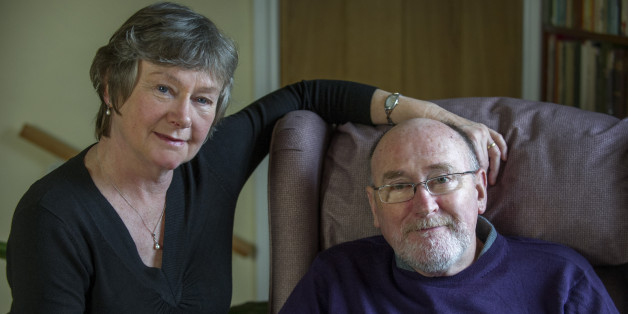 Dignity in Dying
Noel Conway has motor neurone disease. He was diagnosed in November 2014, at the age of 64, with a form of MND called amyotrophic lateral sclerosis - an incurable neurological illness that attacks the nerve cells and erodes the brain's ability to start and control muscle movement until it is lost entirely.
A former adult education teacher from Shropshire, Noel hoped to enjoy his retirement travelling the world with his wife Carol, exploring their love of the outdoors. Instead, Noel faces the next 12 months knowing they will be his last. He and his family have tried to come to terms with this fact and are determined to make the most of the time they have left together. But what Noel cannot accept is that because of the failings of the current law, he will not have the dignified death he wants and deserves.
If Noel were to let nature take its course, he risks death by suffocation or choking as his breathing muscles continue to weaken, or becoming completely unable to move or communicate while his mind remains as sharp as ever.
He could refuse use of his ventilator, which he depends on to breathe overnight, in order to bring about his death more quickly. Noel's concern is that there is no way of knowing whether it would take hours or weeks to die, nor is there a guarantee that his pain and suffering could be adequately relieved.
Noel's other option would be to travel to Switzerland for a safe, legal assisted death, but due to the arduous 800-mile journey this is out of the question. That is quite aside from the huge cost, that it would mean dying away from home and his loved ones, and that that anyone accompanying him risks a 14-year prison sentence.
Noel strongly believes, as I do, that in his last few months of life, it is his right to have control over his life, body and choices - and that this should include the timing and manner of his death. That is why Dignity in Dying is supporting Noel in bringing a judicial review seeking a change in the law to allow him, and other terminally ill people, the option of an assisted death in the last six months of life.
Britain's families are being forced to cope alone with a cruel and unsustainable law. Change is clearly and urgently needed. Every eight days, someone from this country travels to Dignitas for an assisted death. A further 300 terminally ill people end their own lives every year behind closed doors, frightened and alone. Hundreds if not thousands more are forced to endure unbearable suffering that cannot be relieved by palliative care, until their illness finally robs them of their lives. The vast majority of us would balk at the options presented to terminally ill people in their final months. Our law is broken and has unacceptable consequences for dying people.
By failing to act, our Government is ignoring the pleas of terminally ill people, and 82% of the public who support assisted dying. Meanwhile, California and Colorado last year joined four other US states in bringing in assisted dying legislation. Canada implemented a similar law. Developments are expected in Australia later this year. Why are dying Britons not allowed the same kindness, compassion and respect?
To have the option of an assisted death in this country would relieve intolerable suffering for terminally ill people. It would allow them to wrestle back control from illnesses that are taking everything from them. It would represent true choice at the end of life. It would provide immense peace of mind, empowering dying people to live out their final months as they choose. It would give Noel, and other terminally ill people, the dignity they deserve.