"And how are we?"

"Better."

"Than?"

"Everyone."
Those few lines above - an exchange you could easily imagine in either Mean Girls or Gossip Girl - feature in the opening chapter of Gareth Russell's début novel, Popular. Set in today's Northern Ireland, Popular follows the story of four privileged Belfast teens with more money than sense as they each learn a bit more about each other and their own lives. It's a story based on relationships and self-discovery, with some hilarious events taking place along the way. The humour is extremely sharp, and Russell had the experience and inspiration to back up his tales of high school antics, as he himself attended a high school in the city that some of the rich kids went to.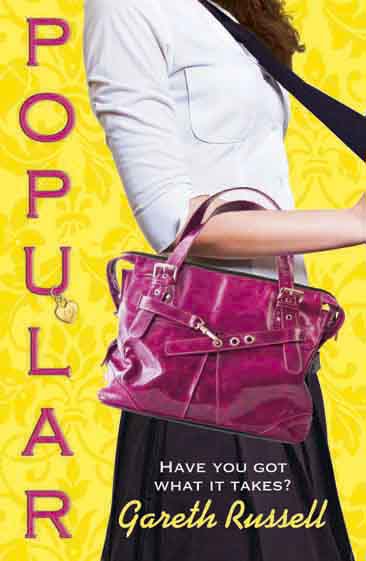 "Because of where it was [situated in an affluent area of Belfast], the school had a massive social spectrum. There were the pony club millionaires right down to all of God's children," he jokes, acknowledging that not everyone in the high school came from a privileged background. "People were afraid that I was putting real events and people into the book, but that wasn't the case. In fact, only one event involving a teacher was something in the story that I personally experienced."
Although the school in which Popular takes place doesn't exist, the vast majority of restaurants, clubs and shops mentioned in the book are real. Readers who are familiar with Belfast will warm quickly to the novel with such references, but is placing a story in such a relatively small city a hindrance?
"I was told it was going to be a restriction," Russell acknowledges; "that no-one's going to want to read a story set in Belfast unless it's about the Titanic or the Troubles. But ... I don't have much experience of either of those things, even though I live there."
Fans of the book in Northern Ireland won't be total strangers to seeing Popular come to life, as the story was adapted for stage and performed twice since the book's release last year. As well as the book's popularity (pun fully intended) in the UK & Ireland, it has been published in South Africa and New Zealand as well, where private schools also exist, which means that many readers can relate to the antics in the novel. "In those countries," Russell comments, "it's more the romantic storylines that are popular, or the social aspects of the story. It's interesting to see who picks up on what."
With a storyline between two of the novel's male characters, Blake and Cameron being one of an ill-fated romance, one can be forgiven for making comparisons between the story of Kurt and Blaine in Glee. Russell is cautious, however, not to let the comparisons between his novel and the hit TV series go too far.
"Glee and Popular are very different. I think it's a great thing what Glee has done with the Kurt & Blaine storyline; that everyone was okay with them [being openly gay]. It's nice to present that romantic fantasy for gay youths, because straight teens get presented with that story every day. But I wanted to show with Blake and Cameron how awkward coming out can be. The idea behind them from the start was the worst kind of romantic tragedy; the right people at the wrong time. They were always going to be the loves of each others lives who should've met at 25 but instead met at 16."
Popular is only the first in a series of books penned by Russell, who is already working hard on the second novel. Adamant not to give away much detail, he merely reveals that the story will pick up from Popular's dramatic end. The German translation is also due in January 2013, and there are plans for a TV show to be broadcast on British television later in the same year.
Popular by Gareth Russell can be bought on Amazon.co.uk here.