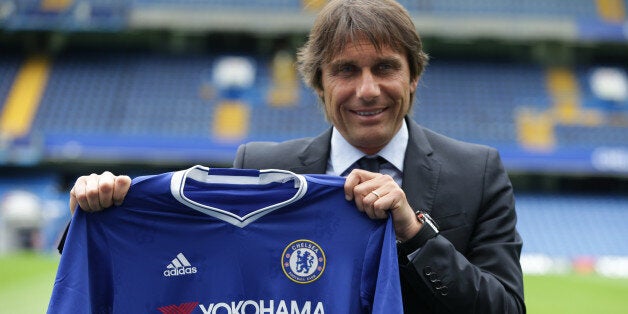 The continuation of Jose Mourinho's battle for supremacy with Pep Guardiola has stolen the Premier League's managerial headlines this summer.
Indeed, the pair will lead both Manchester clubs to battle as they vie for English football's top prize. You're likely familiar with their history; Guardiola humbled his counterpart back in 2010 as the greatest Barcelona team of all time trounced Real Madrid with a 5-0 win. It was (and probably still is) Jose's worst evening in management.
Mourinho once poked (*gouged, up to you) Pep's close friend - the late Tito Vilanova - in the eye in a off-pitch scuffle, but would later beat his nemesis to the Spanish league title in record-breaking fashion.
Plenty of backstory, plenty of reason to get excited. Two of the biggest names in world football will finally be doing battle on touchlines on our shores. It's perfect for the Premier League. Remember, there's Jurgen Klopp, Arsene Wenger and a host of other colourful characters gracing the touchlines for the next few months too.
Though as a direct result for another of the usual league favourites, Chelsea, the focus on the battle between the two has taken the attention away from their new managerial appointment.
Antonio Conte was confirmed as the new boss at Stamford Bridge prior to Italy's campaign at Euro 2016. He proved while in charge of the Azzurri in France that he's lost none of his tactical nous while away from the club game.
This was Italy's worst squad of players in generations, but they played far beyond the sum of their parts and proved to be a threat in the latter stages of the competition - with a Sunderland reject at the centre of it all. It took Germany beating them on penalties to send Italy home, and Conte, finally, to England.
Conte is already getting to grips with the language and life in London. Ahead of his arrival, he'd already promised his players should expect the hardest summer of their lives. And given the nature of performance in his side's pre-season defeat to Rapid Vienna, it's only going to get tougher.
Once everything clicks into place - and expect it to quickly - Conte's version of Chelsea will once again become a force to be reckoned with. Remember, this is a team who'll be without European football for the entire campaign and their sole focus will be on regaining the title they so miserably lost last season.
They'll use their absence as a positive. There's a slew of Champions League-reputation clubs in England's top flight who'll be without those big Tuesday and Wednesday nights in every season for the next decade. It's that level a playing field. Less games, greater advantage.
You can't help but think this new Chelsea will be far more 'together' than they were in the opening months of last season. Mourinho's Chelsea were fractured; he'll have learned from his mistakes in his new role, but there'll be no more "palpable discord". Conte drives a hard bargain, and yes he's a little crazy, but he's respected.
Chelsea have got things right so far in the transfer market, too. Conte was a coup - but the weekend's confirmed capture of Leicester City running-machine N'Golo Kante could prove as vital as any signing of the summer so far.
Kante's energy will be incredibly important to Conte's planned style of play. His plan to switch to something of a 4-2-4 will be a lot of emphasis on the legs of his two chosen central midfielders - and the Frenchman covered every blade of grass for his now former club Leicester as they took the title away from Chelsea last season.
Michy Batshuayi is more of an unknown quantity in English football, and he may need some time to settle in. But Chelsea's business isn't done yet.
Be sure, though, that if they continue to pull off signings of the quality of their first two arrivals, Conte will have a team well-equipped to put Chelsea back where they feel they belong - at the top of the table. It'll certainly be a difficult task and he'll need some time to adapt too, but Roman Abramovich might well have pulled off a masterstroke.
The fanfare and attention may be primarily placed on Manchester's newest recruits, but forget about Conte's Chelsea at your peril.
For more fan views or to join the conversation visit www.90min.com